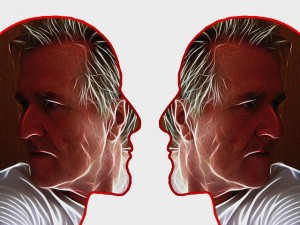 I found an article by Dan Merica on CNN this week very interesting. In case you didn't see it, the headline read:
"The spiritual but not religious likely to face mental health issues, drug use, study finds." You can read the original story on CNN here.
When I first read the headline I passed judgment; what kind of person would say such a thing? I decided to click on the link and see what it was all about. After finishing the article I realized I couldn't argue with the conclusions, and as I looked back over the past 8 years of my life, I thought that the article might as well have been about me. Fortunately, I never got involved with drug use, but I did experience my fair share of depression, anxiety, and nights of heavy drinking, just to escape my reality. And it all began in earnest when I became spiritual but not religious.
I eventually gave up drinking, got into meditation, and realized why I was so unhappy. I had some profound experiences while going within and exploring the self. But getting there was hell to pay. Suffice to say, everything is still not always perfect, but I no longer experience the fear and anxiety as I once did. And although I don't find anything wrong with a few drinks, I don't feel the need anymore.
So…although I agree with the conclusions of the CNN article, it's for very different reasons than most psychological experts would probably understand. Let me explain…
Everybody creates suffering through the mind. It begins and ends there, but religion can provide an avenue to medicate it. This medication is proscribed in the form of rituals, emotionalism, and doctrinal beliefs which reinforce more emotionalisms. So while it may be better for some spiritual people to involve themselves in religion for the short run, it certainly can never end the problem of suffering for them.
Tanya Luhmann, a psychological anthropologist from the article, had this to say about religion:
"…organized religion provides three outlets that benefit churchgoers' well being: social support, attachments to a loving God and the organized practice of prayer."
And he's absolutely right! Many religious concepts such as prayer and believing in a higher power are very comforting things. Even rituals. We all need a certain amount of them in our lives. Meditation practice is one of mine. But when we do those rituals because we believe we must, just to placate a higher being, the very act of those rituals loses its holiness. It is then that we are resorting to self-medication through religion. There is nothing permanently healing about it.
In fact, those kinds of beliefs allow us to give away our own individual power, power that we wield through the mind. I have learned that when we give away our power to someone, or something—like a religious doctrine—it can feel very good. The ego tricks you into thinking that everything is going to be alright because you are doing the right thing. But this is a very powerful illusion, and it is the cycle of self-medication that keeps the illusion alive. That is why some people get up every Sunday morning, go to church, sing songs, listen to a sermon, give some money, and then go home. It can seem so medicinal.
It was a while after I left the institutional church before I realized all this. Within the first few months, my subconscious mind realized I wasn't being medicated anymore. I had lost much of my social support and I was still quite confused about who and what I ultimately believed. I knew my former religious authorities didn't have the right answers, especially when it came to their interpretation of the Bible (which I still knew to be of great value), but I still sort of felt like an injured soldier who had lost my supply of morphine. And it's all because I was no longer involved in a religious framework.
And thus began my long journey of self discovery. I do not regret the journey. It has been the greatest one of my life.
Looking back, I realize it was supposed to be this way. Both Jesus and Buddha had to suffer to gain Enlightenment. The Buddha left his carefree world of wealth and luxury in order to engage suffering head on. Once he had peered over the fence of his false world, something deep within him sought the experience he needed to realize the illusion created by duality.
And as for Jesus…well this scripture sums it up for us:
"Christ learned obedience through the things that he suffered."
But as Christ showed us, suffering can be crucified at Golgotha, the place of the skull, or what's in your head.
The path to truth always produces suffering in the mind first. I remember when I first realized Santa Claus wasn't real. I incurred some big time suffering of the mind. My whole world shattered. So much joy had come from the thought of Santa Claus that my brain couldn't— no refused—to process it. At least not at first. But each time I returned to the questions that left me doubting in the first place, I knew something was dreadfully wrong: how did he fit down the chimney? How do reindeer fly without wings? How could one man have enough time in one night to deliver billions of gifts? The wonderful world of fairy-tale magic I wanted to believe in so bad was quickly coming to an end. But this was necessary for me to continue to mature and grow in the real world.
A similar revelation occurred to me many years later, a revelation which desperately needed to happen so that I could also continue to grow and mature spiritually. It happened one day as I was driving in the car and pondering the great mysteries of life. I suddenly realized the Bible wasn't real either, at least not the way I had been taught. Talking snakes and donkeys? The sun standing still? Men walking on water? A man sacrificing his own daughter to God just because he made a silly promise, and God allowing him to go through with it (yes, that's in the Bible too). In an instant it was like a light bulb came on and I realized the Bible stories meant something much more profound than those incredulous interpretations. They were for a greater purpose, and I had to discover it. So I left the very place that was holding me back from this purpose and began to uncover the esoteric knowledge revealed in the great scriptures of the world.
At first I really did feel sort of lost, like a ship sailing on a vast ocean with no compass, desperately hoping to reach a shoreline. Water was everywhere. Yes, I was floating, but why? Who built the ship? And for what purpose? And to what shores could I now sail to find out? The shores of Catholicism, Protestantism, and even the Pentecostal persuasion were now just mirages on the horizon.
But I eventually reached a very satisfying conclusion through that mental anguish. There's nowhere to go. No shore to travel to. No distant land to discover. Just enjoy being the ship and allow the breezes to take you in whatever direction they blow. From this state of being, you may even eventually realize that you are creating the breezes in the first place, and that you can begin to use this creative power to sail to any shore where the land beyond is more like you imagine it to be.
All the truth we can ever know is already inside of us! That's where the true message of Jesus rings true:
"The kingdom is within you."
So yes, the article from CNN had some truth to it: spiritual people without a religious framework usually end up going through a lot of mental anguish, leaving them very vulnerable. Many, if not most, probably end up succumbing to those vulnerabilities. But for a few—and I believe the numbers will be greater and greater from here on out—the path of suffering can be the path of liberation. So don't be fooled by the article. Yes, there is a lot of truth to it, but it's not the whole truth.
Besides, once we learn not to resist the path of suffering, then our journeys will begin experiencing those rare occasions where reality can be seen in a new light, and slowly but surely, we begin to wake up to something to something infinitely peaceful. And then quitting the self-medication of religion can become quite healing.
Now it's your turn. If you had a chance to read the article, what did you think?
And by the way, since we spoke so much about suffering in this article, I think my next post will be about Job. We can learn some very cool esoteric knowledge from his life. Blessings!