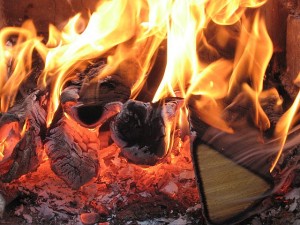 Have you ever thought about becoming a medium or going to one? If so, you may want to think twice about it. Even though esoteric literature doesn't always spell out the dangers involved, they are very real, and we should all acquire the knowledge to discern why.
Before delving into this controversial subject, it is important to point out that having a proper knowledge about something is crucial. Many Christians condemn acts of divination with the popular retort: "God said it, and that settles it."
Personally, I think this is a silly reason to do anything. Your motivation of whether or not to participate in something shouldn't be because someone else said not to (God certainly doesn't expect this). You must learn the reasons why. Knowledge is crucial. Without the knowledge of why, human nature is prone to rejecting or condemning something for very stupid reasons.
For example, centuries ago, people were accused of being witches because they could swim. Religious authorities persecuted them because the Bible said not to let a witch live. Innocent people were hurt for no reason other than ignorance.
Possibly just as bad are the teachings from many religious authorities that state divination is evil because it causes spiritual deception. Obviously many people who practice divination are full of malarkey. A few simple searches on the internet reveals that most of what was predicted about 2012 never came to pass, even though people who channeled these messages claimed they came from extraterrestrials or advanced spiritual beings. So yes, divination can and often does cause spiritual deception (more on why later). But again, why? Blaming it on demons and fallen angels isn't a sufficient answer. Christians and everyone else deserve to have a deeper understanding of how and why this stuff works or doesn't work.
Reasons divination can be dangerous to the medium
Everything we choose to experience affects us. The law of reaping what you sow is always working. Most of the experiences we have affect us very subtlety, way below our conscious radars. This can be the case with divination.
When a medium practices, they run the risk of damaging their etheric, emotional and mental bodies through the manipulation of their energies. This manipulation can happen when another entity temporarily displaces the medium's own subtle bodies in order to channel a message. Think of it like this:  a non-physical entity causes a distortion in the subtle bodies of the medium as it merges or displaces the medium's own subtle bodies. This is the direct manipulation of their energetic subtle bodies. Your etheric, emotional and mental bodies are the cause of thoughts, feelings, and emotions manifesting through the physical body, and all of them make up your individual personality. I don't know about you, but I do not want these altered. In the long term, this might not be good for a person's consciousness evolution and development.
We all know how dangerous it can be to join our bodies sexually with someone else that has a disease, right? The disease can be transferred from one physical body to another. With the subtle bodies the process is a little different, but the principle is the same. Mediums are joining their subtle bodies with other discarnate entities.
Is any kind of mediumship safe?
Smart people make sure their partners take bloods tests or use other ways to protect themselves if they decide to engage in sexual activity. A medium that has advanced knowledge of esoteric teachings and exceptional clairvoyant abilities may be able to discern a discarnate entities true motivation. But I suspect this case is very rare. You hear about a lot of people on forums and chat rooms that are interested in becoming a medium even though they know nothing of the subject. Unless you are sure of your abilities to protect yourself, I would stay clear.
The dangers to persons trusting a medium
Many religious authorities would have us believe that we shouldn't participate in divination because an outside God tells us not to. But the real reason is the exact opposite. You don't need to participate in it because they power of God is a potential already within you that develops as you acquire higher consciousness. By participating in divination, you give up—either directly or indirectly—your power for self-realization. Sounds crazy, right? Not really. Let me explain further.
It is important to know why you are here on earth. Earth is not so much a testing ground as it is an opportunity for conscious growth. We are not being tested by God; we are being given a great opportunity. Why would you want to disengage from that opportunity in the here and now to immerse yourself under the influence of someone or something else, especially in such a profound way? In the end, how does such an experience help you to grow consciously? It's really not that much different than giving up your own conscious development by putting yourself under the direct authority of a church leader.
I suspect if a discarnate higher being truly wanted to help humanity to progress, they could incarnate again to deliver esoteric knowledge personally in a physical vessel. That is what many people believe Jesus and Buddha did anyway!
How much of a medium's information is accurate?
Much of the information ascertained through mediums is probably deceptive. Some of it can certainly be true, and often times it is. But again, how can you be sure?
Let's think about where this information is coming from. As already stated, it's coming from discarnate beings that usually exist on the astral plane. The astral plane is the emotional plane. Beings in this state of consciousness are manifesting consciousness through the emotional body. The purpose of the emotional body is to help develop the mental faculties of individuals. In other words, the emotional body exists for the purpose of helping develop higher consciousness. More often than not thoughts are the make-up of both mental and emotional subtle energy and matter. Higher emotions help lead to more advanced and evolved thoughts, whereas lower emotions like pure desire for selfish gains will manifest a lower state of mental expression. Emotions are wonderful things, and we could not advance consciously without them. But emotions do not relay the truth. They are highly subjective. So if an entity from the emotional world takes possession of a medium's body to relay information, what kind of information do you think is going to be relayed? Since the emotional world is so subjective, I am sure the information being relayed would be too. To receive false information would be a type of defilement.
The Bible speaks about it in the following scripture:
"Regard not them that have familiar spirits, neither seek after wizards, to be defiled by them…" (Lev. 19:31).
You become defiled by the false information. The consequence is the slowing down of your conscious development. The Bible means to convey that God hates this.
I also want to make it clear that I have nothing against those who practice divination. I am sure most of them are genuine in their desire to help people cope with emotional instability (which is why people go mediums in the first place). But even though the mediums are genuine, are the non-physical entities that relay information genuine? Possibly, but most probably aren't.
Closing thoughts
I admit that these subjects are touchy and complex. I do not have all the answers. But until we truly grasp the depth and breadth of what esoteric teachings have to offer, I think it is dangerous to engage in such experiences that can cause a delay in consciousness development.
In many respects, the physical world isn't much different. Many people who play with fire end up getting burned. Sometimes it is because they got careless, but more often than not it is because they do not know how fire operates. I once watched a hairspray can blow up in a friend's hand. He wasn't hurt bad, but he still suffered some minor injuries. The explosion happened because he didn't understand how flammable the contents of the hairspray can were. It was enjoyable to watch the flame flair up over the lighter each time he sprayed hairspray from the pressurized can onto it. It only took one time holding the nozzle down too long before the fire had enough time to travel through the mist and enter the can.
How can we be sure that something similar won't happen by allowing discarnate entities to take over parts of our subtle bodies?
You don't have to worry about loved ones in other states of existence. You are here to develop your own consciousness through the experiences you have in the physical plane. Focus on that. I know you may miss your loved ones and wish to communicate with them. But this is only to satisfy an emotional longing.
Just know that your deceased loved ones are already okay and go on living your life as they would want you to do.
One last closing thought:
There is a difference in receiving intuitive knowledge from the higher self. This is one of the goals of conscious development. Why not focus on that? That way the information you are receiving is coming from a reliable source, not some entity floating around in the astral plane.