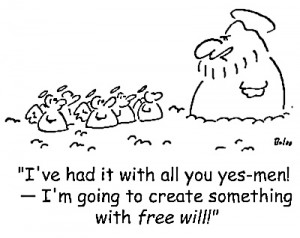 The reason of existence is to evolve consciousness. I use the word "reason" instead of "purpose" because I really don't believe a universal mind "purposed" to evolve itself. Rather, I believe the evolution of consciousness is an inherent quality within the universal mind and consciousness itself.
So if I'm correct and consciousness-evolution is automatic, it also means that each individual is eventually going to evolve in some way whether they try to or not. It's just part of the experience of existence. That's also why reincarnation happens. Since most of us don't learn from our ego-driven desires, it's back around the same mountain of life all over again—not necessarily because some universal mind wills it, but because when we die our level of consciousness did not evolve past the stage of the carnal ego, so we gravitate back to it by default. Full-blown enlightenment is supposed to end this desire by the way, but I wouldn't know from personal experience yet🙂
So how do we end the cycle? Let's briefly explore the Bible from a panoramic view before we tackle this question more directly.
Self-awareness manifests in different degrees
Self-awareness in humans is one of the great achievements of consciousness evolution. But self-awareness manifest in different degrees. The Bible teaches us that the first Adam was flawed. Although he became fully self-aware after the fall (knew his nakedness), he still operated through the carnal nature.
Life-experience teaches us that the carnal nature and ego express many negative thoughts and emotions; we often live them out as the "thorns" and "thistles" in our lives (Gen. 3:18). But we are given hope because the Bible ends with the Christ—the second, more evolved Adam—who operates by the spiritual nature. The spiritual nature (or divine ego as some call it) expresses BEING through positive thoughts and emotions.
As we can see, there are two main types of self-awareness expressed through mankind in this world. One is seen in a negative, dark way, the other in a positive way, often associated with light. And this is what all of the Bible stories express, beginning in Genesis and ending in Revelation.
Let's review an individual scripture that eloquently expresses this truth. In it Jesus is talking to Paul about why he has been chosen to preach the Gospel. I quote:
"To open their eyes, and turn them from darkness to light and from the power of Satan to God…" (Acts 26:18).
The power of Satan is the carnal ego in every man. It is to walk in darkness because even though the carnal ego is expressed through a self-aware individual, it is often expressed and experienced in negativity. It is a power or force over us because the self-awareness of the individual is not yet strong enough to break free of the habitual and impulsive nature of carnality itself. The negative thoughts and emotions resulting from desire and carnality produce a life of thorns and thistles, which continually manifest with all the seeds we plant. Not only do the thorns and thistles slow us down from reaping a great harvest, but they can make life painful when we have to pull them out. If we never break these subconscious desires and impulses, we will have to deal with them again.
God is of course the light in the scripture above from Acts. But remember that the Kingdom of God is within us. Light dispels darkness. In the same way the Christ in man, once developed and fully-matured, will displace the carnal ego. It is in Christ that self-awareness has evolved to new heights, learning from its experiences of the lower nature, usually through many lifetimes.
More on reincarnation
One thing that fascinates me about the Biblical stories is their focus on developing the higher emotions and thoughts of man. Thoughts are emotions are inexorably linked. If we are honest with ourselves, most of our thoughts are motivated by emotion. Ultimately, emotions are a wonderful gift in the end- game because even the negative ones serve us after multiple reincarnation cycles, as long as we don't suppress, ignore, run or remain ignorant of them.
Perhaps the greatest blunder of orthodox Christianity was to get rid of the concept of reincarnation during Justinian's reign over the Roman Empire. The evolution of the flawed Adam to the perfected Christ cannot be understood without it. Most people cannot complete this Biblical transition in one lifetime, either. Nor would it make sense to. Thus Jesus' message was reinterpreted from a message of spiritual maturity and development to one of salvation through another.
Man can and should be responsible for his own salvation. Even the idea of the law and grace ultimately depicts this. The law is necessary for the lower man because the carnal nature needs to be bridled until experiencing and birthing the Christ within. To operate through grace is to fulfill the law through the divine ego which must be developed. This is grace! A definition from my Word-Web dictionary states that grace is:
"The state of sanctification by God; the state of one who is under such divine influence."
If the kingdom of God is within us, then so must that state of grace freely flow from within us to without—i.e., manifested in the physical world. And we cannot manifest God's grace unless we first evolve consciously!
The Christ in us fulfills the law, and in order to fulfill the law you too have to become a Christ. Do we really think we can be righteousness by taking on the righteousness of another? Where is the glory in that? Why would God have a reason to rejoice in the fact that his own creation wasn't responsible enough to mature into a responsible being that transcends the lower ego by expressing the divine ego?
What was the purpose in coming to earth if we are to give our salvation into the hands of another? Was it to spend our life just to learn that we can't do it ourselves? Couldn't God have spared us all of death, disease and discomfort if this were true?
Life is a lesson. It should evolve consciousness, and the gospel of Christ is that he showed us how to save ourselves!
The Mystery of what evolves us and what doesn't
Why do we reincarnate in the first place? As I already alluded to, I believe it is because at the death of a previous life consciousness was still in a place of expressing through the carnal nature. Therefore the consciousness of the individual is naturally drawn back to carnality. But those who operate through the divine ego purge the lower nature and can move on to higher realms of the conscious experience.
I want to illustrate a personal story and then I will discuss what I think it means in the grander scheme of consciousness evolution for me.
I was very selfish at the beginning of my marriage. I began pursuing some different personal interests that took up so much time I sacrificed quality time with my wife. It wasn't just here or there. My goals and pursuits became a way of life.
My wife is very affectionate. She loves quality time. Quality time is her love-language and to sacrifice that for her is to sacrifice the reason to share your life with someone. When my wife pointed this out to me, I didn't let it sink in or change the way I spent my time. Of course I said I would. I even made some genuine efforts, but those efforts always fizzled out within a few days and I was back to my old ways.
It eventually got to the point where I would lash out at Jess when she was pleading for me to change. My desire for success was so strong that I let my ego trick me into thinking that Jess was wrong for trying to interrupt my plans. I figured we had our entire lives together, so what's the big deal if she sacrificed a little time right now. But what I had planned to be months was turning into years.
My wife is a very patient woman, but eventually my actions had a deep impact. She went into survival mode and closed off her emotions. Eventually she became numb to me. This wasn't good for her, but I didn't leave her with much choice. Neither did I really take the time to notice the change.
One day my wife did the right thing for both of us and asked for a separation. The damage I had done went pretty deep and I don't think she had anything left to give me. But it was a total wake-up call. I realized that she was serious and that I was probably going to lose her. I began to have emotions I didn't even know existed. They gushed out like a volcano. I couldn't work, sleep, or eat sometimes. My ego tried to kick in and fight by making more promises and trying to do better. The ego is funny this way: it usually doesn't stand up and fight for something until it feels threatened that it will be taken away. But ultimately it wasn't the right answer. The ego was still in charge.
Fortunately I had already left the church and started my own spiritual journey. The information I had learned in esoteric literature gave me the choice to do something totally unexpected and unprecedented: not only did I own my mistake by realizing that there was something terribly wrong with the way I dealt with certain emotions, but I decided to fully experience Jess's pain so I could grow from it. This last part is crucial. Here's why:
As I was getting a heavy dose of those emotions my wife had experienced, I realized the full extent of pain to which I had caused her. Experiencing this emotional pain is what gave me the true motivation to move into a place of loving her properly from that point on, even if I ultimately didn't get what I wanted: her coming back to me. At first this was hard, but in hindsight it was and is immensely satisfying. By facing the problem directly I truly began the process of purging some of those desires and personal interests which really didn't serve me that well in the long run anyway.
I think subconsciously my wife saw a change in me that she knew was different, so she decided to see where it would go. She still led me to believe it was over since she knew I would probably fall back into my old ways, but I wasn't focused on that. I only wanted to focus on loving her deeply and fully if and whenever I got the chance.
Fortunately, she gave me more of a chance than I expected, and I grew more as an individual during that time than any other time in my life.
Now I can usually spot the trappings of my lower desires. What's more, through the love that I expressed for my wife—the kind that wasn't motivated by ego—I broke the unconscious pattern of following after these lower desires. I'm still not perfect, but I believe I have learned a valuable lesson that will stick with me into the next life (unless I experience full Enlightenment in this one:)).
One thing's for sure. I have brought a new level of balance to my life.
Ultimately I believe some negative karma was released. By facing this desire in the way that I did helped purge it from my conscious experience so that I no longer gravitate towards it again. This is why I believe it's so important to trust the universe and allow ourselves to face our problems head on.
Who knows what other demons I have lurking within me that the universe hasn't pointed out yet, but hopefully I'll have the courage to face them in the same manner when the time comes. Until then, I hope you will too!
Blessings!