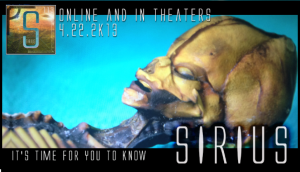 I have become an affiliate for the new film documentary called Sirius being released April 22, 2013. Apparently there is quite a bit of excitement about this film as it is being mentioned on many influential websites and discussed on popular forums.
The subject of this documentary is proof of extraterrestrials and ET technology that would create the opportunity to transform our planet. I don't really consider myself a conspiracy theorist, but I definitely believe there is life on other planets, and I also believe that that life may have advanced technology that could transform our planet. Free energy has to be possible because the universe is manifested consciousness—i.e., the mind of God. Since we are a part of this consciousness because we are mind, we should have the ability tap the energy created through mind in ways our limited understanding can't even fathom yet.
Sirius features testimonies from over 100 government and military intelligence witnesses to ET's and ET technology. Personally, I think this is exciting. The planet is long overdue for a change in the way that we create usable energy. It's upsetting to see so much destruction to this beautiful planet from oil spills to nuclear meltdowns to extreme pollution.
A recent press release about the film states:
"Sirius deals not only with the subject of UFO and ET visitation disclosure but also with the advanced, clean, and alternative energy technology that's getting them here. Sirius goes into eye-opening detail regarding how the disclosure of such technologies, some of which have been suppressed for decades, can enable humanity to leave the age of the polluting petrodollar, transform society and improve mankind's chances for survival."
Of equal interest is the disclosure by Dr. Greer of a tiny humanoid alien, termed the Atacama Humanoid, and discovered in 2003. Its DNA has been sequenced and will be discussed in detail in the documentary. You can see some pictures of it and view the theatrical trailer at the following link:
http://www.sirius.neverendinglight.com/
Am I completely sold on veracity of this documentary? No, not completely. But I have an open mind and I plan to watch the film. The Bible is not silent on the affairs of extraterrestrials either. The Book of Ezekiel in the Bible discusses ET's and I plan to blog about it eventually.
The film is also being directed by Emmy award-winner Amardeep Kaleka of Neverending Light Productions, who has produced some quality films already. We'll see if the new film lives us to all the fan-fair and hype it has produced so far. Personally, I recommend at least giving it a try. We may all learn something valuable.
If you are interested in such things, you can purchase the documentary through the image add on the right sidebar from any page in this blog. I'll get a tiny commission and I appreciate the help to keep this blog going. If you decide to watch it, please come back and place comments—both pros and cons of the film—in the comment section of this post. Thanks!
Blessings!