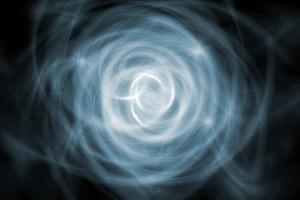 The first four chakras, and therefore the first four churches of Revelations chapter two, collectively represent the lower temples of our body. Revelations chapter three discusses the churches and chakras of our upper temple.
 In this post we'll discuss the first four chakras and how they relate to the churches of Ephesus, Smyrna, Pergamos, and Thyatira.
Before jumping into Revelations chapter two, we need to review the last scripture in chapter one. It serves as a proper introduction for chapter two. In It Jesus states:
"The mystery of the seven stars which thou saw in my right hand, and the seven golden candlesticks. The seven stars are the angels of the seven churches: and the seven candlesticks which thou saw are the seven churches" (Revelations 1:20).
Many have assumed that the mystery of the seven stars and seven golden candlesticks represent the pastors of literal churches. I was once taught that the seven stars represent the pastors and the candlesticks were the churches. I was also taught that the Book of Revelations was a warning delivered to these pastors who would in turn give it to the congregation members, and in time, this warning would make its way through history and eventually get to me and you. But can we honestly believe church leaders would readily understand the symbols of Revelations unless they had been immersed in esoteric knowledge? Of course not. No one would, especially those of us who are living almost two thousand years after this New Testament book was written.
The truth of the matter is that Revelations was written for initiates who would come to understand a higher spiritual order.
It should come as no surprise then that the seven stars and seven candlesticks aren't really literal pastors or churches. This should be obvious even from Paul's writings. The church is the body of Christ. Essentially, the body of Christ is the individual who has manifested the higher mind (Christ) within the temple of his own body.
This is what Paul meant when he said, "Christ in you!" Christ comes within the individual through the ascent of kundalini.
So what do the angels and churches of Jesus' statement truly represent?
Angels are messengers of light. These messengers are higher thoughts and spiritual energies that come from the higher self, and are received and expressed through the physical vessel.
 Since consciousness is a form of light, angels are then messengers of the light of higher consciousness. One of the secrets of Revelations is that the light of higher consciousness comes by the opening of your seven chakras, or spiritual energy portals within your own body, which is also the body of God. Another great secret of this book is what sexual energy really is and how through alchemy one can transmute it to spiritual energy which then unveils the Christ within us.
The act of sex contains the power of procreation. It can give birth to a physical child which is amazement even to modern science. However, to transmute sexual energy into spiritual energy (what true alchemy is all about) births a child also. This child is not a new physical child. Rather it is the divine Christ child within us, who is truly born of an immaculate conception. This transmutation of energy is what kundalini is all about. Godly sex, meditation, and selfless acts of charity and service—as well as appropriate diet and exercise which is outside the scope of this post—are all part of this transformation to higher consciousness. The ascent of the serpent or powerful kundalini energy up the spinal column and through the chakras to the brain is what Revelations chapter two and three discuss, and because Godly sex, meditation, and selfless acts towards the community are all a part of the transmutation process, they will naturally be a part of our discussion when going through the individual churches.
With all that being said, let's begin our tour through the churches.
Ephesus
Revelations Chapter 2:1 states:
"Unto the angel of the church of Ephesus write; These things saith he that holdeth the seven stars in his right hand, who walketh in the midst of the seven golden candlesticks…"
The "he" in the above verse is of course Christ, the higher mind as the result of kundalini energy that runs in the midst of all the chakras. Christ goes on to state:
"I know thou works, and thy labor, and thy patience, and how thou canst bear them which are evil…nevertheless I have somewhat against thee, because thou hast left thy first love…Remember therefore from whence thou art fallen, and repent, or do the first works…" (Revelations 2:2-5).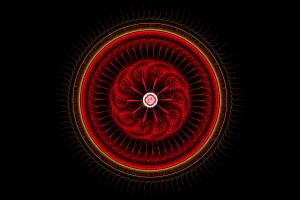 The church of Ephesus is our root chakra, where kundalini lays dormant in the sacrum. It is also connected with the sexual organs, the root and potential of powerful creative male and female / Yin and Yang forces. This powerful sexual / spiritual energy called kundalini has the power to transform our conscious experience—by burning up the ego—when it is transmuted. As sexual energy, it is our connection with the earth, the physical creation, and the world of duality. As transmuted spiritual energy, it births the divine Christ child within us (higher consciousness).
In the verse from Revelations above, Christ warns us that he, as the higher mind and self, has something against the root chakra because in most humans this chakra is in a state of losing its first love, which is our original spiritual state of union with God. In other words, many of us have neglected the spiritual for the physical life, and therefore the balance between spirituality and physicality has been upset. This unbalance has come about through the development and fortification of our egos and perverted animal desires—yes, even the sexual ones. Since we are spiritual beings having a physical experience, our first love is the cultivation and work of the manifestation higher consciousness or Christ, which is the balance of physical and spiritual life. Unfortunately most people today are totally caught up in the physical world of the five senses and continually engage in their lower animal thoughts and emotions which strengthen the egos and eventually lead to death, both spiritually and physically. This is a complete waste of the Holy Spirit / Kundalini potential energy within all of us at birth.
Smyrna
Revelations 2:8-2:10 states:
"And unto the angel of the church in Smyrna write; These things saith the first and the last, which was dead, and is alive; I know thy works, and tribulation, and poverty (but thou art rich) and I know the blasphemy of them which say they are Jews, and are not, but are of the synagogue of Satan. Fear none of those things which thou shalt suffer: behold, the devil shall cast some of you into prison, that ye may be tried; and you shall have tribulation 10 days: be thou faithful unto death, and I will give thee a crown of life.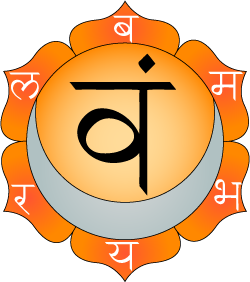 The church of Smyrna represents the second chakra along the spinal column, located a few inches beneath the navel. Whereas the first chakra is connected with our sexual organs (where the potential for physical creation resides), this chakra is associated with sexual function and the process of procreation. Jesus states that he knows thy works, and tribulation, and poverty because this is where the situation can seem desperate when we are seeking to transmute sexual energy into spiritual energy. In reality, this church is rich because the energy associated with this chakra is truly great, but we experience tribulation and poverty when we begin denial of the ego and the physical pleasures of life in order to gain spiritual benefit. Abuse of this chakra leads to impotence, adrenal and kidney issues. When we restrain our basic animal instincts, many hormones begin to balance in the body; especially our fight or flight hormones and we can even take control of fear. We symbolically conquer death when we conqueror our fears. 
I don't have the space in this post to cover White Tantra—a highly evolved practice of sexual union between spouses—in this post, but when one learns to control his animal sexual passions he or she truly begins the transmutation process where potent sexual energy becomes spiritual energy. I believe it is the beginning of great hormonal balance as well which is extremely important for the reception of higher consciousness.
Next Jesus talks about the blasphemy of those who say they are Jews and who are not. We get the true biblical definition of a Jew from Paul in Romans 2:28-29:
"For he is not a Jew which is one outwardly (in the flesh)…But he is a Jew, which is one inwardly (spiritually)…"
Jesus' words then are referring to those who believe they are on the spiritual path but are truly carnal instead. The one who is faithful in subduing his carnal and sexual animal impulses will seem to be put in prison because the process is at first very hard. In fact, Jesus said the church of Smyrna would be put into prison for ten days.
This makes sense since in ancient sacred writings the number ten is:
"Symbolic of complete periods of development within stages of the soul's growth" (Gaskell's Dictionary of Scripture and Myth).
Jesus states that the devil is casting Smyrna into prison because Satan is the ego itself, and our egos are truly the liar that keeps us imprisoned until we crucify it.
Pergamos
In Revelations 2:11-2:16 states:
And to the Angel in the church of Pergamos write; These things saith he which has the sharp sword with two edges; I know thy works, and where thou dwellest, even where Satan's seat is: and thou holdest fast my name, and hast not denied my faith…But I have a few things against thee, because thou hast them there which hold to the doctrine of Balaam, who taught Balac  to cast a stumbling block before the children of Israel, to eat things sacrificed unto idols, and to commit fornification. So hast thou also them that hold the doctrine of the Nicolaitans, which thing I hate…"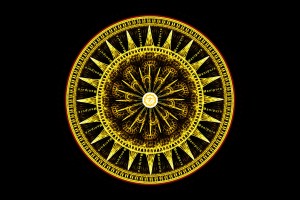 Pergamos is the third chakra, or solar plexus. It is quite powerful, either for positive spiritual transformation or continually fortifying the ego. Negative energy from this chakra can manifest in the form of anger and impulsive reactions which kill spiritual aspirations. Jesus states that this is Satan's seat because the solar plexus is responsible for emotional desires and impulses. In other words, our astral body (emotional body) works through our solar plexus.
The center is also connected with the intellect. Thus it is our spiritual job to stay away from eating things sacrificed to idols—i.e., anything that gets us caught up in our lower thoughts and emotions (judgment, pride, etc).
Gaskell's Dictionary of Scripture and Myth defines idols as:
"A symbol of conventional mental conceptions; mistaken notions of the object of life; fixed ideas which bar the way to Truth; outward observances regarded as ethical or spiritual exercises; unworthy objects of life."
Thus even getting caught up in church doctrines can seriously entrench our egos and cause us to be judgmental to everyone who disagrees with us. Committing fornication is to lie with our negative emotions and desires by feeding them through the Satan (ego) within. This includes the sexual act of fornication, whereby a person engages in sex for the sake of sex instead of bringing together of the female and male energies of God. This is why tantric sex practices teach against spilling the seed of man haphazardly. Within this seed (semen) is the potent force of physical life which should be transmuted to spiritual energy instead of being spilled for the sake of fulfilling animal desires. Yes, dear readers, God created sex as a very sacred and powerful act in which humans continue to miss its spiritual potential! This is also the practice of the Nicoliatans, which God says he hates.
Thyatira
Revelations 2:18-24 states:
"And unto the angel of the church in Thyatira write; These things saith the Son of God, who hath his eyes like unto a flame of fire, and his feet are like fine brass; I know thy works, and thy charity, and service, and faith, and they patience, and thy works and the last to be more than the first. Notwithstanding I have a few things against thee, because thou sufferest that woman Jezebel, which calleth herself a prophetess, to teach and to seduce my servants to commit fornication, and to eat things sacrificed to idols…Behold I will cast here into a bed, and them that commit adultery with her into great tribulation, except they repent of their deeds…But unto you I say, and unto the rest in Thyatira, as many as have not this doctrine…I will put upon you none other burden."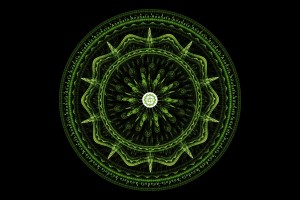 Thyatira is the heart chakra. Jesus' description of this church couldn't have fit the heart chakra more perfectly. Notice how Jesus states he knows their work of charity, service, patience, and faith. These are truly works of the heart. Through this chakra we learn to bridge the gap between ourselves and our community. This is the last chakra of the lower temple, and therefore it should extend beyond us and to the community. Love is a divine power of God because it links us with the collective, of which God truly is. But as Jesus states, Jezebel easily takes hold here. Jezebel was responsible for taking the heart of the people away from serving God. This is similar to having sex in the absence of love. It is in effect living a life of physical pursuit without any spiritual aspirations. This can cause us to become dispassionate about life in general and is a truly dangerous place to be as it slowly but surely zaps the spiritual desire in man from our lives.
Jesus will not put anybody under any other burden on those who don't hold to Jezebel because when the heart chakra, the last gate of the lower temple, is opened, the stage is set for the next three chakras of the higher temple to bring higher consciousness to the individual.
We'll pick up these three chakras and the three churches of Revelations chapter three in our next post.
Side note: Many of you may have noticed that I haven't posted as often. Please remember this is a very busy season for me. I can no longer post two or three times a week, but I should be able to get back to doing this soon. Blessings!