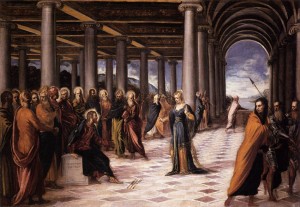 Have you ever wondered if there is a greater meaning of adultery in the Bible than what the church preaches? What if I told you it isn't what you think it is?
The Word Web dictionary states adultery as meaning:
Extramarital sex that willfully and maliciously interferes with marriage relations.
The authors of ancient scripture used adultery to illustrate a much broader sin than the definition you see above. In fact, the definition you see above didn't really have anything to do with its true meaning in scripture. I'll give you some pretty strong evidence to support my claims.
In Mark chapter 10:11-12, Jesus states:
"…whosoever shall put away his wife, and marry another, commits adultery against her. And if a woman shall put away her husband, and marry another, she commits adultery."
Is Jesus really saying no one can ever get remarried? There are a lot of people in this world that deny any hopes of finding eventual happiness with another spouse because of Jesus' words. Taken literally, they'd have the right to be cautious because Jesus really does seem to be saying that once you've been married, that's it! You don't get a second chance.
In another scripture Jesus states that the only grounds for divorce is when the other partner commits fornication. But something seems wrong here. What about an abusive husband or wife? Wouldn't that be grounds for a divorce, Jesus? What about a spouse that's addicted to drugs and alcohol, or treats their own children horribly? Did Jesus really expect someone to put up with this kind of behavior from a spouse their entire lives? Of course not. Jesus would have wanted a happy and healthy marriage, not one that makes you feel stuck in a prison!
Let me give you another example of adultery in the Bible that can't be restricted to meaning an extramarital relationship. In John 8:3-11 the Pharisees brought an adulterous woman to Jesus to see what he would say. Verse four states:
"They say unto him, Master, this woman was taken in adultery, in the very act."
That scripture states the women was caught red-handed! According to the law, this women would have to be stoned. But Jesus tells them that whoever among them is without sin should cast the first stone. Being guilty in their conscience, all of the Pharisees left the woman and Jesus alone. Jesus then tells her:
"…Woman, where are your accusers? Hath no man condemned thee? She said, no man, Lord. And Jesus said unto her, Neither do I condemn thee: go, and sin no more" (John 8:10-11).
There are many problems with this scene. First of all the law stated that the man the women cheated with also had to be stoned, but the Pharisees never even involved him. This has always puzzled scholars. That's our first clue that something's amiss. Second of all Jesus would have had to obey the law and allowed this woman to be stoned. Thirdly, did Jesus have any compassion for the husband of this women that was cheated on? It's almost as if Jesus didn't think it was a big deal as long as the woman didn't go out and do it again. That'd be like me realizing that my next door neighbor's wife was having an affair on him. I find out and then tell her, oh, everything will be fine as long as you stop it. But what about my neighbor? Would everything really be okay for him? There'd be a lot of emotional baggage that would have to be dealt before everything would be okay.
These are not some petty claims I am bringing to the table. They are serious issues that can't be explained away. So what gives?
The answer is simple: Biblical adultery is not a physical issue, it's a spiritual one.
Biblical adultery is about forsaking the higher life for the lower one. It is a symbol for forsaking higher conscious living in order to be yoked with your desire nature and the gratification of the senses. It is about denying your soul's evolution. What greater sin could there be, because once you forsake higher consciousness for the lower desire nature, that's it! You have lost that precious moment in this life forever.
Adultery is a perfect symbol for this greater meaning because our wills are either joined to our higher or lower natures. It's like a marriage. And you're either faithful to one of the most important spiritual laws of the cosmos, the soul's evolution, or you've cheated on it and you're sleeping around with your desire nature and the immediate satisfaction of your senses.
Fortunately, the soul's evolution cannot be denied in the end. We go round and round the mountain until we eventually advance. It may take a few dozen or even hundreds of lifetimes, but we eventually learn our lessons.
Genesis states that when a man marries a women the two shall be "one flesh." This one flesh is a symbol for the divine marriage of the higher and lower self. In order for this to be accomplished, we must stay faithful to the spiritual path.
Now we can understand why Jesus doesn't have to condemn the woman caught in the very act of adultery. The entire story was a metaphor for all our spiritual lives. Jesus and God aren't sitting up in heaven right now waiting to punish us if we live to gratify the senses. The very moment we do it betrays us and we reap the consequences within our own consciousness. Understood in this light allows us to see that Jesus didn't need to condemn the woman or follow any law that would bid him to do so. He was able to allow all present (the Pharisees) to realize their own conscious setbacks. We should all do the same.
All this information also sheds a little more light on Jesus' words when he states:
"…whosoever looketh on a woman to lust after her commits adultery with her already in heart" (Matt. 5:28).
It is the heart we must guard against adultery. The woman we lust after in the scripture above of course represents our desire nature. When we give into it, spiritual adultery has been committed and we have violated the spiritual law of God and the cosmos.
Closing thoughts
We are all guilty of not following the spiritual path. We are all guilty for jumping in bed with our desire natures from time to time. At least I am. And I realize that that moment in time has been lost to me when it happens. I don't feel guilty, because we can't take it back. But let it be a reminder to us to look forward to the higher calling again.
I also hope this post liberates any Christian who thinks that they are not able to remarry and enjoy an intimate relationship with someone again. Jesus never meant anything of the sort. If you have been in this predicament, you are certainly free to marry again. God would be happy if you're happy.
Blessings!