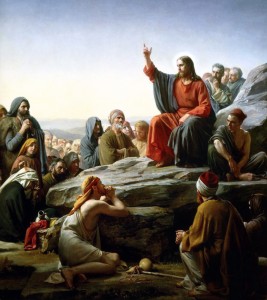 Last night a friend sent me a link to an article entitled, Self-Professed 'Bible Scholar' Makes Explosive Allegation About Jesus That He Believes Could Rock the Christian Faith to Its Core. The article appeared on Yahoo News.
Mr. Atwill, the self-professed scholar in question, believes that Roman aristocrats fabricated the story of Jesus to control the masses.
Every so often, another scholar makes similar claims. I can already tell you that they always amount to nothing. I do not say this because I am a fundamentalist Christian, nor do I have anything against Joseph Atwill. He's probably a nice guy that takes his work very seriously. But the title to the article says it all. The fact that Mr. Atwill believes Roman aristocrats fabricated the Jesus story means that he misses the entire point for the ancient teachings in the Bible. They were originally written down as esoteric teachings to be hidden from the masses!
Jesus himself admitted to having an inner circle who could hear his teachings plainly instead of in parables. The reason these teachings were veiled is so that they would survive. If their true meanings were plainly told, Roman aristocrats would have certainly burned them! Yes, the fact that their true meanings are veiled beneath literalism allowed many religious leaders throughout history to use them to control the masses, but no, they weren't created for that purpose.
Specifically, Atwill believes that Roman aristocrats fabricated the story of Jesus as a counter-measure to Jewish rebellions. In his own words, "When the Romans had exhausted conventional means of quashing rebellion, they switched to psychological warfare. They surmised that the way to stop the spread of zealous Jewish missionary activity was to create a competing belief system."
I don't believe for a second that the Roman aristocrats of the first century were smart enough to contrive such in depth teachings in the first place. Their esoteric meanings are beyond the scope of the rational mind. Can you imagine politicians and commanding generals fabricating the Beatitudes, the Lord's Prayer, or the witty replies of Jesus to the Pharisees? I seriously doubt it. How about this one?
"In the beginning was the Word, and the Word was with God, and the Word was God…in Him was life, and the life was the light of men" (John 1:1-1:3). Sayings like these transcend ethnic groups and embrace all of humanity, so I certainly don't think it was a fabrication used to fight Jewish rebellions. When understood correctly, this "life" is the Christ within all men, not one man that came to combat Jewish belief systems.
As the article on Yahoo News points out, Mr. Atwill doesn't think his evidence will be enough to shatter Christianity, but he does believe it will be enough to encourage many believers riding the fence to finally pull out of Christianity altogether.
While I don't find any fault with leaving Christianity, I do think it would be a shame to leave Christ's teachings, especially the power that lies within the esoteric interpretations. The transformative power of the exoteric teachings of Christianity will always be questionable and weak, but the transformative power in the esoteric persuasion will always remain strong and true.
If you're interested in learning more about Mr. Atwill's evidence, you may want to pay attention to his symposium, Covert Messiah, on October 13 in London, England. I'm sure it will create some waves, if only briefly.