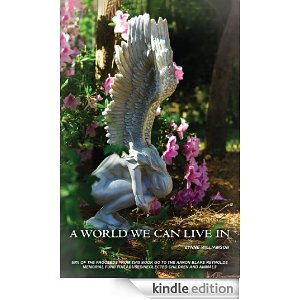 I was touched recently. Deeply. It started off like a routine Saturday morning. I slept in a bit while my wife cooked breakfast for us and the kids (thanks Jess for always offering to do this!). As she finished setting the table, I came in, said good morning to her and the little ones, ate, and then went on my screened deck to read a short book I recently received in the mail. The book is entitled, A World We Can Live In, by Lynne Williamson. Lynne is a regular reader of this blog, and I was excited to see the contents of her work.
Fall seemed to be in full swing. The warmer, summer-like mornings that have been persistent over the last month have transitioned to cool, damp ones. The hummingbird feeders seem lonely. I guess the hummingbirds have finally left, but the cardinals and chickadees are still frequently visiting the bird feeders hanging only feet away from the table that I write articles on for Spirit of the Scripture.
I love autumn. It's a beautiful transition. It seems all of nature is preparing for the colder weather coming. Although we usually think of spring as the time where life abounds, this morning I see life in the songbirds coming to stock up on the black sunflower seeds I've filled for them in the hanging feeders.
Little did I know that the book I was about to read was about transition as well. I cracked open A World We Can Live In and began reading. Thirty minutes later I was pleasantly surprised. I had just been given insight into the heart of a mother that lost her son. I had also been given more insight into the meaning "life after death," and what it sometimes means for us who are still having the physical existence.
A World We Can Live In is the result of Blake, Lynne's son who passed at the age of 20 in 2007. The theme of the book is how to make this world a much better place. Although it was inspired through physical death, it is packed with life. I am thankful to Lynne for writing this book for three reasons:
1)      It contains esoteric wisdom that I believe really can help to create a world we can truly live in.
2)      I believe this book will be beneficial to those parents who have lost a child because it is a testimony to how life still moves on.
3)      It gives us practical information on how to raise our children in a higher vibrational frequency.
As I sit here and reflect on Lynne's book, I am reminded about the transition from physical life to death that we will all have to make. I am then reminded by how much life can result from that transition. Lynne's book is a testimony to that truth. Although Blake's consciousness is not residing in a physical body anymore, his consciousness is still touching lives in this physical world.
I leave you with a quote from Lynne's book:
"If Blake were still here, the number of lives he could have reached would have been limited; I now realize that Blake left this world in order to make it a better place, because now the number of lives he can reach is limitless.
Blake, mission accomplished.
Blake's purpose here on Earth has run its course, but his greater purpose has yet to be achieved. We all play a role in bringing this purpose to fruition: making this A WORLD WE CAN LIVE IN.
I hope you get a chance to read Lynne's book someday. You can find it on Amazon. If you do, please stop back by this post and let us all know how it touched you.
Thank you Lynne for the copy of the book you sent me, and thank you for choosing to bring a light into the world through the experiences you have had. And thank you, Blake:)