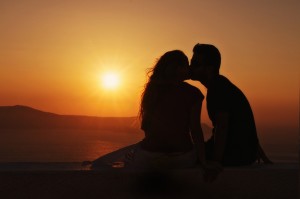 When I began looking into the esoteric teachings of other religions, I found many of them taught it was possible to transmute sexual energy into something that could bring healing and even longer life. It's was an intriguing idea that made a lot of sense once I understood the basics, so my next question quickly became, is the same teaching in the Bible?
Absolutely.
I eventually discovered writers such as Samael Aun Weor and Aunel Daath that illuminate the subject quite eloquently. If you really want to explore this subject in detail, I recommend looking into their work, but if you're new to the subject, then this blog post will be a great place to start. I'll be using some of their ideas along with my own to expound upon the subject in the way that I have come to understand it. I'll do this in two posts, and by the end of the second I think you'll agree that transmuting sexual energy is also an important Biblical concept.
Let's start with a scripture that seems quite strange at first glance.
1)      "He that is wounded in the stones [testicles], or hath his privy member cut off, shall not enter the congregation of the Lord" (Due. 23:1).
The Hebrew word translated as "congregation," qahal, means assembly. The same word is translated Ekklesia in the Greek Septuagint, and then into "church" in English. On the surface, this verse seems to imply that any man who had his reproductive parts damaged could not be part of the church or assembly of Israelites in the Old Testament. Talk about a cruel form of discrimination!
Of course this isn't the meaning in context. Biblical scholars tell us this really means that any male who had his reproductive organs damaged couldn't hold a high office or place of honor in the congregation of Israel. I had an inclination that this was the meaning in context before checking around. But I also have the inclination to take it a step further; esoterically, this verse is one among many that indirectly applies to transmuting sexual energy. Let me explain.
In certain Jewish circles, men cannot study the inner teachings of the Torah (Kabbalah) unless they are of a certain age, well-versed in the oral teachings, and are married. The common reason for these requirements is that men who have fulfilled them are mentally, emotionally, and spiritually mature enough to correctly assimilate and disseminate such powerful knowledge. As a general rule, this is probably correct.
For the purposes of this post, one of the questions we may ask is why should one be married? One possible answer is that someone who has learned how to sacrifice the needs of self to meet another have the experience and knowledge to understand the greater principles of balance and spiritual unity. But I believe there is more. In order to practice transmuting sexual energy at the highest level, both male and female (yin and yang) energy is needed from two dedicated and spiritually mature partners. Although sex is involved in the act of transmuting sexual energy, it's not about our lower desires and animalistic instincts; it's about love and something shared within a consecrated union.
Through religion, we have the common belief that God only calls some to the priesthood or pastoral role. Spiritually, I believe this is an erroneous assumption. In some esoteric teachings, all men and women are symbolically to become high priests of God. It isn't just a role that some people are meant to fulfill. The role of the high priest represents spiritual transformation on the upper mental plane through higher emotions. This is what the high priest Aaron represents in the Old Testament.
To truly serve God in spirit and truth, we all have to fulfill this higher spiritual role.
So how does transmuting sexual energy relate to developing spiritually on the upper mental (and emotional) planes? In order to truly understand this process, we need to discuss sexual desire.
The power and nature of sexual desire
Sexual energy is the most powerful desire known to man. Beginning in full force at puberty, once this drive kicks in, it takes up a lot of thought and emotion within the individual. This drive is completely normal and healthy. In fact it's part of the life-force of the physical body. In the East this Life-force is called chi. Sexual chi is so powerful that it has the ability to create biological life, and once humans lose their sex drive through age, it is a known fact that energy levels begin to dwindle. But is this the way we were truly designed to be?
I grew up in Back Bay, Va. Beach. In the 80's, this area was mostly farmland. Nestled in the midst of this farmland was my home of eleven acres. My grandparents ran a small horse farm. In fact, they owned a champion named Apollo. He came in 12th at the Arabian Nationals and his son went Reserve champion in English driving. Growing up on a horse farm I learned first-hand what happened to a stallion when they were castrated. Almost without exception it immediately changed their attitude and disposition. It was as if part of their life force was gone; once mighty stallions, castration made them something entirely different. They became docile and mild-mannered. The same thing happens when a bull is castrated. I am sure this is true to an extinct with all animals.
The next logical question is, what is this life force that contains so much energy and vitality?
Mantak Chia, author of Taoist Secrets of Love Making: Cultivating Male Sexual Energy, has stated:
"Scientific analysis has found it [seminal fluid] to contain a treasure house of vitamins, mineral, trace elements, hormones, proteins, ions, enzymes, and other vital nutritional substances. But there is an additional property…which present day science cannot analyze and is far more important than any vitamin. This may be called the Life-Force. Though it registers in no scientific instruments, it is far from imaginary since it separates the living from the dead. Ginseng root is an example of another natural substance which shows no special properties under chemical analysis, yet its life restoring powers are now widely acknowledged."
Mantak Chia isn't the only person who has taught that the vital life-force contained within the seed has the power to add years to our life and even raise consciousness. There is a long-standing tradition of emperors who knew the secrets of transmuting sexual energy.
The High Cost of Using Sexual Energy Improperly
We have already stated that a strong sex drive is healthy, but it is in how we use this drive that determines whether it becomes a negative or positive spiritual manifestation. Every time a man or women directs their sexual energy through lust and desire, precious life force is lost. Sexual energy should be channeled to regenerate the body and organs which helps bring physical, emotional, and mental healing. In other words, the use of our sexual energy should prolong life, not shorten it.
Mantak Chia further states:
"Real sexual fulfillment lies not in feeling the life go out of you, but in increasing awareness of the vital current that flows through the loins. The body is further replenished by a method of "steaming" the vital energy up from the sexual centers to the brain and higher organs such as the heart and crown of head. The life-enhancing energy process is completed by exchanging energy with one's lover during a relaxed meditation following the creation of this supercharged sexual energy."
So what does this all have to do with the Deuteronomy 23:1? The answer is simple:
A man who wasn't able to practice raising kundalini through transmuting sexual energy could not be an example of a high priest. Remember, we are required to love God with ALL the heart, soul, and mind. Learning to channel our sexual energy is part of this process. How we direct our sexual energy is one of the highest forms of spirituality. Our sexual urges and impulses are some of the strongest instincts we have. Why would God demand anything less than to use this powerful Life-force (chi) to help us raise consciousness?
To put it another way, learning to properly channel sexual energy is to journey back to God, or Source. It is our physical impulses and desires which keep consciousness grounded in the physical. Animals have no choice but to follow their instinctual desires, but humans are capable of reversing this instinctual trend and becoming higher spiritual beings through them.
Jesus' statement about transmuting sexual energy
When the disciples made a statement to Jesus about adultery and marriage, Jesus responded with an esoteric teaching about sexual union.
The first thing I want to you to notice about Jesus' reply is that it is a hard saying that not many men can receive.
"His disciples say unto him, if the case of the man be so with his wife, it is not good to marry" (Matt.19:10).
"But he said unto them, all men cannot receive this saying, except to whom it is given. For there are some eunuchs, which were so born from their mother's womb: and there were some eunuchs, which were made eunuchs of men: and there be some eunuchs, which have made themselves eunuchs for the kingdom of heaven's sake" (Matt. 19:11-12).
The bolded portion of Jesus' statement above is not referring to men who have castrated themselves or practice abstinence. It's about spiritual masters who know the secret to retaining their sexual chi within the body during sexual union. According to Mantak Chia and many others throughout history, it is possible to orgasm without ejaculation. I know this sounds strange at first, but I would read his work before you consider it hogwash. The basic idea is that instead of having this life-force leave the body just for pleasure, the same pleasure can be reached with your spouse (and even greater pleasure) without continuing to lose chi. Instead this chi can be rechanneled in the body to gain superior health and raise consciousness.
I'm not going to go more into how to accomplish this since it isn't the focus of this blog, but all your questions can be answered in his work.
I'll talk a little more about transmuting sexual energy in my next post. We'll look at how other scriptures apply. We'll also discuss one of the greater symbolic meanings of Adam and Eve and how their story relates to transmuting sexual energy.
Side note: I was hesitant to publish this post because I run Google Adsense Ads on this blog. The ads are displayed based on the content of the post, and I didn't want Google to start displaying inappropriate image ads in the sidebar based on today's content. I decided to post it anyway, very carefully choosing my words. Hopefully no inappropriate image ads will be shown. If so, please know that I didn't choose these ads.
Blessings.