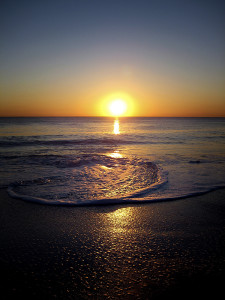 In his recent article, 16 Scriptural Reasons NOT to take the Bible Literally, Joshua addresses a matter which is a little difficult for me. Although I totally agree with him that not everything should be taken literally and that the Bible was not written in order to give an exact account of historical happenings, I feel that putting it this way goes too far. I know that Joshua does not mean it that way, but I do feel some kind of judgment in his title, some feeling of superiority and also duality, right versus wrong. I also feel it will hurt the feelings of people who honestly believe that everything is meant to be taken literally and certainly will not make them willing to listen to any explanations.
In Judaism there are four different levels of Bible interpretation, starting with the literal one. They build on one another or stand side by side, but do not oppose each other. People may move through these levels, slowly moving from one to the next, but also use all four of them at the same time as each gives different insights and some things will always literally be true and meant to be taken literally while other things are not. We just have to develop the talent to distinguish between them and we must be given the chance to do it in our own way.
It is all too easy for instance, when Jesus tells us to love our enemies, or to turn the other cheek, or not to judge, to say that that must be meant symbolically because this is too difficult, something that only Jesus can do. I think it is not. It should be taken absolutely literally.
We have to find out what Jesus means by love here. Of course it is not romantic love—no butterflies in our belly. It is not love that wants something in return, either. It is the unconditional love that loves everyone and everything just like the sun shines on everyone and everything. It is a force within ourselves that must wake up, it is the Christ consciousness that must wake up within us.
We could start by looking at our enemies as people, real people with their own lives and loves, their tragedies and sorrows. Then we might start to feel empathy with them and compassion for them and finally we then begin to understand why they might want to hurt us. Once we know that, it makes it possible to react in a way that is not threatening to them (turning the other cheek for instance), which might turn things around, without anyone getting hurt. Then we might indeed become brothers and friends who live together in peace and harmony.
It is during that whole process that the Christ consciousness will be waking up inside us. And no, this process is not easy but we should do it anyway.
I agree with Joshua about the huge importance of esoteric interpretation of the Bible in order to work towards this goal, but it is by no means the only way towards it. There are different ways in different traditions. Native peoples work through and with nature, and people within all religions also work with opening their hearts in very practical ways, even though they may take things literally which are not meant to be taken literally, and they turn into beautiful, loving people who are certainly not sticklers for doctrine anymore. I cannot stand in the shadow of many of them in that respect and have no right to feel superior in any way, simply because I am using the gifts I have received in another way. I think we each go our own way and that is the way it should be, as long as we all move towards the centre of Unconditional Love. Unconditional love really is the only thing that contains Real Truth in this dream world we still live in, and that Love connects us all.
I myself grew up in a church where the Bible was taken literally, but not oppressively so. I was free to grow towards a more symbolic approach very gradually and there was no threat with hell and damnation if you did not believe a certain doctrine anymore. Evolution also was not really a point of debate. As long as I can remember, I believed in a combination of both creation and evolution and I was very surprised when I found out later that there was a battle about this going on elsewhere. We could freely discuss this with our pastor and our teacher of religion at school (which in my case was one and the same person) without any problems. So I could move on whenever I was ready and I did, even to the point of eventually leaving the church. The point is that I would never have done so on someone else's say so.
The central point for me in all this has always been Unconditional Love. Somehow I have known from birth that Unconditional Love exists – indeed that God is Unconditional Love – and it has always been my criterion for life. That is why Jesus became my greatest hero in my childhood. Where other people only saw sins for which someone had to be punished, I only saw Love because he voluntarily had taken that punishment on himself. Only later did I tumble to the fact what this way of thinking implied about God if He would demand such a punishment and then I immediately started searching for another explanation for the crucifixion because I knew it had been a deed of tremendous Unconditional Love. This of course catapulted me into the search for the symbolic meaning of everything, which proved to be beyond my wildest imagination.
However, when I found out that there were people who had turned to symbolic interpretation of the Bible stories only, even going so far as saying that for instance Jesus had never lived at all, that went way too far for me. And it still does. Because there is so much added value if this historically happened as well, in whatever way. There is this principle, As above, so below, and I believe that is true here as well. Everything manifests at several levels.
I personally believe that Jesus incarnated at a time when mankind had completely lost its way again, as did others before and after him, in order to remind us again of who we really are and in order to show us the way Home. Each had to address the issues and the problems of his or her time and culture. For instance Moses taught the people to take an eye for an eye and a tooth for a tooth in a time that people used to kill someone for the slightest insult or even without cause. A call to love your fellow man as yourself would have been way beyond their understanding. With his crucifixion, literally or otherwise, Jesus set an example by showing us that victory (resurrection/ascension) is still possible, even in the direst of circumstances, and that we can do whatever he did. I also believe that energetically speaking that had an enormous impact. Matthew speaks of earth quakes twice and even if they did not really happen, it points to something momentous. It must have given an enormous boost to people in that time.
We have seen the same in our time with people like Ghandi, Martin Luther King, Nelson Mandela, and the Vietnamese Zen Buddhist teacher Thich Nhat Hanh, to name a few of the most well known. They all took a task upon them that they knew would bring them in a position of danger at the very least and cause them a lot of suffering but they did what they had to do anyway out of unconditional love for their people, and they always remained positive, also towards those who had harmed them. Just think of what their impact on the world has been and still is.
Thich Nhat Hanh is the only one who is still alive today and, at age 87, is still at it, promoting peace among all people. He preaches mindfulness, inter being, and compassion for all life. He preaches unconditional love and teaches us to embrace our pain, which of course is the same thing as what Joshua calls the crucifixion of our ego, a term I have taken over as well. Most of all he teaches the importance of meditation.
I do not think he is into esoteric Bible interpretation though, so do not let us get too full of ourselves. There are other ways to work toward this goal and each person should be allowed to find his own truth in his own way and his own time, without any kind of judgment from anybody else.
I believe that we can only determine for ourselves what is right for us on our path but never for anyone else, as we each create our own world in this dream world we live in. Our truth will never be totally the same as someone else's and that is okay. As long as we all work towards that common goal of living in unconditional love and in full respect for each other the way we are and the way we feel.
I think that also is unconditional love.