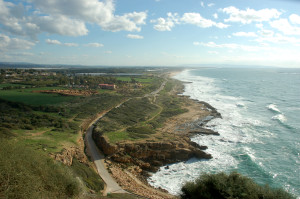 Editor's Note: I normally wouldn't publish an article such as the one below on this blog. It isn't because it is a bad article (I very much enjoyed it). Rather, it's because it is more of a personal history. By publishing it I am setting a precedent that is not the focus of The Spirit of the Scripture: Biblical Interpretation. However, since Anny has already established herself as a valuable contributor to this blog and esoteric Biblical interpretation in general, and because a few readers have asked about her background and personal history, I have decided to publish it. There is much value in this article, and even though it isn't the focus of this blog, I think it will be appreciated by many. I also realize that 2014 will bring changes to the content of this blog periodically, especially when other contributors enter the equation, and I'm sure that's a good thing. But I also believe it is important that my readers know Biblical and esoteric interpretation will always be the focus of this blog even if I decide to stray off topic from time to time. That being said, I hope you enjoy.
A History
A remark from one of our commentators made me decide to share some of my personal history with you in order to show you where I am coming from when taking the positions I do in connection with the subject of history.
First of all it should be clear by now that I do not consider the Bible to be a historical account of what happened to the people of Israel during a certain period. It is not. However, that does not necessarily mean that there is no history of the people of Israel in the country which is now called Israel, because I believe there is but that is not important in connection with the esoteric interpretation of the Bible, so I prefer not to address the matter at all in my articles.
In my personal history that is another matter altogether. I already shared part of it in my article Unconditional Love, where I told about my experiences in the church during my formative years from the ages between 10 and 20. Actually what I wrote may have given an impression that is not quite true, apart from the fact that I have always felt free to form my own opinion on everything. As far as doctrinal issues were concerned nothing much happened yet during those years. And it also might not have been the church so much that gave me this opportunity to think freely as our pastor, whom I got to know very well during those ten years. He was an open-minded, loving and understanding man and he was one of those who followed the way of opening his heart to all, which got tested and triumphed during the later years as he got terminal cancer and, even though he had never heard of that process, went very openly through the crucifixion of his ego by describing all he went through and showing all his vulnerabilities and doubts and victories in the final stage of his life. He wrote a book about it with his last strength, which I still cherish. He died at the age of 49 when I was 20.
That is one side of it. During those same ten years I became almost obsessed with the Holocaust because I grew up in the shadow of World War II and lived very close to a synagogue. A synagogue where hardly any Jews ever went to as they had all been taken and deported to the extermination camps. I saw the Hebrew characters on the porch when I passed there on my way to school and I always wondered what they meant. It was the reason for me to choose the optional subject Hebrew in school, even though I did not have the intention to go and study theology after I left school. Then I learned to decipher what those mysterious characters meant: Seek God and live! And seeking and researching I did. It is this that made it possible for me now to do what I am doing in interpreting biblical texts esoterically from the viewpoint of the Hebrew language.
I read, heard and saw just about everything there is available about the period of the Holocaust, even though I was very young in the beginning, only ten years old. I was not made to look at it, like Sparks was, I voluntarily chose to do so out of a feeling of responsibility. It may have been karmic. I did not really feel guilty for what happened, but as I was a Christian, I felt responsible for what was going to happen next. Because although it may have ended with the Holocaust, it had by no means started with it. There proved to be a history of almost 2000 years of stigmatizing, persecution, torture and murder of Jews by Christians. At the very least they were forced to live in ghettos, banned from professions, or chased out of countries. The most nonsensical stories were made up about them in order to justify all that, often instigated by the churches, and if not, then condoned.
This was what made me doubt the doctrines of the church. If things like this could be done in the Name of God by people who said to believe in a loving God, then there must be something seriously wrong with the doctrines of the churches. I did not really have any idea how to go about finding out what was the truth, if the doctrines of the church were not, but I did find a way to do something that would help to improve the relationship between the Christians and the Jews.
Just over fifty years ago a project was started by Christians from Holland, Germany, Switzerland and the USA to establish a Christian village in the north-western part of Israel, in the Galilee, where Christians from all these countries would come and live in daily contact with their Jewish neighbors, who lived in settlements surrounding this village. Something new and totally unheard of was that this village would be absolutely non-missionary. They would start economical projects there (glasshouses, agriculture, later an avocado orchard, a carpenter shop and a guesthouse) in order to contribute to the economy of the then still young state of Israel. After the disaster of 2000 years of preaching the Gospel to Jews, while chasing them away and murdering them, we would listen to them for a change. We would be the minority for a change. The name this village would get came from Isaiah 11:10: And in that day there shall be a root of Jesse, which shall stand for an ensign of the people …. The name is Nes Ammim, Banner of (or to) the Nations. You can even read it as Miracle of the Nations, which is an interpretation which we ourselves did not use however.
You can imagine how this initiative was received. The Jews in Israel were very skeptical, to say the least (apart from the ones who had been part of the development of these ideas) and the churches were indignant about the non-missionary part. Still, in Holland and Germany there were churches (including mine) who supported this initiative and organizations were formed to finance and support it. In Switzerland and the USA organizations were also formed but by individuals only and the non-missionary side of it proved too much and they pulled out after a couple of years. There were still American and Swiss individuals coming though.
I myself went there in 1971. It was very challenging, to say the least. Not only did we get to meet Jews, there also proved to be Arabs, both Muslims and Christians (but Christians from different churches than the ones we came from) in that area. And we came from enough different countries and churches and cultures as it was. You really had to be or become open-minded or you would not make it in there. It was a pressure cooker of opinions and feelings, of homesickness and a very heavy workload and what have you, not to mention the climate with very hot summers we Europeans were not used to and the special winds during springtime and autumn which are called Khamsin. It was said that after I think five days of this, you would not be held responsible anymore if you committed a murder in the old days.
Our closest neighbor was a kibbutz, Lochame Hagettaot, the Ghetto Fighters. They were the survivors of the ghettos and the concentration camps, who by then had survived some wars and terrorist attacks in Israel as well. You can imagine that they were not all that enthusiastic about us but they gave us the benefit of the doubt. They had built a Museum for the Remembrance of the Holocaust, which we were invited to visit, and organized a grand event each year on the occasion of the Memorial Day of the Holocaust. We were invited to attend each year and allowed to donate six large wreaths of roses for the six million victims of the Holocaust. Still, they did not trust us all that much. It was a matter of wait and see.
And then, in October of 1973, totally unexpected, the Jom Kippur War started. And for over a week the Israeli army was on the losing end, both in the north and in the south. In the south Egyptian forces overran the Israeli troops in the Sinai, and the Syrian forces were coming nearer and nearer to us in the north. That was a very determining period for this project of Nes Ammim. If the inhabitants would evacuate, which was possible – at that moment there was nothing yet that kept us from travelling south to the airport and flying to our home countries – then we might as well stop this initiative once and for all. If we wanted to be solidary with the Jewish people (not against anybody else though) then the time was now. Every person had to decide for himself what to do in the face of what might happen; these Syrian forces that were approaching so rapidly did not have a pretty reputation. I remember for myself that there was only one option, staying, and I just surrendered to whatever might be going to happen, and to God. Somehow it lifted me out of the desperation of the situation and placed me in some sort of bubble in which anything was possible. Nobody left, and of the nine people who were planning to arrive that week nine arrived as planned. That changed everything.
In spite of all probabilities the Israeli forces won after all but the aftermath of this war was terrible. Before the war started, the Israeli's had considered themselves invincible, even though they had to take heavy losses sometimes, but now they knew they were not. The mood was so down everywhere that in Nes Ammim we decided to make up a program of folk songs and folk dances and things like that to reach out to them and try to cheer them up a bit. We were made very welcome now. They finally believed in us because we had stayed and not run away. I still vividly remember that when we were in Lochame Hagettaot, I met an elderly woman who confided in me that they had been so terrified, that it was all going to happen all over again and that there was no safe place for them anywhere in the world. It broke my heart. But she also said that it had been so important to them that we had stayed, that it had made them feel that they were not all alone. All eyes had been upon us at that time.
And in a weird way I experienced the same all over again many years later in Vietnam, where I visited My Lai, together with my husband and my two younger sons. My Lai was a small village on the outskirts of the city Quang Ngai, where in 1968 more than 500 women, children and elderly people had been brutally murdered by American forces, many of whom must have been Christians. This happened toward the end of these ten formative years of mine and I still vividly remember hearing about it on the news because it reminded me so strongly of what had happened to Jews in the towns and villages of Eastern Europe and I could not believe that it was happening again! I remember both what happened then and what was reported later about the trials that were supposed to bring the responsible people to justice but it all petered out. I also remembered that there had been people who had stood up to their commanding officers and saved people who otherwise would have died. They had to face far harsher trials when they had returned to the USA but are celebrated as heroes in Vietnam. My husband also remembered all of this but the strangest thing is that of all the other people I ever asked about My Lai, both Dutch and American, nobody remembered, except one American woman whom I asked this question only a few weeks ago. Besides her, no one, in spite of all the news coverage at the time.
When we visited My Lai, I also met an elderly woman there, who only had survived the massacre heavily wounded by hiding under the corpses and pretending to be dead. She had visited My Lai – where nobody lives anymore but which has been turned into a memorial site – every day for all those years in order to see if there are still people coming, if her loved ones whom she lost are not forgotten. When she heard that we had known about My Lai all along, that we had never forgotten, and that both our sons, far from killing Vietnamese women, both had married one, then she hugged me and would not let go of me. It was that important to her and made a great impression on me too, as you can imagine.
There were many villages and towns in Eastern Europe, where Jews were massacred just because they were Jews, and there were many more My Lais as well, as I learned just recently. And to the survivors it is so important that the victims are not forgotten.
And then there is the matter of the pesticide Agent Orange as well. During many, many years of the Vietnam War this pesticide was used to defoliate the trees of the jungles and also the rice fields, even though it was known that this was very damaging to the health of the people who were living there. The American planes went on spraying anyway, even though it killed thousands upon thousands of people, including their own! Apart from the many people who died right away many, many more became ill, seriously ill, and died of these illnesses decades later. It was also passed on to future generations so again thousands upon thousands of people were born severely handicapped, both mentally and physically, even to the degree that children were no longer recognizable as human beings. This goes on until today and again we, or in this case my husband, met these children and their parents. We are trying to help them as well as we can – my husband is raising funds for that in Holland –  but we can help only relatively few when you take into account that there are at least 20.000 of these children today in the district of Quang Ngai alone, the district of My Lai. And as both of our daughters in law grew up in the districts where Agent Orange had been sprayed, and both of them became pregnant last year, it was theoretically possible that even our own grandchildren could be effected. Fortunately for us they were not as far as we can judge at the moment. One was born presumably healthy in September and the other one is due in a few weeks but on scans everything seems to be okay.
And then we heard recently that after all this, Agent Orange is used again to defoliate and remove parts of the jungle in South America today, the land to be cleared intended to be used to grow feed for cattle. You can only imagine what the results will be if this gets into the food chain on this scale! And after all the news coverage and the trials there have been, the concerning firms are still allowed to produce this stuff. Talk about knowledge of history being important here.
As far as the situation in today's Israel is concerned, that is very complicated indeed. There live two peoples (actually more but the others are not so much part of the conflict) with a very traumatic past, who both claim the sole right to live there. I am no longer for one and against the other, I am only for peace and harmony between them and that is something that only they themselves can accomplish. And at the grassroots there are already many projects that work towards that goal.
For instance, there is this village, called Neve Shalom / Wahat al Salaam, where Jews and Arabs, both Muslims and Christians, live together. Where children are raised in two languages, Arabic and Hebrew, and where they are taught always to look at things from the viewpoint of the other party as well. Whenever something dramatic happens, they feel it too and sometimes it is very difficult to meet each other then, but they do and they have raised a generation of young people who feel at home in both cultures and do tremendous work in order to bring people together, no matter how difficult that is. They also have a school of peace, where they bring together people of opposing factions (not only from Israel) and make them meet each other and teach them to see each other as human beings and not as enemies. I am so proud of these people, who hold on against all odds.
And there are many more projects like that, which you never hear about because the news mostly is interested in more spectacular things. In Nes Ammim, where I used to live and where I raised my family for a while, the focus of the project has now changed. There are not so many foreigners anymore and the relationship between Jews and Christians has normalized somewhat. In the beginning Jews were not allowed to live there (by the government) but that already changed a long time ago. Now houses are being built in a new project, where Israeli Jews and Arabs are going to live together, just like in Neve Shalom. And Nes Ammim now hosts conferences and other events where Jews and Arabs can meet on neutral ground. There is a Guesthouse in the Christian village, with a kosher kitchen so orthodox Jews can come and spend time there. Head of this Guesthouse, kosher kitchen and all, is a Muslim Arab woman, the sister of a man who, many years ago, offered to help our Christian kids with their Jewish Tenach lessons for school. Well, that is the kind of society I like. And somehow we seem to have branched out into Buddhism too, with our two Vietnamese daughters-in-law whom we love very much.
If this project of Jews and Arabs living together is going to grow and succeed, I personally would not mind at all to see us foreign Christians fade away completely, as it was never about us anyway. Then Jews and Arabs would be living together in peace and harmony and Nes Ammim would indeed have become a Banner to the Nations and even a Miracle.
The one thing I want to point out with this article though is how important history, in itself, is. It is for all these people I mentioned, and there is so much more that I did not mention. And of all the people in the world it is us, as Christians or ex-Christians, NOT allowed to say that there is no Jewish history in Israel, no matter what the situation is at the moment, which these peoples can and will resolve for themselves. We are NOT allowed to judge these peoples for their actions at any given time, because we do not have the slightest idea of what and how deep rooted their fears and anxieties are, and the politics of our countries have contributed heavily to the origins of many problems in that area in the past. If we want to help, we should do it by supporting these grass root movements for peace by any means we can.
When we say that there is no Jewish history in Israel and that that is just a fabrication of the Jews, it is the final touch to the Holocaust. Trust me, it is and that is not just my viewpoint this time. I spent eleven years among them and during the later years they completely trusted us, who had lived there that long and confided in us.
What is my viewpoint is that Jews, just like other peoples from other cultures, took their history and created myths around it in order to make it easier for the people to understand the universal truth that all people share. And of course they borrowed symbols from the peoples around them and that went before them. There is nothing wrong with that. The only thing that is wrong is to proclaim that you have the sole and original truth, which is what Christianity has done but others also. That is wrong because nobody has the monopoly to the truth. We are still living in the dream world of the deep sleep after all and none of us is capable of grasping the Absolute Truth yet.
And to make things clear, I did not write this article to judge anyone, put the blame on anyone, neither the churches nor the countries, as in this world of duality all of them have shining examples of unconditional love as well, nor on any individual. The root of all that happened is ignorance and fear. However, we who have inherited these things from the past should take our responsibility for the future and seek for solutions by any loving means possible.
So, as I wrote before, the thing we should do is focus on unconditional love and then, whatever we are doing, we will be heading in the right direction.