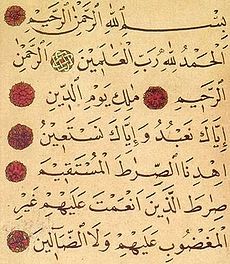 Muhammad's ministry as a prophet who preached monotheism had gotten well off the ground in Mecca by 622 CE. He had gathered a following of Muslims and instructed them to practice non-violence and personal "jihad" (struggle) to overcome one's carnal resistance to submission.  But then came persecution. Just as Jesus angered the Pharisees by overturning the tables of the moneychangers, Muhammad angered the polytheist authorities by removing all 360 idols from the Kaaba. This both insulted the polytheistic culture and threatened to interfere with trade from polytheistic merchants from out of town.  On top of this, Muhammad spoke his message in the public squares at every opportunity.  His life was protected because his clan was obligated to seek revenge if anyone outside the clan tried to hurt him.  But his followers were not all protected.  Many were beaten, rounded up, and murdered.  In this atmosphere, the concept of a "greater jihad" began to emerge, of using force to defend and advance the cause of Islam against interference from the infidels (people who refused to convert to Islam and acted against it).  In personal matters, the Quran and hadiths instructed Muslims to follow the Golden Rule, but in larger matters it instructed Muslims to act preemptively against opponents. No turning the other cheek or dusting off your sandals as you moved on. Instead, it was the law of the jungle – eat for be eaten.
The Hijrah
When the Meccans eventually ran the fledgling Muslims out of town in 622 CE, in an event referred to as the "hijrah" (migration ) they fled to Medina, an agricultural community of polytheistic Arabs who were not that tied to the commercial concerns of Mecca and easier for the Muslims to get along with. In fact, Muhammad was welcomed as a neutral spiritual leader and statesman who could arbitrate disputes between polytheistic tribes, thus avoiding armed conflict.  Medina also included a substantial Jewish minority and some Christians, both of whom welcomed living side by side with these new Muslim monotheists. At least at first.
Here, Muhammad proselytized the Arabs, like wise Solomon, taking wives from the various tribes to promote harmony, only he did one step better then Solomon – he converted all his wives to Islam so they would not interfere.  And so Muhammad's influence grew in numbers and power.  As revelations were added to the Quran, many of them reflected a kinship with Judaism and Christianity and alluded to Jews and Christians as People of the Book.  However, Muhammad soon ran into problems proselytizing the Jews, who were very set on continuing in the Mosaic traditions of their ancestors.  And for most Christians, no one could top Jesus three centuries after the Church proclaimed Jesus the Son of God and Lord of all.  Even so, the entire third sura in the Quran is dedicated to pleading with the People of the Book to see the error of their ways and convert to Islam. As Muslim influence increased in Medina, they took over the city and enforced Sharia law, but they allowed Jews and Christians who lived under their rule and paid their taxes to govern themselves, to some extent, according to their own laws.
Treaties Made to Break
Various treaties have been made between ruling Muslims and non-Muslims under their authority throughout history and this practice continues in modern Islamic countries. However the Quran and hadiths provide for abrogation of treaties whenever Islamic rulers perceive a potential obstacle to the advancement of Islam.  Also the rules of engagement in war and diplomacy outlined in Quran and hadiths instruct Muslims to offer concessions to opponents only if they (Muslims) are in a weakened position, and to demand concessions when they are in the stronger position. This was all for the purpose of advancing the Islamic vision for worldwide domination, not necessarily in the interest of worldwide tolerance and peace. Lying, distorting, and exaggerating was, and still is, considered acceptable and necessary if it advances the cause of Islam as determined by Islamic leaders.
The tune "We are world, we are the people" is not part of the conventional Muslim playbook. The mystical Muslims who are a very small and uninfluential minority (such as the Sufis) are the only element of Islam sensitive to such higher consciousness. Therefore, as long as this condition persists, most Western political strategists believe that, at best, only temporary peace can be obtained with aggressive Islamic nations and factions by placing them in a weakened position. Otherwise, "You give them an inch and they take a yard" is the warning that has been learned the hard way by painful experience. We see this frustration reflected in much of Israel's hardline dealings with the Palestinians and in the Western world's not-hard-enough-line dealings with Iran.
Things could be worse. We could all be as crazy as some leaders in North Korea.  But as we speak, while Iran is engaged with negotiations over disarming its nuclear weapons capacity, it is quietly shipping long range missile technology to North Korea.  North Korea is officially an atheist state, so this is a surprising alliance of Muslims with infidels, one not advised by the Quran.
The Battle of the Trench
According to one school of historical perspective, Muhammad responded to harassment by passing Meccan caravans by raiding the caravans.  Mecca responded by raising from its allies an army of 10,000 horsemen to attack Medina. When Muslims got wind of it from sympathetic contacts in Mecca, they harvested their crops early outside Medina proper. They then dug a long trench across the only access to Medina proper by horseback and gathered an infantry of 3000 to defend the trench.  The Meccan forces were stopped from advancing beyond the trench.  They tried several times but backed down after and decided to use the strategy of a long siege to starve the Muslims out. This also failed because the Muslims were well stocked from an early harvest, leaving the Meccans with nothing to harvest. The Meccans then tried to persuade non-Muslim clans in Medina to allow them access through their lands. Muslim contacts got wind of this and took action to prevent such an alliance.
Eventually the Meccans ran out of food and retreated to Mecca.  A total of only 9 of the total 13,000 men involved on both sides of the battle were killed.  After the battle, a Jewish clan was totally wiped out when Muslims, with questionable proof of any wrong doing by the them in conspiring with the Meccans, made them line up in front of the trench and beheaded all males old enough to have pubic hair and who would not convert to Islam (some 800 of them were executed). Slaves were then made of the woman and children.  There are other schools of historical perspectives with a different spin. Because some of these schools even deny the Holocaust, I tend to go with the one I have already described.
As founder, prophet, governor, and warlord of the Muslim world, Muhammad then created a theocratic war machine that exacted deadly revenge on those perceived to be an obstruction; and then attacked, conquered, and converted surrounding cities, including his arch enemy, Mecca.
After Muhammad died in 632 CE, a battle for leadership ensued.  The Shiites believed succession should follow either along family lines or to a leader "chosen by Allah".  The Sunni believed in electing a leader.  Under the direction of various Sunni and Shiite leaders (Caliphs), Islam spread and conquered nations and subcontinents in the name of Allah.  Holy War was at its peak.
Inconsistencies and Flaws of Fundamentalism
Muhammad taught that the laws of Moses and the teachings of Jesus were ordained by Allah, but he insisted they were corrupted by their followers and that he himself was the final prophet to bring perfection to all of God's people. Eventually he and his successors started to refer to Jews and Christians as the Reprobate People of the Book.  Jews are singled out in the Quran for not following the Book and rejecting Allah's prophet, Jesus. Christians are singled out for changing the book and not submitting to all of it. The Muslim is thus exhorted to avoid the mistakes of the People of the Book, and to follow a combined path of trying to obey all the law and voluntarily submitting totally to Allah, trusting in his mercy to be perfected.
Personally, I think that exhortation is not too bad, as long as the submission is voluntary and would not be hijacked into Holy War.  I would strongly prefer if the People of the Book had not been singled out as bad examples, because it provided fuel for stirring up religious intolerance and hate by Islamic extremists. And I would probably prefer the phrase "harmonize with an inner witness to Allah" instead of "submit to Muhammad's witness".
But I do not think "submission" is always a bad thing.  For instance, when I am not in a state of higher consciousness, which is very often, I find it valuable to submit my ego self to following a backup plan, an automatic code based on memory of higher consciousness. The act of voluntary submission can be a very powerful spiritual tool.  Mental images of the accounts of Jesus submitting himself to the will of God at Gethsemane and on the cross are helpful at these times. Also submitting myself to renewing my consciousness to a higher level frequently and consistently never hurts.
Although I find it difficult to argue with the claim of religious corruption among Jews and Christians, that being said, I have problems with militant, judgmental, and manipulative tendencies in Islam emerging after the Hijrah.  Is this not a violation of the teachings of Allah's earlier prophets, Moses and Jesus?  Combined with Islam's violent expansion across subcontinents during the Middle Ages, this amounts to a gigantic contradiction in terms with its earlier development and compatibility with the good parts of Judaism and Christianity. In my opinion, Islam is more like a divergence from the best of Moses and Jesus than an extension or improvement. One can point to ayat in the Quran advocating goodness and moral responsibility, but also to ayat condoning the murdering of women and children, even genocide.
Admittedly, there are verses in the OT where God commanded the Hebrews to annihilate the Philistines, but the evolving interpretation of the OT and the modern practice of Judaism is humane and respectful of other ethnic and religious entities. Also admittedly, when Christianity became manipulated politically then horrible things happened (the Crusades happened, the Spanish Inquisition happened, and maybe even the 21st century "Jesus is Lord" Tea Party happened).  But the NT did not condone what happened, and modern practice of Christianity has also evolved to become more humane and respectful, with the exception that fundamentalist Christianity has some serious lessons to learn about judging the innocent and interpreting scripture too literally.
Like fundamentalist Christianity, fundamentalist Islam teaches that there will be a worldwide apocalypse and then a final judgment resulting in unrepentant sinners being punished in Hell and the good Muslims being physically resurrected in Heaven.  There is a slight difference in that Hell in Islam is not an eternal punishment, and is aimed at eventually redeeming the infidel the hard way.  Some rare sects of mystic Muslims, including some Sufis, believe that Islamic literature is largely allegorical and symbolic, and that it is up to the believer to commune with God to find the inner, deeper meaning for oneself and for one's community.
More about Jesus
The Quran says when Jesus is brought before Allah at the final judgment, he will deny ever claiming he was a god who should be worshipped:
And behold! God will say, "Oh Jesus the son of Mary, didst thou say unto men worship me and my mother as gods in derogation of God?" He will say: "Glory to Thee, never could I say what I had no right. Had I said such a thing, thou wouldst indeed have known it. Thou knowest what is in my heart. Though I know not what is in Thine. For Thou knowest in full all that is hidden."  (Quran 5: 116).
The Quran claims that the coming of Muhammad was foretold in the Bible:
"Those who follow the Apostle (Muhammad), the unlettered Prophet, whom they find mentioned in their own (Scriptures) – in the Law and the Gospel."  (Quran 7:157)
In support of this, Muslim scholars claim Allah referred to Muhammad as the prophet in Deuteronomy 18:18, "I will raise up for them a prophet like you from among their brethren; and I will put my words in his mouth, and he shall speak to them all that I command him".  Christians have a much stronger case for Deuteronomy referring to Jesus based on other verses from the OT and NT.
The Muslim scholars also believe that Muhammad is the comforter that Jesus promised in John 16:7, "Nevertheless I tell you the truth: it is to your advantage that I go away, for if I do not go away, the Comforter will not come to you; but if I go, I will send him to you". They claim the Greek word for comforter "paracletos" was a mistake and should really have been "periklutos" (the praised one) which is the meaning of the word "Muhammad" in Arabic. However Muhammad does not fit the bill of the Comforter in John 14.16-17, "And I will pray the Father, and he will give you another Comforter, to be with you forever, even the Spirit of Truth, whom the world cannot receive, because it neither sees him nor knows him; you (the disciples of Jesus) know him, for he dwells with you, and will be in you".
Finally, the Quran claims that Jesus was not crucified, but was made to appear so:
And they said we have killed the Messiah Jesus son of Mary, the Messenger of God. They did not kill him, nor did they crucify him, though it was made to appear like that to them. Those that disagreed about him are full of doubt, with no knowledge to follow, only supposition. They certainly did not kill him. On the contrary, God raised him unto himself. God is almighty and wise. (Quran 4: 157-158).
Conclusion
In summary, the Quran teaches that Jesus was a prophet, the son of Mary, not the son of God, and who, like Moses and Muhammad, brought God-inspired teaching to mankind. He was not crucified as an atonement for the sins of mankind.  According to the Quran, Jesus was holy but not above any other prophet.  Of course, these assertions in the Quran supports Muhammad's claim that he is the final prophet with a perfect scripture and way to God for all peoples. Later Muslim hadiths claim that Jesus will return during a great battle between Muslim forces and the Antichrist and Jesus will defeat the Antichrist. At that time the People of the Book will be humbled and all become Muslims. Later Jesus will die a natural death. This contradicts the Christian version which asserts that when Jesus returns, all peoples will be humbled and converted to Christianity.  Notice that these later hadiths contradict a major assertion in the Quran that Jesus was not more special than Muhammad.
Like many others, I have grieved over the suffering from the conflict between Jews and fundamentalist Muslims in the Middle East, and how it has affected the rest of the world. I am trying to look at both sides of the conflict as objectively as I can.  It is not easy. I welcome any comments that would help me do this.
Rather than believe in the Christian and Muslim fundamentalists' cataclysmic destiny of the Middle East based on literal interpretations of their scriptures,  I would like to believe that Israel is a grain of sand irritating the oyster of Islam surrounding it, and that this process will one day create a diamond out of both.
Meanwhile, friends and fellow meditators, while we are still sojourners in confines of this material realm, may we continually endeavor to be set free by the light that transcends the limitations of religion in it.  Consider the diligence of our Muslim brothers; they try to resist man's nature to backslide by following their prophet Muhammad's prescription to pray seven times a day.
So let us reach for the light of the universal prophet within us, again and again, and moment by moment.  Blessed be the ineffable one, most merciful and compassionate.
Resources
For more information on Islam that is Western-friendly, visit: http://www.patheos.com/blogs/muslimsforasafeamerica/2013/01/why-did-prophet-muhammad-go-to-war/.
For a balanced and in depth exposition of the Quran for English speaking Muslims and non-Muslims, written by a noted Muslim scholar prior to historical developments after the 1967 Six Day War, visit: http://www.muslim.org/english-quran/quran.htm.