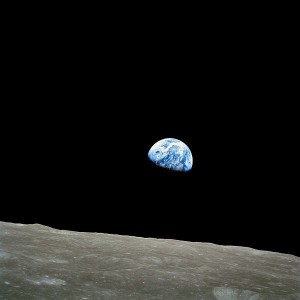 Besides being a popular ride at Disneyland, "Spaceship Earth" describes the beautiful little planet we share with every other living thing aboard it. From ants to elephants, from in-laws to out-laws, we are all on the same ride. Thousands of years ago the author of the Book of Job was aware that the earth was suspended in space, for he writes:
"He stretches out the north over empty space and hangs the earth on nothing." (Job 26:7)  
But not until man's more recent ventures into outer space has he begun to understand how wonderfully fragile our tiny cosmic habitat appears floating mystically against the darkness and vastness of space. Even the best of cameras fail to capture what is seen by the naked eye, a billion living stars of every size and color surrounding this mystical "blue marble". And just to think, on this marble are seven billion human passengers and a cargo of countless species.
Spaceship Earth has been traveling for four billion years ever since its creation, and it is good for another four billion years down the road until our yellow sun burns out and transforms into a red giant, engulfing all the inner planets. Hey, don't cry, that's really good mileage for a spaceship; it should serve us well if we can avoid wrecking it during our carefree, reckless teenage millennia.
In any case, Spaceship Earth is the only ride we have. We only get one chance at this, so we better buckle up and get along with one another. We do not have the time and energy to bicker amongst ourselves like children in a school yard spat. We need to be alert, because chances are before this ride is over, at least one giant asteroid will come barreling down on us, and we will become toast unless we pool together to deflect it in time.
And oh yes, if at all possible we should avoid nuking ourselves into extinction along the way. Poisoning all our air and water wouldn't be any fun either? We would just hate it if things like that happened, wouldn't we? And it's always for no good reason.
When we see just how vulnerable spaceship earth is, it does not make a lot less sense to start a war over who owns which pile of dirt or what to name God.
The famous philosopher Buckminster Fuller once remarked:
"We are the crew of 'space ship earth'. But we're a crew of mutiny and how can you run a space ship with a mutinous crew?"
Sooner or later we are going to have to sit down together, work out all our differences, and develop a long-term flight plan. If we play our cards right, we can even catch another ride when this one runs out of gas. But if we play them wrong, we could join the ranks of spaceships that may have crashed and burned, never making contact with us or anyone else out there, unlike the scene depicted by actors Jodie Foster and David
Morse in the movie "Contact".
The Overview Effect
Spaceship Earth recently got off course when the Americans got pissed off at Putin and kicked the Russians out of the International Space Station program. Not only are the Americans going to miss the free vodka, but also the space taxis Russia provides. Luckily America can fall back on its newly developed commercial space rockets like Space X, and along with these are commercial shuttles built by Virgin Galactic. These shuttles will be launched inexpensively from a high altitude mother plane, taking tourists and projects into weightless space, but at lower "suborbital" levels, and at a fraction of the cost. What is also unique about Virgin Galactic is that it will be working in coordination with neuroscientist Dr. Andrew Newberg on the "Overview Effect" project.
The Overview Effect was first observed by Astronaut Edgar Mitchel on the Apollo 14 mission to the moon in 1971. He looked out the window at earth and felt completely engulfed by a profound sense of universal connectedness. Without warning, he says, a feeling of bliss, timelessness, and connectedness began to overwhelm him. He describes becoming instantly and profoundly aware that each of his constituent atoms were connected to the fragile planet he saw in the window and to every other atom in the Universe. He described experiencing an intense awareness that Earth, with its humans, other animal species, and systems were all one synergistic whole. He says the feeling that rushed over him was a sense of interconnected euphoria. If you have not seen this in a previous post, check out this short, very impressive video depicting Edgar's experience*.
*http://www.youtube.com/watch?v=7UVuzDDTdgs
The rest of the 500 astronauts that have flown missions to date have had similar experiences of varying intensities. Several theories were immediately proposed by scientists explaining this as simple physical euphoria brought on by the excitement of being in outer space and weightlessness. However, there seems to be a more profound and lasting effect, even life changing, that such simple physical explanations would not account for. Edgar Mitchel and others have described these effects as similar to states of heightened consciousness referred to as Samadhi, and believe it has something to do with being in the actual environment in outer space surrounded directly by stars, and what other reality might be out there. Photographs of the "blue marble" are unable to reproduce this experience. Some progress is being made using virtual reality simulators, but still far from the real outer space experience.
Dr. Newberg is developing brain scanners to go into the Virgin Galactic shuttles to test brain functions during Overview Effect experiences of pilots and passengers. Dr. Newberg has been very successful in tracking changes in brain function of Buddhist monks during meditation, people praying in tongues, and other mystical experiences. The Overview Effect is believed to be therapeutic and so there is a desire to make the experience available to as many people as possible through affordable space tours and, back down on earth, through simulators. The Overview Effect might also be useful in aiding the solution of current world challenges through its unique ability to create or reinforce a global vision.
Flights are anticipated to start in 2016, six people and two pilots per flight. Close to one thousand tickets have been sold at $200,000 each and include such notables as Stephen Hawking, Tom Hanks, Ashton Kutcher, Katy Perry, Brad Pitt, and Angelina Jolie.
Performing biological measurements when people are having spiritual experiences should not be considered an attempt to diminish the mystical aspect of the experience. Dr. Newberg is interested in determining biological markers that are used to tell if a particular type of mystical experience is occurring; for instance, Moses's face was known to glow when he experienced talking to God. Seeing Moses's face glow was also a positive life experience. So is finding biological markers. They tell us something is happening, but the causing of it does not have to be merely biological.
Although this post is not as focused on written scripture per se, it is focused on "The Sacred Manuscript of Nature" as explained by Universal Sufism, a topic of a previous post "The One Holy Book".   Instead of discussing how word passages or the hidden meanings of them promote enlightenment, we have been discussing how the direct experience of nature accomplishes this by impressing changes, perhaps in our perspective on life, perhaps on our level of fulfillment, perhaps on our goals, etc. "The medium is the messenger" might be another way to put it, where, in this case, the medium is nature rather than words.
Next time you are out on a clear night and look up at the starry, starry skies, remember you are one of seven billion crew members standing on the observation deck of spaceship earth, and that there is more wonder out there than we have yet to imagine.