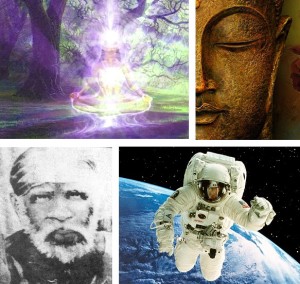 While nations raced neck and neck to land on the moon and plant the first lags, little did they realize destiny's greater purpose to this "one small step for mankind". The first hint of anything unusual occurring was the photo of earth captured 20,000 miles away as a bright, clear "blue marble" floating amongst the myriad of constellations. The starry realm in which earth was suspended seemed much more distinct and varied in sizes and colors than seen through the atmosphere from earth observatories. The crew and mission control were so absorbed in getting to the moon in front of them that they almost missed this view in back of them. It was so different than expected that some critics claimed the first manned moon mission was taped in Hollywood and digitally enhanced.
NASA brought back rocks, pictures, surveys, and all sorts of technical data from the moon. But after all was said and done and the parades were over, that image of our precious tiny blue marble suspended in the cosmic clouds still lingered in the memories of millions who had seen it on TV. They had been mildly touched by something which was subtle, quietly awesome, somewhat undefinable, yet fleeting.
Then on a later moon mission, an astronaut with an engineering background just doing his job at the console of a space vessel which was slowly rotating around itself while in moon orbit, found himself becoming memorized as he watched the entire galaxy revolving in a 360 panorama, with the blue marble reappearing each cycle. After several hours of progressive mesmerizing, whatever had been subtle in previous encounters became magnified into a powerful revelation of cosmic consciousness, a burst of recognition of the deeper meaning of everything. If you have not seen the one minute short version account of this defining moment, check it out first at http://www.youtube.com/watch?v=7UVuzDDTdgs. Then watch this two minute one with a sociological twist http://www.youtube.com/watch?v=dSCpeoIynjg.
This event in space changed hundreds of lives and set into motion a chain of events still playing itself out many decades later. As time goes by, it is turning out to have more significance than just a profound experience; it may eventually save our planet. An inspiring full-length movie about it is designed to raise planetary consciousness and stir hearts to action. Keep an eye out for it next summer (2015). It is entitled "Planetary" and is coming to a theater near you. Watch this 19 minute totally super awesome trailer http://vimeo.com/60234866.
What is Samadhi?
This phenomena experienced on the moon missions and more recently on the International Space Station have been coined "The Overview Effect".   Lifting off our planet and seeing it from far, far away is as eye opening as looking down on your own body in an out-of-body experience. For lack of better understanding, Western psychologists classify the Overview Effect as a "cognitive shift", the same term used to describe sudden changes in perception and emotional excitement reported from subjects taking psychedelic drugs. But the intensely positive impact and very long range effects of the Overview Effect are much more accurately described by the altered states of consciousness experienced by highly disciplined Hindu, Buddhists, Gnostics, TM, and Sufi who practice meditation and yoga.
Samadhi in the Bhagavad Gita
One of the earliest mentions of Samadhi were in the Indian "Upanishads" including the "Bhagavad Gita". In Chapter 2, part 5 of the Bhagavad Gita, entitled "The Yoga of Knowledge", Sri Bhagavan explains the characteristics of one who attains Samadhi.*
*For an expert commentary on this passage, see http://www.esamskriti.com/essay-chapters/Bhagavad-Gita~-Chapter-2-(Part~5)-Saankhya-Yogah~-Yoga-Of-Knowledge-1.aspx
"Arjuna said:
O Keshava, what is the description of him who has steady wisdom and is merged in the super conscious state (Samadhi)? How does one of steady wisdom speak?   How does he sit? How does he walk?
Sri Bhagavan said
O Partha, when a man completely casts off all the desires of the mind, his Self finding satisfaction in itself alone, then he is called a man of steady wisdom. He  whose mind is not shaken by adversity, who does not hanker after pleasures and  who is free from attachment, fear and anger, is called a sage of steady wisdom. He who is not attached to anything, who neither rejoices nor is vexed when he obtains good or evil – his wisdom is firmly fixed. When like the tortoise which withdraws its limbs on all sides, he withdraws his senses from the sense objects, then his wisdom becomes steady. The objects of the senses fall away from the abstinent man but not the taste for them. But even the taste falls away when the Supreme is seen.
The turbulent senses, O son of Kunti, do violently carry away the mind even of a wise man though he may be striving to control them. From anger comes delusion, from delusion the loss of memory, from the loss of memory the destruction of intelligence; from the destruction of intelligence he perishes. But the self-controlled man, moving among objects with his senses under restraint and free from both attraction  and repulsion, attains peace. In that serenity there is an end of all sorrow; for the intelligence of the man of serene mind soon becomes steady.
The  man whose mind is not under his control has no Self-Knowledge  and   to the  unsteady no meditation is possible and to  the  unmeditative  there can  be no peace and to the man who has no peace  how  can there be  any happiness ? When the mind runs after the wandering senses, it carries away his discrimination as the wind carries away a boat on the waters.
Therefore, O Mighty Armed Arjuna, his wisdom is steady whose senses are completely restrained from their objects. In  that  which  is  night  to all beings, the   self-controlled  man  is awake and where all beings are awake,   that  is  the  night for  the man who sees (has vision). He attains peace into whom all desires enter as the waters enter the ocean, which is full to the brim and grounded in stillness, but not the man who is the desirer of desires. That man attains peace who, abandoning all desires, moves about without longing, devoid of the sense of `I'-ness and `my'-ness. This is the Brahmi-state, O Son of Pritha. Attaining this, none is deluded. Being established therein, even at the hour of death, one attains final liberation in Brahman.
Thus in the Upanishads of the glorious Bhagavad Gita, the science of the Eternal, the scripture of Yoga, the dialogue between  Sri Krishna and Arjuna ends the second discourse entitled The Yoga of Knowledge."
Further Explanations and Levels of Samadhi
Other aspects of Samadhi are explained by this excerpt from http://www.rootshunt.com/samadhi.htm:
"Samadhi in Hinduism means higher levels of intense meditation, or dhyana, in Yogic schools. Samadhi is the state of mind in which the mediator is absent from the thought of one's own self. The thing or object meditated upon, are all considered to be but one.
Samadhi is a Sanskrit word which means the state of realization achieved by complete meditation. The word Samadhi is derived from `sam` meaning together or integrated, `a` means towards, and `dha` means to get or to hold. Thus Samadhi means to acquire integration or wholeness, or truth.
In Hinduism Samadhi is the main subject of the first part of the Yoga Sutras called Samadhi Pada. In the Mahabharata it is mentioned that yoga is samadhi that is total control over mind.
The Overview Effect is closest to Savikalpa Samadhi, which is explained in contrast to Nirvikalpa Samadhi in this excerpt from http://www.techofheart.co/2013/05/Overview-Effect-and-Experience-Savikalpa-Samadhi-of-Astronauts.html:
"Savikalpa samadhi, the highest of spiritual states of consciousness, second only to nirvikalpa samadhi (infinite bliss). The sanskrit word Savikalpa samādhi is a state of samādhi in which one's consciousness temporarily dissolves into Brahman. According to Great Master Paramahansa Yogananda: In this state, one lets go of the ego and becomes aware of Spirit beyond creation. The soul is then able to absorb the fire of Spirit-Wisdom that "roasts" or destroys the seeds of body-bound inclinations. The soul as the meditator, its state of meditation, and the Spirit as the object of meditation all become one. The separate wave of the soul meditating in the ocean of Spirit becomes merged with the Spirit. The soul does not lose its identity, but only expands into Spirit. In savikalpa samadhi the mind is conscious only of the Spirit within; it is not conscious of the exterior world. The body is in a trancelike state, but the consciousness is fully perceptive of its blissful experience within. Describing Savikalpa Samadhi, Sri Chinmoy a Spiritual Teacher from Bengal wrote: Samadhi is a spiritual state of consciousness. There are various kinds of samadhi. Among the minor samadhis, savikalpa samadhi happens to be the highest. Beyond savikalpa comes nirvikalpa samadhi, but there is a great gulf between these two: they are two radically different samadhis. Again, there is something even beyond nirvikalpa samadhi called sahaja samadhi. In savikalpa samadhi, for a short period of time you lose all human consciousness. In this state the conception of time and space is altogether different. For an hour or two hours you are completely in another world. You see there that almost everything is done. Here in this world there are many desires still unfulfilled in yourself and in others. Millions of desires are not fulfilled, and millions of things remain to be done. But when you are in savikalpa samadhi, you see that practically everything is done; you have nothing to do. You are only an instrument. If you are used, well and good; otherwise, things are all done. But from savikalpa samadhi everybody has to return to ordinary consciousness. In savikalpa samadhi there are thoughts and ideas coming from various places, but they do not affect you. While you are meditating, you remain undisturbed, and your inner being functions in a dynamic and confident manner. But when you are a little higher, when you have become one with the soul in nirvikalpa samadhi, there will be no ideas or thoughts at all. When you enter into nirvikalpa samadhi, the first thing you feel is that your heart is larger than the universe itself. Ordinarily you see the world around you, and the universe seems infinitely larger than you are. But this is because the world and the universe are perceived by the limited mind. When you are in nirvikalpa samadhi, you see the universe as a tiny dot inside your vast heart. In nirvikalpa samadhi there is infinite bliss. Bliss is a vague word to most people. They hear that there is something called bliss, and some people say that they have experienced it, but most individuals have no firsthand knowledge of it. When you enter into nirvikalpa samadhi, however, you not only feel bliss, but actually grow into that bliss. The third thing you feel in nirvikalpa samadhi is power. All the power of all the occultists put together is nothing compared with the power you have in nirvikalpa samadhi. But the power that you can take from samadhi to utilise on earth is infinitesimal compared with the entirety. Nirvikalpa samadhi is the highest samadhi that most realised spiritual Masters attain. It lasts for a few hours or a few days, and then one has to come down."
How Do I Attain Samadhi?
These sample references describe various paths for attaining Samadhi. Browse through them and pick out one that suits you, or google "How to Attain Samadhi" to obtain more references. If you are looking for videos, google "How to Attain Samadhi You Tube".
WEBSITES:
http://www.bliss-music.com/savikalpa-samadhi-meditation.htm
http://www.sivanandaonline.org/public_html/?cmd=displaysection&section_id=927
http://www.sacred-texts.com/hin/kmu/kmu10.htm
http://www.enlightenedbeings.com/samadhi.html
BOOK:
http://www.amazon.com/dp/1578630355?tag=scienceofwhol-20&link_code=as3&creativeASIN=1578630355&creative=373489&camp=211189
YOU TUBES:
http://www.youtube.com/watch?v=KymqxXl9QM4
http://www.youtube.com/watch?v=MLeVLc07Bpc
http://www.youtube.com/watch?v=zPEuJSn4UJg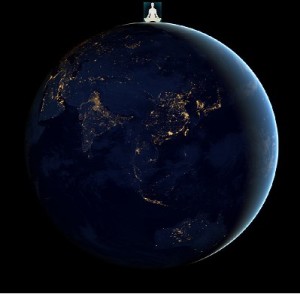 Conclusion
Other sources say that Samadhi can occur naturally once one has learned to let go, sort of like just relaxing quietly to tap into bliss consciousness once the mind has been deconditioned. Of course, it may take a rigorous discipline to decondition it.
The Overview Effect and Samadhi are important parts of esoteric wisdom "written" in the One Holy Book, the sacred scriptures found in nature alluded to by the Sufi*, and are partly synonymous with Gnosis, Revelation, Holy Spirit Guidance, Epiphany, Release of Kundalini, and Cosmic Consciousness.
*Refer to my previous post "Is there Only One Holy Book?" http://www.spiritofthescripture.com/id2661-is-there-only-one-holy-book.html
As co-citizens on this magnificent but tiny blue marble, we have two choices. We can run around like hordes of ants bumping blindly into each other, sometimes eating each other, all performed in competition for resources. Or we can realize how connected we are on this little planet, then spend more energy preserving those resources for everyone and assuring our long term survival as the most highly conscious species we know of in the universe… so far.
Some cosmologists have speculated that the reason we have not yet made contact with off world civilizations is not because they were not numerous, but because they failed to realize their connectedness that would have saved them from self-destruction.
So my friend; find yourself a quiet place, a pose, a prayer, a dance, a mantra, or just stretch your legs; and tune in to the cosmos. I hear it sounds beautiful.