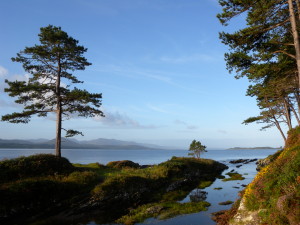 If you've been reading my articles you will quickly see that I don't talk about love, forgiveness, compassion, harmony, happiness, patience etc. Why? They are all very beautiful qualities. What I do go on and on (and on) about is truth and consciousness. The good qualities above and all the rest fall under the umbrella of consciousness. That's why. How does one try and explain love, etc.? It must come from within. Who am I to tell another what love is? It could be self-sacrifice of some nature, but what is the motive behind that sacrifice? It could be caring but that doesn't necessarily constitute love. I might be able to explain patience but how do I get another to feel patience inside themselves? "Be patient" are just words. The person may act patiently and wait for whatever but inside they could easily be seething with anger over the waiting.
Is marriage love? If so why are 2 people legally bound by a piece of paper and sometimes suffer horrible consequences if they find they have made the wrong decision? How could they have made the wrong decision in the first place if it truly was love? Or that "2 people who love one another get married" but love can mean many things to each of us. Are both people on the same page?
We should all know by now there is no such thing as marriage in the Bible. You know that, right? Marriage in scripture is, once again, the blending of the 2 minds into one. "Man" is spirit/soul/electricity/ higher mind, "wife" is body/matter/ magnetism/lower mind. Ok, stop right there! I already know what you're thinking. This has nothing to do with temporary human gender. Remember, every single one of us is the same Light/Electric Being as the other. "We" are all Brothers inside, Sisters outside (matter, regardless of gender). So in the Bible when it says the "wife should obey the husband" it simply means the lower conscious mind should follow the lead of the Divine Mind. This badly misinterpreted scripture has caused women untold horrors since, well, you know, say around 325 A.D. We all must understand who and what we are and guess what? Guess what leads to that understanding? Yes, truth which then leads to consciousness.
Now are we starting to see why truth and consciousness are everything? As far as love is concerned I can tell you this, love is unconditional. It doesn't need to be bound with legalities. That's the best I can do.
All through ancient scripture (except for Japan) spirit/soul is male and body/matter are female but these are just polarities, opposites, electricity and magnetism. Matter, mother, mater, material etc., that which receives. Our bodies (matter) receive spirit/soul/mind. Mother Earth is female because the Earth is the recipient of energies from the Cosmos. The Moon is female because it receives light from the sun. The sun (Jesus, Horus, etc.) is male because it sends, transmits. The lower mind, brought forth with physical creation is the recipient of guidance etc. from higher mind when made ready – potentials into potencies…
So, once again, getting back to truth, is there a middle ground for truth? Can we all have "our own" truth? Not a chance. There is only 1 truth and it is as absolute as it gets. We can lie to ourselves and pretend there is more than 1 but when we lie to ourselves, pretend, deny we block the progress of the soul and you know what happens when we do that…trouble.
So how do we know when we have the absolute truth about a given item? Well, let's take a look at the flip side of that first. We have all experienced that gnawing from within when we are lying to ourselves or others. Many times we try and suppress that feeling but it keeps coming back, right? Or sometimes it's the old "yes, but…" and we make excuses, come up with half-truths (which is still not truth), let money, jobs etc. get in the way, selfishness, things like that. I'm just as guilty as anyone so I'm talking about myself here too. But when we don't get that gnawing at us, when we don't have bad dreams, when we're not constantly re-thinking the event, when we have some peace of mind then we know we're on the right track. We've all done it, sacrifice truth/ principle/integrity for something, usually a material item, maybe sex, whatever. So again, just being honest with ourselves is the whole key.
As far as gender/race, those are just temporary conditions, a differing perspective for us (mind/Light Being) to learn from. We all cycle through the genders/races for that very reason. For the learning aspect that cycling is valuable but for anything else it's meaningless. That's why we can't fall for the criminal globalists and their minions' attempts to divide us using these conditions, we must truly know who/what we are. We also will play all the different roles in life, the good/bad guy, the corrupt/honest politician, the liar/the one being lied about, etc. This is how the sub-conscious stores value. This is what is needed and why we're here. None of this exists in the higher realms. Physical life experience, the meaning of the Eucharist. At the Last Supper what do we have? Bread (really should be grain or corn), the wine in the cup and Jesus. The bread is symbol for the soul, the wine in the cup is the Blood of the Lamb (the soul suns' rays, see Paracelsus) and the human being. The light from the sun cannot sustain itself so where is the mysterious fuel, the oil? The human being, in this case Jesus, being that oil which, through effort and life experiences, fuels the consciousness-soul sun which raises up the soul. Our accepting of truth is what raises consciousness.
I need to clear something up from my last post. I mentioned "multiple descents" with only 1 ascent. I should have been clearer, my apologies. Between incarnations the soul needs somewhere to go to rest, re-group, think about what it has learned and decide its' next course of action. It will venture back to the 2nd Cause for this purpose. But, if we (Light Being) haven't earned the souls' immortality yet the soul will reincarnate and continue learning. So it will venture forth again, slip into a fresh, new lower mind unit and pick up where it left off. So yes, it goes back and forth but the ascent I'm talking about is the progress being made little by little, not the actual going back and forth. So it descends/ascends numerous times but we ascend toward immortality only once. I hope that clears the issue up.
BTW, just for fun, have you noticed anything else about the Last Supper painting? Maybe that the Apostles/Disciples are grouped in triplicities, just like the Zodiac. How about our boy Judas, where is he? In the 8th position – Scorpio. Why Scorpio? One of the animals of Scorpio is the scorpion which stings with its' tail, the backbiter. When it stings it leaves a mark much like a pair of human lips – the kiss of death. The 30 pieces of silver – the 30 days of Scorpio under a silver moon. I just thought you might find that interesting if you don't already know. Thanks for listening to me and I really hope I've helped people just like people have helped me.