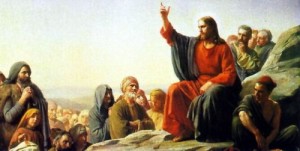 While mailing holiday packages at the US post office this season, I noticed a display of greeting cards for sale. One card in particular caught my eye. On the cover it read:
"Sometimes I wonder why I put up with you."
On the inside of the card it read:
"Oh yeah, now I remember, you put up with me!"
There were dozens of copies of each of about 50 different cards on display. A few days later I came back to the post office to mail another package and was surprised to find that this one particular card completely sold out, while all the others had hardly sold at all. This message of reciprocal acceptance is a popular part of our modern culture. It one expression of the universal principle of ethical reciprocity.
Jesus taught us a different expression of the principle of ethical reciprocity – the Golden Rule we know by heart as "Do unto others as you would have them do unto you".   As we shall see, Jesus did not originate this expression of the universal principle, but the words of Jesus as recorded in the New Testament provide a tremendous amount of depth and passion to it, perhaps more than any other source. Even so, it is wasted if all it becomes is a platitude expressed more eloquently than anywhere else.
The universal principal is also expressed in the Jewish Talmud (1) in a story about Rabbi Hillel, who also happened to be the rabbinical mentor of Apostle Paul in his earlier days. According to the story:
"A Gentile came to him (Rabbi Hillel) saying that he would convert to Judaism if Hillel could teach him the whole of the Torah in the time he could stand on one foot. Rabbi Hillel replied, "What is hateful to yourself, do not do to your fellow man. That is the whole Torah; the rest is just commentary. Go and study it." (Talmud Shabbat 31a)
Here, Rabbi Hillel has expressed The Golden Rule as what not to do, rather than what to do. Sometimes this negative form of the same rule is referred to as The Silver Rule. The complete expression of the Golden Rule by Jesus is very parallel to that in the Talmud.
"So in everything, do to others what you would have them do to you, for this sums up the Law and the Prophets. (Mathew 7:24, NIV)
Notice both Jesus and Rabbi Hillel claim this rule is the sum and total of all the meaning of the Torah. Thus, The Golden Rule is by far the most important principal of all principles. It we were to become brain damaged and could only remember one thing for the rest of our lives, the Golden Rule would be the best choice.
What is this about the Golden Rule that is so important, and how can we make it a living reality in our daily lives, and not just a platitude? Rabbi Hillel gives us a hint at the end of his advice, "Go study it (the Torah)".
The Transcendent Benefit
While Hillel would have gone to the Old Testament, we'll start with the New, starting with scripture that gives us more details about doing unto others, particularly what kind of others, in Luke 6:31-36 (NIV):
"Treat others the same way you want them to treat you. If you love those who love you, what credit is that to you? For even sinners love those who love them. If you do good to those who do good to you, what credit is that to you? For even sinners do the same. If you lend to those from whom you expect to receive, what credit is that to you? Even sinners lend to sinners in order to receive back the same amount. But love your enemies, and do good, and lend, expecting nothing in return; and your reward will be great, and you will be sons of the Most High; for He Himself is kind to ungrateful and evil men. Be merciful, just as your Father is merciful."
This passage from the Sermon on the Mount instructs us to go beyond the normal expectations of scratching the back of those who scratch ours. "Even sinners do that", Jesus says. But to be "sons of the Most High" we must love those who do not love us, who are not willing or able to repay the kindness.   This applies not only to difficult, sick, or selfish people in our lives, but ultimately to our arch enemies (ouch!). We are to love them and lend, expecting nothing in return. God is kind to ungrateful and evil men. As sons we are to assume that same position as God.
That last point about loving my arch enemy hit a sore spot. Not to worry, it's just my ego aching. You see, if we are thinking about God as the all-powerful guy upstairs, it might seem unfair that we limited and vulnerable ants down here should be expected to put out as much as He; after all, we have only so much to give and then our batteries run dry and we could even die of lack if we give too much away. However, these are the thoughts of someone dwelling in the matrix of the material world, blinded by the illusion of separation from God and separation from an "other" in need.
Our revised theologies are beginning to put less emphasis on the deity upstairs and more emphasis on the divinity which has always been down here in the dirt living inside us. We were born to fulfill all the potential of that divinity. When we begin to do this we gain more and more connectedness with people who are in the role of opposing us. There is a saying "There is no enemy. There is only us in two places."
Outside the matrix, it is perfectly natural to help ourselves help ourselves, without having to try too hard or give it a lot of thought, or having to reward one of ourselves after with a pat on the back for doing a mitzvah (good deed). "Your reward will be great", Jesus says, not a pat on the back. The "great reward" is the experience of fulfillment through connectedness, the existential joy of flowing in the harmony and purpose of the universe, not a vain momentary delight of ego enhancement inside the matrix. This "great reward" is the "transcendent benefit" of the Golden Rule that is not explained directly in the Bible as it has come down to us, or normally elucidated from church pulpits.
So how does a Christian come to understand the "transcendent benefit"? My answer is by meditating, by practicing mindfulness, by doing yoga, by reading esoteric literature, by watching esoteric videos, and by just learning to open up and experience the transcendent. It comes by Gnosis (revelation), not ordinary knowledge. You have to Gnosis it to know it.
Gnosis evolves from the inner depths of all true spirituality. It does not come from the outer forms of any particular religion or philosophy. Sometimes examining other religious forms of the same concept can help unlock the universal inner meaning.
The Golden Rule across the World's Religions
The following poster courtesy of Scarboro Missions (1) artfully displays versions of the Golden Rule from 13 major religions around the world. Look it over and get acquainted. You will have the opportunity to explore any one or all of these by using the link to the interactive flash presentation provided further below.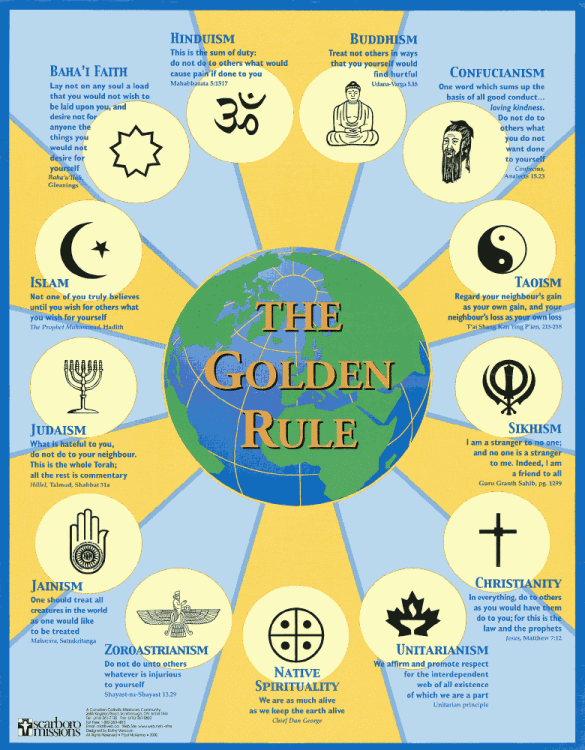 Basic Tenets of the Golden Rule
In this 12-minute video, Golden Rule activist, Paul McKenna, outlines the basic tenets of the Golden Rule and its application in our modern world. The film also comments on the visual and symbolic features of the Scarboro Missions Golden Rule poster which has achieved international renown as an educational and interfaith resource. Ideal for classrooms, youth groups and adult audiences
http://www.scarboromissions.ca/Golden_rule/animating_gold.php#introduction
Interactive Flash Presentation
In this flash presentation you will be able to interactively pick out any of the 13 major religions and while you listen to pleasant background music for that religion, you will find a lot more detail about the Golden Rule, religion core concepts, and brief history.
http://www.scarboromissions.ca/Golden_rule/golden_rule_flash.swf
History of the Golden Rule
This lecture by Dr. Harry Gensler S.J. chronicles the history of the Golden Rule up to the year 1900. This is one of a set of 12 lectures by Gensler and is entitled "The Golden Rule: A Moral Ideal for the World". This 27 minute lecture examines the history of the Golden Rule and includes many religions besides the basic 13 in the Golden Rule Poster. Although some of the content is geared to Christian audiences, this exploration of the Golden Rule can benefit people of all faiths
http://www.scarboromissions.ca/Golden_rule/animating_gold.php#history
Practicing the Perfect Principle of Reciprocity
The Universal Principle of Ethical Reciprocity is an example of the more encompassing universal principal of reciprocity which includes physical laws. For instance, in physics it applies to Newton's law, "To every action there is an equal and opposite reaction." It also includes moral laws such as "karma" as in "you will reap what you sow,"
If you are up for a challenge, try reciting "Practice the Perfect Principal of Reciprocity" ten times in a row, very fast.
Whenever I attempt this, I am humbled by my limitations and reminded of the fallibility that we all share in common. Acknowledgment of fallibilities can often lead to experiencing enhanced connectedness with others; consider for example, the bonding of the nerds in a high school cafeteria. On the opposite end of the intelligence scale, "Dumb and Dumber" is another case in point.
I have discovered that any time I am seriously pissed or disappointed at someone, performing the little tongue twister jolts me out of the matrix of illusion ruled by judgment and separation, and pops me back into the reality of connectedness and unconditional love.
As an aside, if you really want to succeed in doing the hard things right; then make them so hard to the point of impossible. Then when you have practiced the impossible, even if you fail, the original task will seem like a piece of cake after that. Try doing the tongue twister with your mouth stuffed with food or ice cubes. Start off very, very slowly at first, and then speed it up very gradually. Then go back with an empty mouth and try it. By training your muscles to over-accentuate when your mouth is stuffed, you strengthen them to enunciate every vowel and consonant more clearly during normal speech.
This principle also works for anything that might throw us for a loop. I am not totally sure of this, but I think some of our most difficult struggles are like temporary trials to tune us up for better performance during routine experiences. Gnosis, for instance, often happens after encountering an extreme obstacle or dead end, when there is nowhere to go but out of the illusionary matrix.
Conclusions
The Golden Rule presented as an exoteric principle is a very unique phenomena, because it is a principle that makes the ego look outside the illusionary matrix of separation of self. Our attempts to do unto others may originally be motivated by an egotistical kind of altruism. But as we become more experienced in being considerate of others, we can move on to stepping inside their shoes, and eventually, with a little additional help from other areas to induce higher consciousness, we may experience a unity with the other that resonates with a greater, more fulfilling purpose. There is a tremendous difference in doing unto others out of egotistical altruism compared to becoming part of a harmony when separation of the self dissolves. The former will wear you out, the latter will turn you on.
REFERENCE SOURCES