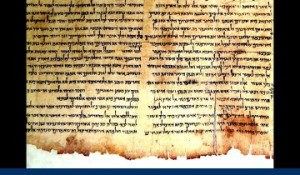 By the time Jesus is said to have appeared in Jerusalem, the rabbis knew that the scriptures described two archetypes of Messiah – a humiliated Messiah, known as the Suffering Servant, who in the tradition of the prophets would be scorned by his peers while attempting to touch men's hearts regarding the issues of sin; and an exalted Messiah, known as the Triumphant King, who in the tradition of an idealized King David, would restore Israel to world prominence and also usher in a Golden Age where the lion would sit down with the lamb. Suffering Servant or Triumphant King, uncertain of how these contradictory traits would be combined, rabbis have tried throughout history to resolve this by proposing various scenarios.
Four Scenarios for the Messiah
One scenario presumes that the Messiah existed from the creation of the world and came to earth when the Second Temple was destroyed. In this scenario, he is now hiding out, suffering affliction with his people until the day when Israel hears God's voice and repents. Only then will he be called out by God to be an exalted savior who redeems Israel. This scenario was eventually abandoned by the rabbis because it sounded too much like the Christian version, the difference being that his suffering occurs after the destruction of the Second Temple. This scenario sounded so close to the Christian's version that it could make Jewish people too susceptible to Christian evangelism, threatening their continued existence as an ethnic and religious entity.
Another scenario predicts that the Messiah would be exalted coming "with the clouds of heaven" as described in Daniel 7:13, but only if the Jewish people are worthy, otherwise he would come "poor and riding upon a donkey" as described in Zechariah 9:9.
The third scenario proposes there would be two different Messiahs. There would be "Messiah ben Joseph" who fights, suffers extreme humiliation, and is pierced in fulfillment of prophesy in Zechariah 12:10, "They shall look unto Me who they have pierced". And there would be "Messiah ben David" who will show up a later and to whom God says in Psalm 2:7, "I will declare the decree, the Lord hath said unto me, 'Thou art my Son, this day I have begotten thee. Ask of me and I shall give thee the nations for thy ben inheritance'." We will discuss Messiah ben Joseph and Messiah ben David in more detail in future parts of this series
The Gospel surprises us with a fourth scenario unforeseen by the rabbis- the same Messiah would appear at the beginning of the Messianic age as Suffering Servant to atone for the sins of the people, and then return at the end of the age as the Exalted One to establish his Kingdom forever. This is the version described in the New Testament and a foundational belief of mainstream Christianity.
Contrary to misinformed popular opinion, the Gospels do not attribute rejection of Jesus by the Jewish people directly to the Jewish people. The Gospels attribute the rejection of Jesus by the ruling authorities of Israel as the result of political intrigue. During the Roman occupation of Israel, the Jewish Kings and High Priests were not the legitimate heirs of their offices according to biblical custom. They were either substitutes who were allowed to rule or appointed by the Roman prelates so as to ensure submission of the Jewish people to Roman rule and collection of taxes. According to the Gospels, Jesus's popular following of a belief in a kingdom other than that of Rome threatened this comfortable arrangement between Rome and its lackeys, and so the Jewish King Herod and High Priest Caiaphas conspired to have Jesus eliminated.
Alienation of the Jewish People from the Suffering Servant
Multitudes of first century Jews became Jesus's followers and were generally accepted by the other Jewish people they lived among who were not his followers, although the Jewish followers were persecuted at times by the Jewish rulers. It was not until several centuries later, when Christianity emerged from Rome as a dominant political force, that the rabbis began to worry about the potential threat of Christianity to their cultural survival. Pagan Rome had destroyed their Temple and run them off of their land. Now Christian Rome was putting pressure on the scattered Jewish populations to renounce their Jewish identity and convert to a Gentile expression of Christianity. This would have meant the end of them as a covenant people. They believed, and still believe, God through King Messiah would restore them to their native Israel; and they looked forward, and still look forward, with hope and supplication for that day. Therefore, as a countermeasure against evangelism, the rabbis wanted Jesus to be regarded as the "Christian" instead of Jewish Messiah, and purposely underemphasized the Suffering Servant aspect and his mission.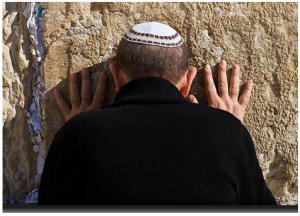 That tactic was successful in preserving the Jewish population so that they could one day return to their land. The downside of is that it eliminated many opportunities for the Jewish people to turn to their Messiah as Suffering Servant during those perilous times of persecution.
Those times have continued on and off until this very day. The recent threat by ISIS and fading sympathy for Israel from some Christian alliances has caused Israel to dig a deeper self-protective trench around itself. This has polarized the Arab-Israeli crisis to a higher intensity and level of risk. Perhaps a silver lining is the reaction of Muslims to ISIS threatening them also; they are beginning to talk about reassessing archaic Islamic traditions founded on 7th century political entanglement, and to reinterpret them so as to be more practical for thriving in the 21st century.
In reaction to persecution and pressure from Christianity to convert and assimilate, the rabbis in the Middle Ages tried to save themselves a lot of headaches by systematically removing dozens of Messianic passages from the weekly Sabbath readings from the prophets. These included:
The passage about the Suffering Servant in Isaiah 53 Who hath believed our report? and to whom is the arm of the LORD revealed? For he shall grow up before him as a tender plant, and as a root out of a dry ground: he hath no form nor comeliness; and when we shall see him, there is no beauty that we should desire him. He is despised and rejected of men; a man of sorrows, and acquainted with grief: and we hid as it were our faces from him; he was despised, and we esteemed him not. Surely he hath borne our griefs, and carried our sorrows: yet we did esteem him stricken, smitten of God, and afflicted. But he was wounded for our transgressions, he was bruised for our iniquities: the chastisement of our peace was upon him; and with his stripes we are healed. All we like sheep have gone astray; we have turned every one to his own way; and the LORD hath laid on him the iniquity of us all. He was oppressed, and he was afflicted, yet he opened not his mouth: he is brought as a lamb to the slaughter, and as a sheep before her shearers is dumb, so he openeth not his mouth. He was taken from prison and from judgment: and who shall declare his generation? for he was cut off out of the land of the living: for the transgression of my people was he stricken. And he made his grave with the wicked, and with the rich in his death; because he had done no violence, neither was any deceit in his mouth. Yet it pleased the LORD to bruise him; he hath put him to grief: when thou shalt make his soul an offering for sin, he shall see his seed, he shall prolong his days, and the pleasure of the LORD shall prosper in his hand. He shall see of the travail of his soul, and shall be satisfied: by his knowledge shall my righteous servant justify many; for he shall bear their iniquities. Therefore will I divide him a portion with the great, and he shall divide the spoil with the strong; because he hath poured out his soul unto death: and he was numbered with the transgressors; and he bare the sin of many, and made intercession for the transgressors.
(Isaiah 53:1-12), The passage read by Jesus in his home synagogue at the start of his ministry announcing, The Spirit of the Lord GOD is upon me; because the LORD hath anointed me to preach good tidings unto the meek; he hath sent me to bind up the brokenhearted, to proclaim liberty to the captives, and the opening of the prison to them that are bound; To proclaim the acceptable year of the LORD" (Isaiah 61:1,2a).
And also the promise of a new covenant, "Behold, the days come, saith the LORD, that I will make a new covenant with the house of Israel, and with the house of Judah: Not according to the covenant that I made with their fathers in the day that I took them by the hand to bring them out of the land of Egypt; which my covenant they brake, although I was an husband unto them, saith the LORD: But this shall be the covenant that I will make with the house of Israel; After those days, saith the LORD, I will put my law in their inward parts, and write it in their hearts; and will be their God, and they shall be my people. And they shall teach no more every man his neighbour, and every man his brother, saying, Know the LORD: for they shall all know me, from the least of them unto the greatest of them, saith the LORD: for I will forgive their iniquity, and I will remember their sin no more"
. (Jeremiah 31:31-34)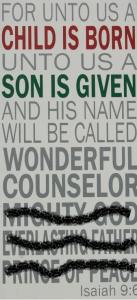 There are a multitude of speculative explanations given by the rabbis as to why they removed all the prophetic passages other than that they caused trouble by making their congregants more susceptible to conversion. But when all is said and done, the schedule of weekly reading looks like a block of Swiss cheese with holes wherever the prophetic passages were. For further discussion of this aspect, refer to an article unexpectedly appearing in one of the two major Israeli newspapers, Haaretz, http://www.haaretz.com/news/what-happened-to-jesus-haftarah-1.166699. With that in mind, let us now examine some of these prophecies.
The Promise to Eve
God promises Eve that from her seed would come a heroic figure who would be wounded while striking a crushing blow to the serpent who Satan used to deceive her.
"I will put enmity between you and the woman, and between your seed and her seed. He will strike your head and you will bruise his heel." (Genesis 3:15).
When Cain was born, it was natural to assume he would be that hero. Eve remarks "I have obtained the man, the Angel of the Lord". (Genesis 3:5). The name Cain means "Acquirer". Perhaps he embodies the ego's desire to acquire by whatever means available. He is warned by God that he can acquire the same blessing as his younger brother, Abel, by not giving into the lower nature, by not reacting out of jealousy and rage to commit murder just because his brother's sacrifice of meat from the animals his brother raised was acceptable to God, and Cain's sacrifice of vegetables from the crops he raised was not. He could have traded with Abel, crops for meat, to make an acceptable sacrifice. When his countenance sinks, God exhorts Cain that despite his setback he has the potential to choose correctly. "If you do what is right, will you not be accepted? But if you do not do what is right, sin is crouching at your door; it desires to have you, but you must rule over it." (Geneses 4:7). The Hebrew word translated as "accepted" also means "lifted", as in being applied to "lifting his countenance". But Cain does not exercise that potential and suffers the consequences of his actions as a combination of judgment mixed with grace – he is allowed to live, but cursed to be an exiled wanderer instead of running the family farm. Perhaps like Eve, his consciousness was not yet developed enough to know how rule over sin. God said he must rule over it, but in this early part of Genesis he does recommend how.
With Cain and his younger brother no longer qualified to be the heroic seed, Eve give's birth to her third son Seth. Seth means "fixed, placed or appointed". He is appointed to carry on the promise of the heroic seed.
These teachings from the book of Genesis were never considered to be literal by the rabbis. They were "metaphors with morals", as were most of the Genesis stories. They gave lessons on ethics while offering an interesting story about how everything came into being "in the beginning".
"In the beginning" is the translation of the Hebrew title for this book, "Bereshit". The first chapters tell the story about a God whose first act of creation is to speak "Let there be light." The Hebrew name for God used here is "Elohim which is a plural form for god. But the verbs "created" and "spoke" are in the singular form. Thus we have a plural God who acts as a single entity. Some will say this is evidence of a composite unity: a Creator who issues an executive command, a Holy Spirit which is an agent that hovers over the void to bring about the desired result, and a Light that penetrates creation. This is not physical light. This Light was created before there was physical darkness and objects like the sun, moon and stars that gave off physical light. This is the Light that enlightens consciousness and is the principle of everything, if you will, the Logos.
The moral warnings in Genesis are very serious stuff on paper, but they are meant to be more corrective than punitive in practical life. The first chapters remind me of what my wife says when we get to the dessert section of a buffet line, "If you eat from the fruit thereof, you will surely diet."
Conclusion
The Jewish people looked forward to a heroic figure as promised to Eve, the manifestation of which would not always be the most obvious, natural choice. Redemption would come through the line of an appointed heir, not necessarily following the natural tradition of the first born.
The two archetypes of Messiah – Suffering Servant and Triumphant King – described in their scriptures and rabbinical commentaries, perplexed the Jewish people. When the opportunity came for them as a nation to recognize Jesus as the Suffering Servant who would return as Triumphant King, the way to their enlightenment was thwarted by political intrigue imposed by their Roman occupiers. The struggle between Romanized Christianity trying to acquire dominant control of the known world, and the Jewish people trying to preserve their identity and culture in that world, resulted in mutually de-Judaizing Christianity and de-Christianizing Judaism.
In succeeding parts of this series we will explore Messianic prophecies as they enfold chronologically. We shall see that, as the Jewish people evolved, these prophecies began to shift from allegorical to historical, from "metaphors with morals" to foretelling events that match historical records and archeological findings. They point to a time and place when the Suffering Servant Messiah was to appear in the material world and the effect it would have on it. Because the effect did indeed occur as foretold, critics would be hard pressed (hint, hint) to dismiss the Gospel Messiah as a forgery.
Reference
"What the Rabbis Know about the Messiah, A study of Genealogy and Prophecy" by Rachmiel Frydland. http://www.amazon.com/What-Rabbis-Know-About-Messiah/dp/0917842030