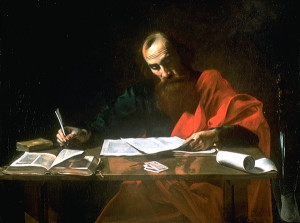 Since it's the Holiday season and I'm now off work for a few weeks, I've been thinking about the Early Church. I've been trying to piece together how early Christianity morphed to provide the framework for today's Christianity. I've wrote about Gnostics and true early Christianity before, but I thought it would be fun to dig in and provide the larger picture for how Christianity started and progressed to what it is today. Of course I'm no scholar, and I'm sure there are a lot of things I will get wrong. But I hope I can provide an interesting timeline with some reasonable evidence to point to a working theory.
I also thought this would be fun to do because readers could interject where they think I am right or wrong. I welcome both viewpoints. Don't look at this as a post to prove one viewpoint over another, but rather as online discussion for those interested in early Christianity and how the Early Church developed. Maybe together we can get some really good discussions that will broaden all of our perspectives. I'll be focusing on such things like Paul, which of his letters are authentic, Gnosticism, many of the early church fathers, the Roman Empire, Synods and councils, and the different beliefs and movements that have developed because of these events, especially in the Early Church.
I think this series of posts—they may turn out quite long if we get enough discussion—will be unique. Most scholarly works on the Early Church look at the small picture. They focus on particular time periods and events and never get into the bigger picture of how we got to where we are today as it concerns Christianity. This is understandable because it's an immense topic that no one book could ever cover very thoroughly. But this blog isn't meant to be scholarly and I think the broad topic can be tackled with some good results from mostly laymen writing (and some scholarly interjections).
I'll start this post off in the series with a little bit of information and then pose questions to you, the reader. I hope to get some good feedback before the next post on your thoughts. Who knows? Maybe some of you will get me thinking in a direction I've never been down before. Perhaps we'll get some reasonable arguments together that will help us to piece together a timeline that will make sense to the esoteric community and maybe even some believers in more traditional Christianity who are searching out problems with the traditional timeline, which clearly has some issues by the way.
I realize I've been inactive on the blog for a while, but hopefully this will jumpstart some good conversation again at SOS.
The Problem of Paul's Works
I am going to start this series with Paul. I believe we have to look at Paul first for two reasons:
Paul (or the person who took that name) wrote most of the New Testament. The distribution of his works is responsible for giving Christianity its start.
Paul's letters were the first books of the New Testament written. They were penned before any of the Gospels.
That being said, there are a few additional points that should be made. Almost all scholars agree that the seven epistles listed below were definitely written by Paul:
Romans, 1 and 2 Corinthians, Galatians, Philippians, 1 Thessalonians, and Philemon.
There is a huge lack of scholarly consensus on the other six. They are:
Ephesians, Colossians, 2 Thessalonians, 1 and 2 Timothy, and Titus.
My personal opinion is that Ephesians and Colossians are also Pauline. But perhaps most importantly, MOST critical scholars (and myself) reject 2 Thessalonians, 1 and 2 Timothy, and Titus as Pauline. I say perhaps most importantly because the latter three are known as the Pastoral Epistles, which deal directly with the structure of the Early Church. By structure I mean its leaders and the way certain issues should be handled. Why is this so important?
If most modern scholars reject the Epistles that deal with Church Structure, we have to ask the question: Is it possible that these Epistles were written at a much later date to advance Early Christianity in a direction that the original writer of the first 7 or 9 Epistles didn't intend? I believe YES, absolutely.
Below I will lay this case out in more detail. We will come back to the above questions much later, so keep it in the back of your mind. For now, we'll stick to Paul mostly.
Will The True Jesus of Paul Stand Up?
Who was the true Jesus of Paul? The traditional view is that Paul believed in a historical Jesus. But in the past few decades that consensus has begun to change. While most scholars still believe Paul preached a historical Jesus, I wouldn't be surprised if that tide completely turns in the next twenty to thirty years.
I have come to the conclusion that Paul's Jesus was a mythical one. I also believe that Paul's Jesus was a spiritual power from the Old Testament, the same revelation of messiah that mystical Jews and Gnostics would have embraced. The greatest Gnostic teachers of antiquity such as Valentinus stated that Paul was their teacher. This is odd since later church fathers stated that Paul was anti-Gnostic, which is why I believe that most critical scholars can now say with complete confidence that the Pastoral Epistles were never penned by Paul.
Before we get into the scriptures I want to reiterate that Paul's epistles were written BEFORE the Gospels. The Gospels are responsible for providing the historical framework for Jesus when interpreted literally. But we MUST remember that Paul was writing BEFORE any historical narrative of a literal Christ was put to parchment. In fact, no historical narrative of Jesus was penned until after Paul's death. In today's Christianity that fact almost seems backwards thinking, but it's been firmly established by scholars. Why is this so important?
As I have discussed on this site before, Paul never mentions a virgin birth, a mother of Jesus by the name of Mary, or a father by the name of Joseph. His omission of such important events is a great clue as to who Paul's Jesus really was. Could it be that his Jesus wasn't the historical Jesus of the Gospels?
Whenever Paul does mention a seemingly historical point about Jesus, it's cryptic instead of using language that would establish a definite link. In the next post I'll show you why I think even the references that seem to point to a historical Jesus are not references to the same historical Jesus we know through the Gospels.
Paul claims that he has his own Gospel
Consider the scripture below;
"Now to him that is power to stablish you according to my gospel, and the preaching of Jesus Christ, according to the revelation of the mystery, which was kept secret since the world began, but now is made manifest, and by the scriptures of the prophets…" (Gal. 25-26).
Galatians is the least disputed Epistle when it comes to Pauline authorship, and the above scripture shows that Paul had a personal gospel. What does that mean? He gives us the answer in Gal. 1:12:
"For I neither received it [the Gospel of Christ] of man, neither was I taught it…"
Hmm? Paul's gospel is from no man. Not a man named Jesus, nor the apostles that supposedly walked with him, or any eyewitness accounts. How does any human learn of the historical Jesus? They are taught it through the reading of the New Testament Gospels and by other men who are relying on the New Testament Gospels. Paul, on the other hand, received his gospel through direct revelation. The only scriptures Paul had was the Old Testament, and his Jesus Christ would have to align with the spiritual understanding of messiah that can be gleaned from there. I think this point is often missed. Remember that the best Jewish scholars of the Old Testament reject that Isaiah prophesied about a future virgin birth for their future messiah. The translation of Isaiah's prophecy does not match the language or context of a future virgin birth as presented in Matthew and Luke. Since the New Testament Gospels were constructed much later than Paul's writings, we shouldn't impose anything that they say into Paul's belief system. This is only logical. Why? Because Paul himself states that he learned HIS gospel only from direct revelation.
Furthermore, the messiah that Paul speaks of above that is rooted in the Old Testament (his Jesus Christ), is veiled in symbolism and allegory. This site is all about that, so I won't get into that here. But we should look at what Paul himself says.
That being said, let's return to Galatians:
"For it is written, that Abraham had two sons, the one by a bondmaid, the other by a freewoman. But he who was born of the bondwoman was born after the flesh; but he of the freewoman was by promise. Which things are an allegory…" (Gal. 4:22-24).
The Greek word for allegory there means fable. Fables are meant to teach us lessons, but they are not literal nor real. It is rather the spiritual understanding that's important, not the literal interpretation, just like Aesop's Fables. Why would Paul call the story of Abraham's offspring a fable? Paul gives us the answer to this question in 2 Corinthians, a definite authentic Pauline passage:
 "…for the letter of the law kills, but the spirit gives life." (2 Cor. 3:6).
By "letter of the law" Paul is speaking of the written Torah. He seems to be saying then that the spiritual, or lesson taught through the allegory or fable is what speaks to the spirit, and that the literal interpretation of the fable kills. Why does it kill? Because the literal interpretation of myth causes us to focus on the physical aspect instead of the spiritual aspect.
That is the key to Paul's Jesus—it is a spiritual power raised within that has nothing to do with belief in a historical man.
Christians who state Paul's Jesus was the historical Jesus of the Gospels will often use Galatians 4:4, which states:
"But when the fullness of time was come, God sent forth his son, made of a woman, made under the law…"
That scripture does not back up the traditional argument. In fact, just the opposite. When Galatians four is taken in context, Paul is using metaphor to discuss his theology. Remember Galatians 4:24, where the two covenants is allegory? Galatians 4:4 and in fact the entire chapter is no different. The women represents the flesh, and the law is the sin and corruption of that flesh. However, Paul says it is the SPIRIT of the Son that is sent into the heart.
Consider more of Galatians below:
"And because you are sons, God has sent forth the SPIRIT of his son into your hearts…" (Gal. 4-6).
Continuing with Galatians, Paul states that once we have this spiritual revelation, we shouldn't again turn to the beggarly elements, where we observe days, and months, and times and years. (Gal 4: 10). In other words, how can you follow the letter of the law (any type of literal interpretation) and think that is what makes you spiritual?
Think about Paul's next statements:
"And my temptation which was in my flesh ye despised not, nor rejected; but received me as an angel of God, even as Christ Jesus…" (Gal. 4:14).
Huh? Even AS Christ Jesus? Could an Apostle who knew of the historical Jesus of the Gospels say such things? If so, it'd be a little strange unless his Jesus was the mythical Jesus received in the heart, such as Paul discusses in Gal. 4:19:
"My little children of whom I travail in birth again until Christ be formed IN YOU…"
Again, it is the Jesus that is birthed IN YOU, not the belief in a historical Jesus story, that is important to Paul.
I realize that all my of above assertions will make much more sense if I can show where all other proof texts traditionalists use to say Paul's Jesus was historical can be refuted, or at least given a reasonable alternative. That will be the focus of the next post.
The Forgery of the Pastoral Epistles and the succession of Mark, John, Mathew and Luke
If most critical scholars are correct and the Pastoral epistles were never penned by Paul, then things might begin to make some sense when discussing Paul's mythical Christ. Perhaps these Epistles were written much later to impose a certain religious viewpoint that was developing during a time when the Roman Empire was going through many changes.
Consider this. Many figures in the Early Church stated that the Gospel of Matthew was penned first. This would support their cause, because this Gospel includes a genealogy of Christ that shows him to be a historical figure. The problem is that most scholars, including those that support the traditional Christian view, say that Mark was actually penned first. Furthermore, Mark contains no record of the Virgin Birth or genealogy narrative. Isn't it odd that the first Gospel would omit this account? Scholars believe that Matthew and Luke were written from two independent sources, Mark and Q. Additionally, the Gospel of John, which also doesn't mention the Virgin Birth, was written independently from all three and is sometimes cited as having Gnostic themes. Richard Carrier, the foremost scholar that believes Paul's Christ was mythical, states that Matthew was written as a redaction Mark's Gospel. In others words, let's write a Gospel connecting Jesus Christ to a valid Jewish heritage with historical background. Recent scholarship on the dates and the themes of the Gospels make this a possibility.
Thus far we have covered the following points:
Paul wrote his epistles before any historical account of Jesus was penned.
Paul had his own gospel that he learned from no man, including Jesus or any eyewitness account of a historical Jesus
Paul believed that the Old Testament story of Abraham's offspring was allegory. This and the first two points have huge implications when considered collectively.
Paul believed that the literal interpretation of the scriptures kills, whereas the spiritual revelation of them gives life. In my view, I believe this applies to the entire Old Testament.
Paul preached a Christ that was birthed WITHIN you, through personal revelation.
Most scholars agree that the pastoral epistles were never penned by Paul. This will become crucial in future post when we tackle the development of the Catholic Church.
I understand that these points in no way prove that Paul's Jesus wasn't the historical figure we have been taught through mainstream Christianity. The point may never be proven. But then the point that Jesus WAS a historical figure can't be proven either. So let's keep an open mind. My only motivation was to lay some groundwork that gives us a different picture than what we may have been traditionally taught.
In the next post I am going to get into the most widely used scriptures that traditionalist say support that Paul believed in a historical Jesus. We will dissect them one by one and give alternative viewpoints which support the mythical Gnostic Jesus instead of a historical one. I'll be using Elaine Pagels and other scholar's viewpoints, as well as some of my own thoughts.
I am traveling tomorrow to my wife's parents for the rest of the Holidays, so I can't say when I will get to it, but it will be in the next week or two. I think this works out good anyway because it will give plenty of time for discussion in between should any of you decide to participate. I would love to hear your thoughts! I only ask that you be civil if you disagree. Blessings!
Part 1 / Part 2 / Part 3 / Part 4 / Part 5