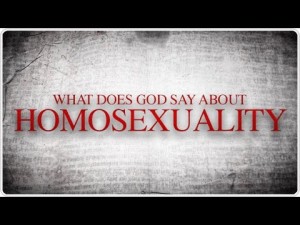 I have had many requests for a post on the topic of homosexuality and the Bible. Most have been from people asking for an esoteric perspective. I got the impression that these requests were from straight persons trying to understand how this lifestyle fits in from a spiritual standpoint. Since I am a straight married man myself, I've never had a real interest to go into the subject. But I am finally giving in to a recent e-mail asking me to specifically address the topic. Since I have gotten more than a few requests over the years, I figure it's time to finally tackle it. Obviously there's a significant portion of individuals who are wondering if the Bible really condemns it. From an esoteric perspective, the answer may surprise you. Hopefully I won't get too many verbal stones thrown at meJ.
I understand that this can be a very touchy subject from either side of the fence. I will provide a scriptural interpretation first and then give a few facts that hopefully will give us a greater awareness of the subject outside of the scripture as well. That being said, we only need to examine a few scriptures from the Old and New Testaments to see where the Bible really stands on the matter. We'll start with the Old Testament first.
"Thou shall not lie with mankind, as with womankind; it is abomination" (Lev. 18:22).
"If a man lie also lie with mankind, as he lieth with a woman, both of them have committed an abomination: they shall surely be put to death; their blood shall be upon them" (Lev. 20:13).
A literal interpretation of the above verses does conjure up the image of homosexuality. However, the spiritual revelation is not the literal interpretation here. Remember, the deeper revelations and spiritual truths of the Bible never come from the literal interpretations.
As I have said on this blog before, man in his lower aspect represents the ideas, concepts, intellect, and reason experienced on the lower mental plane. A woman represents the emotional nature. Therefore, a man lying with a man or a woman lying with a woman symbolizes idol-worship (definitive proof will come from the New Testament shortly).
To clarify why this symbolizes idol worship, a man lying with a man represents reason and reason, or intellect and intellect, together. In other words, it is idolatry to receive the ideas, concepts, or reason (dogma, creed, doctrine) of another man when trying to receive spiritual revelation. The truth must come from God, and the path for receiving this truth is to go within, where the kingdom of God resides (Luke 17: 21).
Consider the alternative: A man and a wife together represents the mental and emotional desires united in the soul of one person. Remember, we are talking symbols here. The imagery of one man and one women together is representative of ONE soul.
Therefore shall a man leave his father and his mother, and shall cleave unto his wife: and they shall be one flesh" (Gen. 2:24).
The mind (man) united with the higher emotions (woman) are one. This is the way to higher consciousness and the God within, whereas two men together is an abomination because it represents mankind ignoring spiritual truth for the false ideas, concepts, and reasoning—i.e., another man.
Nature and experience tells us that men are more analytically and reason-driven, whereas women are emotionally driven. These acts are presented as abominations in scripture when sown together because it works against the divine path for the soul, and follows only a natural one which cannot produce any spiritual fruit.
Homosexuality is an apt comparison here to learn deeper spiritual truths, because the union of a man and a man, or a women and a women, cannot produce the fruit of the womb either. However, that being said, the scriptures are not addressing the physical act of homosexuality. Rather, they are giving us clues and insight to the soul.
So what am I really saying? Before answering that question, consider this. Does God wish us to really "put to death" anyone engaged in these activities? Think about the young boy who has been sexually abused or molested by a male in his younger years and then begins to manifest some of these acts later in life. Would a loving God really want such a person put to death? Someone who is acting on learned behavior? Some literalists would say yes because the Bible says so. But they are missing the bigger picture.
These scriptures are not emphasizing homosexuality. They are addressing a deeper spiritual truth. Now consider the New Testament scripture from Paul that should make everything crystal clear. He states:
"For this cause, God gave them up to vile affections: for even their women did change the natural use into that which is against nature: and likewise also the men, leaving the natural use of the woman, burned in their lust one toward another, men with men working that which is unseemly, and receiving in themselves that recompense of their error which was meet" (Romans 1:26-28).
The above scripture can only be put into proper perspective when we back up a few verses. Doing so reveals the true spiritual premise for which these verses are then presented. Only a few verses earlier Paul states:
"Because that, when they knew God, they glorified him not as God, neither were thankful; but became vain in their imaginations, and their foolish heart was darkened; Professing themselves to be wise, they became fools, And changed the glory of the incorruptible God INTO AN IMAGE MADE LIKE UNTO CORRUBPTABLE MAN, and to birds, and four-footed beasts, and creeping things" (Romans 1:21-23).
Paul is speaking of IDOL worship here. Making the "incorruptible God into an image and made like unto corruptible man" is referencing the Old Testament act of graven images or idols. Not only did they do this with man, but with animals as well (four-footed beasts and creeping things).
First of all, these scriptures make it clear that God gave them over to a reprobate mind because they engaged in IDOL worship. Hmm, so if we are to take all this literally, then is Paul saying that because men chose to make an idol for God, they naturally have an inclination towards homosexuality? Of course not.
Idol worship in scripture symbolizes anyone who follows after false ideas (usually dogma, creed, doctrine and religion) which bar us from spiritual truth. In fact, Gaskell states of Graven Idols (of which Paul is specifically referencing in the above scriptures), that:
They are "Symbolic of the objects of sense regarded as an end in themselves. Idols graven in stone signify the ideals inverted,–the mistaking of the shadow for the substance…"
He states the ideals (mind with higher emotions) "inverted." Homosexuality can also be likened to an "inverted" physical act.
Again, this is why Paul states in Romans 1:28 that they receive a "recompense of their error which was meet." Paul did not mean that the act of worshipping graven idols eventually led to their turning gay. But rather, any act of idol worship, including lying with man's ideas and concepts, will bar us from discovering the truth, or the Christ within. In other words, when we involve ourselves in idol worship, namely sacrificing the truth of God for that of his or her fellow man, we are engaging in idolatry. It is in effect man worshiping/lying with man!
We are to look within for truth and the inner Christ, not without. Can we learn the truth from another man, or do we have to find it within ourselves? Christ and the truth of the spirit can only be found within. Idol worship is no different than going to man and listening to his dogma and doctrine to find spiritual truths. This is an abomination that will only lead to spiritual death. We cannot find the truth in doctrine, philosophies, or dogma. We will only know the truth when we know ourselves, and this truth is the only truth that can set us free from all doctrine, creed, and dogma.
Realistically speaking
To interpret Paul's scripture literally would be incorrect for a few reasons. First, people who admit they are gay usually say that have had a predisposition for that lifestyle since childhood when sexuality first becomes known to them. If this is true, which I have no reason to believe it's not, then to use Paul's scripture against them, you would have to admit it's a sin from a former life. Most hard-lined literalists would never accept the idea of reincarnation, so for them, to judge homosexuality as an evil abomination based on scripture would be contradicting the average literalist orthodox theology. To say it's wrong just because the Bible says so is an oversimplification of the issue. Let me give you some more information to think about, just in case you still don't agree with anything I have stated earlier.
Hermaphrodites
Consider the hermaphrodite. This is a real phenomenon where people are born with both types of sex organs. This happens quite a bit. It is estimated by medical sources that between 0.033-0.05% percent of the population are born with some type of intersex organs. That's between 2,310,000 and 3.5 million people worldwide, considering that the total population of earth today is around seven billion. That's quite a bit! In fact, it's much more common than many genetic disorders. Why would God purposefully create this condition, if such a mixture was inherently evil? Hermaphrodites certainly didn't choose this condition for themselves, unless you believe that we have total choice over our lives before reincarnation in order to learn certain life lesso­­ns. How can such a condition be explained from a literalist's only interpretation of scripture?
Homosexual Behavior in Animals
A quick check in Wikipedia shows that homosexual behavior in animals has been certainly documented in over 500 species, and arguably up to 1500. However, there is a big caveat here we must address. According to researcher and PhD. Simon Levay, who has studied at Gottigen and Harvard University, the animal world may provide additional insight. He states:
"Although homosexual behavior is very common in the animal world, it seems to be very uncommon that individual animals have a long-lasting predisposition to engage in such behavior to the exclusion of other animals. Thus, a homosexual orientation, if one can speak of such a thing in animals, seems to be a rarity."
But it should be noted that sheep are the exception, and about 10% of rams (males) refuse to mate with females although they regularly mate with other males. Did an external impotent being who says homosexuality is an abomination create sheep to engage in this behavior?
If we back up to Levay's comment, long lasting disposition should be what we focus on. This means that although homosexual behavior in animals is common, it isn't a life commitment instinct or desire. I will admit that in one sense this can be argued against homosexuality. It is a lustful act of the lower animal nature? But what about homosexuals that commit for life? Can they learn the same life lessons of self-sacrifice and love that heterosexuals can learn? And isn't this in a sense crucifying the ego if they do? It's something to think about.
Conclusion
The point of this scriptural interpretation is not to argue that homosexuality is right or wrong. I am simply stating what the deeper spiritual meaning of the scriptures are. After looking into the subject, one thing I can say for sure: The Bible should not be used as a tool to condemn those who are gay. It was never intended for this purpose. Jesus clearly tells us not to judge. Yes, Jesus tells us that from the beginning God meant for one man and women to be together. But again, this is speaking to the spiritual nature of a complete man who incorporates both the masculine and feminine aspects (mind and higher emotions). Genesis even states that to be made in God's image is both male and female (Gen. 1:26).
Since I have always been straight and became happily married to a woman I can in no way understand the thoughts and feelings of someone who is gay. I would never condemn people who say they have a genuine propensity towards the opposite sex. Do I understand this sexual orientation? No. I have never felt this way. But to say homosexuality is wrong just because the Bible says so is not correct.
I'll admit that I do have some unanswered questions about the subject. Perhaps this post will serve as only and introduction to a follow-up post in the future with further contemplation and reflection into the matter. I have a lot more ideas which would incorporate reincarnation into the debate, but I will leave it where it is for now.
Perhaps someone else can add some valuable food for thought. As always, comments are more than welcome.
Blessings.