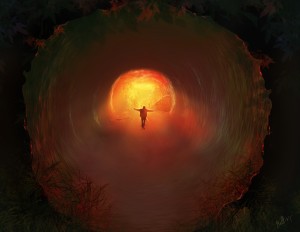 We are all familiar with the concept of the Christian hell: A fiery place of eternal torment where the rich man begged for a drop of water to cool his tongue. Such imagery makes us think that hell is a terrible place. But does the Bible really teach that hell is place of everlasting punishment for those who have rejected God's ways?
Even the question itself would be ridiculous if you read the Bible without contemporary Christian influence. A logical examination of the Old and New Testaments shows that hell is nothing evil, permanent, or a type of punishment. In fact, hell is a necessary experience for all of us.
In this brief post I'll focus on the concept of hell in the Old Testament. In part 2 of this short series I'll use the New Testament story of Lazarus and the rich man (who supposedly went to everlasting torture) to show you what hell really means.
Hell and the Old Testament
Before we get into the subject, I would like to point out that the Torah (the foundation of the Old Testament), doesn't mention any kind of specific afterlife. Rather, the Law of Moses focuses on immediate rewards and punishments for our actions. This fact has led some Christian scholars to believe—incorrectly—that the author had no specific belief in an afterlife. But this is silly. The Torah never delves into the afterlife because its authors accepted the doctrine of reincarnation, or more specifically, the transmigration of the soul. The transmigration of the soul was such a prominent belief that any kind of teaching on the subject would seem trivial. Does the Bible need to teach us that we need food and water to sustain the physical body? Of course not. This is how the ancient Jewish writers of scripture viewed the concept of the transmigration of the soul.
The word translated as "hell" in the Old Testament comes from sheol. It simply means, the state of the dead, or the grave. If you read every scripture (literally) where the word sheol is translated hell or grave you would get many conflicting ideas of what it really means. This is why there is still much confusion on the Old Testament idea of hell. Remember, the confusion and contradictory ideas come when the scriptures are read literally. For example, a literal reading of Psalm 88:3-5 and Isa. 38:11 tells us that the dead were completely cut off from God. But Psalm 139:8 specifically tells us that God's presence reaches into hell. Which is it? In addition, a literal reading of Ecclesiastes 9:6-10, Job 10:21-22, Psalms 88:6, and Psalms 6:5 gives the idea that hell is devoid of love and hate, thought, and memory. But a few other places seem to indicate that one went through at least a little suffering. Job 26:5, Psalm 88:10-12, and Isaiah 14:9-10 would make you believe that no one can even hope to ever escape hell's gates. But then we get a sense of relief in Isa. 25:8 that hell will no longer swallow up the dead, but instead God will swallow up hell! What in the world is going on here?
Some Christian scholars, confused by these literal renderings, now teach that afterlife reality was a revelation revealed to the prophets in increments, until Christ fully came. In other words, earlier beliefs of hell in the Old Testament were unknown until the New Testament, with only hints of a resurrection from hell sprinkled in Isaiah. It is called, Progressive Revelation. This is all ridiculous. The problem, as you can see, is reading the Bible literally. The Bible is one big metaphor. When read correctly, we get a much clearer understanding of hell.
The overall picture we get of hell when reading the Old Testament is that it is a gloomy place where individual consciousness is vague and foggy, almost like a dream. In this state we are cut off from God and the land of the living. Its inhabitants are similar to decrepit shades or ghosts. But all these descriptions are metaphors for the soul as it incarnates between physical lives until one is awakened with the Christ nature. This is how we appear to be now until the resurrection. But it is not about attaining a physical resurrection. Rather it is a spiritual one. Common sense tells us that flesh and bones that have rotted and turned to dust will not be reassembled and a soul put back into them. Such an idea is ridiculous, and only a literal reading of a book that is meant to be symbolic will give us such silly fairy tale notions.
If you read the fourteenth chapter of Job very carefully (while remembering that it's metaphorical!) you will see that the author most assuredly believed in reincarnation. He compares the life of a man to a tree that lives again. Obviously the tree symbolizes reincarnation. At first he asks if the man can live again as the tree has, but then later in the chapter states he wants to be hid in hell / the grave until a time when God will remember him and he is changed. In fact, Job 14:13 states,
"O that thou wouldest hid me in the grave [sheol], that thou wouldest keep me in secret, until thy wrath be past, that thou wouldest appoint me a set time, and remember me!"
True: some stubborn apologist will advocate that this supports the resurrection, but such an interpretation obfuscates the greater symbolism taught through the entire Old Testament. Even in the beginning chapter of Job, we get this scripture:
"…naked came I out of my mother's womb, and naked shall I return…" (Job 1:21).
If you return to the mother's womb naked where you have once been before, how do you get anything other than the transmigration of the soul?
I often have readers write to me and say that the Bible doesn't mention reincarnation. I don't have time to go into all the scriptures here, but the Bible is actually full of it! In fact the ancient Jewish concept of Gilgal means the revolving wheel of life. Gilgal is mentioned over forty times in the Old Testament. See my post, Gilgal: More Scriptural Evidence for Reincarnation, to learn more.
So what is hell really? Hell is the physical plane. It is the place of soul growth. It is the place where even the Son of God had to learn obedience through suffering (Heb. 5:8).
The great Joseph Campbell once said:
"If that soul of ours, that sheath of the spirit, belongs to earth rather than heaven, the Spirit will have to remake it, and that means hell until every earth-born desire has been renounced and overcome as such, and transmuted into its spiritual counterpart."
Hell as a fiery place of torment is mainly a Christian invention of the Middle Ages. Literature such as Dante's Inferno helped evolve this concept, which is actually found nowhere in the Bible when read correctly.
It would be more accurate to equate hell with a time of intermittent suffering and happiness over a period of time, so that the soul can learn life lessons. For an excellent article on this, read http://www.chabad.org/library/article_cdo/aid/1594422/jewish/Do-Jews-Believe-in-Hell.htm
For more information on hell specifically mentioned in Old Testament scriptures and what it means, read:
http://www.auburn.edu/~allenkc/tbhell.html
Although I recommend the above link, keep in mind that the above author is still not trained in the esoteric and symbolic interpretation of scripture. While the article above certainly proves that there is not concept of hell as eternal punishment taught in the Old Testament, I don't believe Mr. Thayer and all the scholars he mentions truly understands the overall esoteric concept of hell that the original scriptural writers conveyed. With that being said, enjoy!
In the next part we shall delve into Lazarus and the Rich Man to get a complete understanding of hell in the New Testament. Blessings!