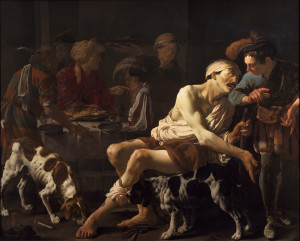 As promised, this post will unveil the esoteric meaning of the beggar Lazarus who died an ended up in Abraham's bosom, while the rich man died and ended up in what appears to be a description of eternal torment, i.e., hell. Of course the Bible never describes a literal hell in the traditional Christian sense (see part one of this series for more information). The same holds true for the parable of Lazarus and the rich man.
I remember hearing this story in church when I was boy. It was particularly disturbing. The rich man experiencing fiery torment so bad that he pleaded for just a drop of water on his tongue. And there was no chance to escape. Ever. He was going to endure that intense torment for eternity.
As a child, that parable, when interpreted literally, is chilling enough to make you want to always follow God. And that often translates into following church leadership, too. But a literal reading of this parable and other parts of the Bible does not always yield the proper way to follow God, and certainly not another man who also interprets the Bible literally.
Let's paraphrase our parable found in the Gospel of Luke chapter 16 verses 19-31, and then we'll go through the symbolic meanings of the characters and items found within it:
As the story goes, there was a rich man that wore fine purple linen and lived a luxurious life. There was also a poor beggar named Lazarus. He was full of sores which even the dogs licked, and he desired to eat crumbs from the rich man's dinner table. Both of them died. Lazarus ended up in what is referred to as "Abraham's bosom," while the rich man ended up in in what the author describes as hell. The rich man could see across a "great gulf" that existed between Abraham's bosom and hell. He glimpses Lazarus in Abraham's Bosom, which apparently was Abraham himself (also symbolic), because he calls to Father Abraham for a drop of water to alleviate his intense suffering. Abraham then explains that the rich man should remember that he experienced a life of wealth and blessings (good things) while Lazarus suffered evil things. Abraham then tells him that Lazarus is now comforted while the rich man is tormented.
Right from the start, there are several scenarios wrong with a literal interpretation of this parable. For one thing, Jesus makes no mention of the rich man having ever done anything wrong in life except live richly and receive "good things." Does being rich and receiving good things in this life condemn one to hell? The way the story is worded makes it seem as if living a life of luxury somehow is automatically and spiritually inconsistent with receiving Abraham's Bosom (comfort) in any kind of afterlife. Yes, it is true that pursuing material wealth often leads to a deprived soul, but this depends on our overall level of spiritual maturity. Furthermore, the overall wording of this story suggests that the symbols used teach us about the condition of the human soul. As I hope you will soon see, this is the key to reconciling the parable with reality.
A second and even harder aspect about this parable to believe literally is that an eternally LOVING God could create a sentient being and then condemn them to eternal intense suffering. This is a contradiction of what love embodies. Temporary pain and suffering often helps the soul to grow, and thus is indeed merciful in the end, but eternal suffering with no hope of escape would be ridiculous as it would ultimately serve no purpose for any creator, unless that creator himself was not the embodiment of love.
Lastly, it is also quite ridiculous to assume that a material object such as water or fire could affect an immaterial object such as a soul without a physical body. What could physical water do for the immaterial suffering soul?
There are many more problems with a literal interpretation of this story, but the above is ample enough reason to hint at its deeper meanings, which moves us away from any sort of literal reading and it behooves us to look for the deeper, esoteric meanings.
Let's review a list of the symbols involved in this parable before giving an explanation of what they mean.
Lazarus
Sores
Rich Man
Purple, fine linen
Crumbs (from rich man's table)
Abraham's Bosom
Hell
Five brothers (not yet mentioned but saving for last to solidify our interpretation which will leave you with little room for doubt that we have the correct interpretation).
Let's start with Lazarus and the Rich Man. Consider a quote by John Ward, in his work, Zion's Works.
"The rich man is an invisible being, and so is the poor man [Lazarus]; these two spirits have been in man all through time. Lazarus was presented to the will of the rich man; for the will is the gate at which alone the LORD can enter, begging for the rich man to bend his thoughts toward him."
What Mr. Ward is saying is that both men in this parable are aspects of us. The rich man symbolizes the lower self and personality. The lower self is gratified with the pleasures of the world. This is further symbolized by the purple clothes of fine linen, which Gaskell tells us refer to the lower emotions and the astral body which carries the ego. The astral body, which is responsible in conjunction with the chemicals in our brain, allows for desires and lower emotions to be. Gaskell further tells us that Lazarus is the higher spiritual body, known in ancient teachings as the causal body. Think of this higher energetic vibrational body as an embryo for developing the spiritual ego, which births higher eternal truths realized in the soul.
As explained in other articles on this site, the Bible uses allegory and symbols to teach us that the goal in life should be to transform the lower ego into the spiritual ego, the lower emotions into the higher ones. By crucifying our lower nature, we can look forward to a symbolic resurrection where the lower and higher self is unified. This is why we must see Lazarus as the potential embryo for the lasting eternal qualities such as truth and pure love to be developed. This is also the reason why Lazarus goes into Abraham's bosom (more on this symbol in a minute)
So why did Lazarus have sores? Sores are a symbol of the suffering nature in physical life (remember Job?). The reason that Lazarus is a beggar is because the causal body or embryo of the developing spiritual ego MUST incarnate and EXPERIENCE to develop. And through that experience we endure trials and tribulations and sufferings which push us towards soul growth. This is why Lazarus begs from the rich man. Trials and tribulations in life afford the soul opportunities to grow and eventually come to exhibit love. Often times we miss these opportunities and do not learn our lessons, which is why must often repeat the same mistakes in life over and over until we learn what we must to progress past them. But when we do learn them, either in this incarnation or another one, we grow closer to the goal of being a vessel and conduit of love in a variety of ways. Abraham's bosom, representing comfort and contentment, is also symbolic of this love. Furthermore, the crumbs from the rich man's table, which Lazarus did not eat but yearned for, symbolizes the spiritual embryo's (causal body) gravitation towards experience in the physical world to learn the lessons necessary for our soul development.
Now we come to hell. In further establishing what I have already said about hell in the first part of this series, it represents the ego and personality's (Rich man) condition in relation to Lazarus. They are opposites. We are all in a condition of hell when we are led by the ego and lower emotions, which can only eventually lead to suffering in some form. But at the same time that suffering pushes the soul to a higher truth and reality.
According to Gaskell, Hell, Sheol, and Hades are "…symbols of the underworld or four lower planes of nature, namely, the lower mental, astral, the etheric, and the physical planes. The underworld is the arena of life for the spiritual egos who incarnate therein to gain experience and the development of their potential natures."
And now to solidify our argument which will leave little room for doubt (possibly even for you, RobertJ)
When I decided to do a post on this parable since it is one of the obvious ones in the New Testament giving us a good picture of what hell really is, I thought I remembered the parable saying that the Rich man had three brothers. Before I went back and reread it, I had the thought that it should be five, since five represents the number of the senses in many parables of ancient religious literature (see my article entitled, Sampson and Delilah: The War of the Mind, for another parable explained which has similarities to this one). So I flipped back to Luke chapter 16, verse 27-28, and bingo! The number was indeed 5! This is a recurring number in the Bible which always represents the senses, as in David choosing five stones to slay Goliath (the ego).
Luke 16: 27-28 reads:
"Then he said, I pray thee therefore, Father [Abraham], that thou wouldest send him [Lazarus] to my father's house: for I have five brethren; that he may testify unto them, lest they also come into this place of torment.
Again, the five brethren symbolize the five senses which easily get us caught up in the lower emotional-desire nature, and keep us from crucifying the ego. The rich man is in effect pleading for a relief of potential suffering the five senses can cause us. It is Abraham's response which even further solidifies our overall interpretation:
"Abraham saith unto him, they have Moses and the prophets: let him hear them."
Moses represents the moral nature, which must be developed first. Then the Christ nature can arise. It is the natural progression of evolution in the soul through experience. One proceeds the other, which is also why Moses and the prophets came first. Also consider the fact that the rich man asks Lazarus to go. But Abraham's explanation confirms this process. Lazarus, the embryo of the spiritual ego (vs. the lower ego and personality), must develop through the moral nature first.
A little side note: I am often asked in spiritual conversations what happens to us at death. Ancient mystics have always said that the lower ego is extinguished, but the truths and higher qualities that the spiritual ego has assimilated through its physical experiences goes on. That is the real you that is being developed and will always abide. Therefore we do not need to fear death. The true you, the part of you that means anything, will live on.
As always, your comments and thoughts are welcome.
Blessings!