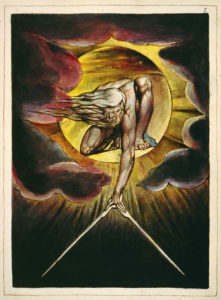 Prophecy is a subject that I have never written an article about yet, neither on this blog nor anywhere else. Nor have I thought about it much. At most I addressed it in a few lines in a comment, as a reaction on someone else's views. It somehow did not speak to me but recently I read a comment on this blog that gave some information about a prophecy of Ezekiel which really gave me food for thought. It also made me realize that there are different kinds of prophecy and wonder what it is all about. Some of these I will address in this article but not all of them as that would go beyond the scope of this article.
Below is the first paragraph of the comment, which gives a good impression of the tendency of this prophecy:
"In Ezekiel 38 and 39, God is telling His prophet Ezekiel that when the time comes that His people have returned to His land "Israel", and have made the once desolate land, fertile and fruitful, then He will bring about Destruction. In chapter 39, He says those in Israel (after the battle described), will spend 7 months burying the dead, and will not cut any trees for 7 years, because for 7 years they will be burning the remnants left by the armies that attacked Israel".  [Who wants to get the complete picture should read these chapters for themselves in the Bible as quoting them (or even the comment) in their entirety would be far too long.]
The writer approached this prophecy respectfully and from a literal viewpoint. I respect his view but for me this approach would be impossible as the literal interpretation of this prophecy goes directly against my conviction that the purpose of life on earth is all about growing in conscious awareness, towards unconditional Love and Unity in diversity.
This prophecy seems to be about the end of the world as we know it. Which could be in fact the time and the world we are living in right now.
This world I have often described already as a world of illusion – or Maya – as the Buddhists call it, as a game – Leela – according to the Hindus, or as a deep sleep or a dream – 'tardema' – as it is called in the Bible.
A world I also described in my article Does God exist? Is there consciousness outside of the body, or life after death?
This world is not real and is only meant to be a playing ground for us to gain conscious awareness by the choices we make in our lives and by the experiences we have as a result of those choices. The experience itself is not real either but the degree of consciousness lost or gained might be.
This world is a world of duality instead of Oneness. It is also a work in progress but there is no judgment of mistakes or failures as nothing that happens in it is real. So there is no judgmental God either.
I believe in God as Love, Unconditional Love, as Light, as Oneness, as Energy, as Consciousness, as All-that-Is but not as an anthropomorphic figure with mood swings and a longing for revenge, who only cares for his favourite people. I believe in God as One who loves all of his creation unconditionally. Who may warn people for the consequences of their deeds if they continue on the course of action they are on (by prophecies) – and even allow them to experience them if they do not listen – but who would never threaten them with punishment. Whatever will happen if the prophecies are not heeded will be the consequence of man's own deeds but not an act of God. And whatever will happen, will happen in the world of the dream but not in the Absolute Reality.
Although all this plays out in the world of illusion, this type of prophecy may be taken literally as well as symbolically in my view. Often it applies to situations here and now just as much as to situations in the past, so it would be wise to listen when we encounter a prophecy of this kind that might also apply to a situation we are ourselves involved in at that moment. That is why I did address this kind of prophecy in comments sometimes.
However the type of prophecy in these two chapters of Ezekiel is completely different. For one thing it is not directed at Israel as a warning to be heeded but at their enemies as something that will take place. It is about punishment and wrath and as such can never come from a God of Love, when taken literally that is. That is why I feel it can only be meant symbolically and should be interpreted as such. Therefore I would look at it in the same way as I look at the history of Israel in the Bible, where for instance the command to kill the peoples in the Promised Land proved to be the command to man to become master over his own ego and emotions.  To get to know and understand them first. 'Know thyself' is a well-known saying in antiquity. And clothing the message in myths that had to be unravelled layer by layer was a rule rather than an exception.
Within this frame of reference Israel is the symbol of man, and more precisely of the spirit of man. In fact, the story of Israel is our own story, of each and every one of us. It is about our spirit that fell asleep by entering this world of duality when it incarnated.
Israel is the Hebrew – the 'Ivri', which means 'the one from the other side'. As is our spirit. Israel is the one that descended from a realm of high consciousness and incarnated in a body of matter and an emotional body in a cycle of involution and evolution as recapitulated in the first part of my article The Tree of Judgement?. The different peoples then symbolize other parts of man. They symbolize the different emotions and feelings that slowly overpowered man on his downward journey and brought him to slavery / addiction 'in Egypt', in the world of matter. Man was delivered from this slavery by God but after that had to start learning how to master these feelings and emotions himself, and how to become master over his ego, during his journey through the desert to and his settling in the Promised Land. This was the onset of his journey upward again.
Killing in this context is therefore always a symbol for transformation and never meant literally.
When we look at this quote at the beginning of the article again, we see that the number seven figures hugely here and must therefore be important. It also figures hugely in the stories about our salvation.
First of all the number seven points to the world of the seventh day, as this world of illusion, this material word, is also called. And in this case to the end of it. The final phase of it. The Gethsemane and Golgotha of it, as you can read in my article An esoteric interpretation of the crucifixion of Jesus. Both stand for the number seven as Gethsemane (oil press) leads from the number six of the descending, involution part of the cycle to the number eight of the anointing oil / messiah ['shemen' (oil) = 'shmona' (8)] by the crushing of the olives, the 6th fruit or the fruit of the sixth day. Hence the act of crushing the olives stands for the number seven. And of course this is a symbol for the most difficult phase of our lives in which we have to become master over our emotions and let go of all resistance and bitterness over whatever happens to us. During which we learn to see how much we have grown in conscious awareness by going through all this with a loving attitude. The same is true for the deeper meaning of Golgotha.
Golgotha, the bitterness ('mar') of the cross (400), the '400-mar' in Hebrew, proved to be the 'tamar', the 7th fruit, which after eating and digesting it proved to be a sweet date. As such it also stands for the process of the number seven.  And the other description of the word cross, 'tselav' = 'tsel – 2' – world of duality – turned into '90-lev', the birth of the heart, after this process.
Therefore all these aspects of the number seven together lead to the eighth day, the day of resurrection and ascension in the evolution part of the cycle. In this case on a global level instead of just a personal level.
In this story of Gethsemane and Golgotha everything that seemed to be so painful proved to be something beautiful, just like the punishments of Adam and Eve after they had eaten from the Tree of the Knowledge of Good and Evil, at the beginning of the world of the seventh day turned out to be promises instead of punishments [see the closing part of my article Hidden Symbols and Patterns Inside the Bible: Part 2 ]. So I am sure that the same has to be be true for this negative sounding prophecy for the end of time and I believe that the prophesied destruction will not be a destruction of people but a transformation.
Often when speaking of these 'last days' the rebuilding of the Temple in Jerusalem is subject of discussion. Personally I believe that when this is mentioned in the Bible, it is not about a building of stone and precious metals. The temple of God on earth is the human body, which should be fit again to house the divine spirit that is waking up from his sleep in these final days. And as we might be living in these last days, our bodies may be changing from one with only two active DNA-strands to one with 12 active DNA strands (no more 'junk' DNA) and from being carbon-based to crystalline right now.
The message that this is going to happen or is already happening was given at some time during the last century as far as I know. At least then it started to surface more and more. This could be seen as a modern-time prophecy although that never occurred to me before now. Prophesying proves to be not a thing of the past but something which has been going on all the time, though at one time more frequently than at other times, I guess. These days however more often than ever before. It is called channelling nowadays, which is not something weird, something to be distrusted, but tuning in to a world of another frequency in order to receive messages from that world. How this works should be much easier to understand to us these days, as we do not really do anything different when we switch on our favourite channel on radio or television or are surfing on the internet. We choose which channels or sites we like or not and lots of messages stream into our homes through these channels.  Just as there are wholesome and helpful programs on both radio and television, and even more on the internet, there are also awful and degrading ones on all of them and the same goes for channelling / prophesying.
The important thing is therefore to be always discerning as to what programs we choose to look at or listen to (or what books or messages we read) in all cases. We should only expose ourselves and others to messages or prophecies that teach unconditional love and unity instead of hatred and division.