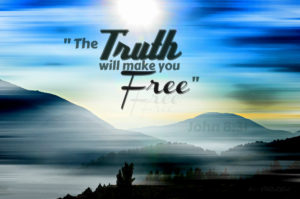 There is an old Zen saying that states: "In order to get to the truth, have no opinions."
There is immense wisdom in that saying. It tells us, first of all, that our opinions cloud our judgment. We certainly can't trust them. Historically, it has been the opinions of some that have caused much injustice in the world. On just a religious level, consider the Inquisition. But even in our day-to-day lives, can all say that we have unjustly condemned someone because of our opinions. And this is why Jesus tells us, "Judge not, least we be judged. And in the same measure that we judge, it comes back to us."
Upon reflection, I have found this to be so true in my own life. As we grow in wisdom with age and experience, and then realize the great extent of our egos through that experience, we come to understand that we are almost always wrong. But…it takes a greater experience where we realize a bigger overall picture to bring us to this realization. And the cycle repeats and grows evermore. Let me give you an example:
I used to think that going to work every day to earn money and do more would be the life! Put in eight hours a day for a week, get a paycheck, and then spend it however and on whatever I wanted! Ah, I could be happy. But as I got older and then landed my first job, for some reason my priorities changed! Life didn't seem so cut and dry anymore.
Another example:
That odd kid who sat quietly in class and didn't interact in my own preconceived cool social circle was weird and lacking. But many years later I saw his success on Facebook and suddenly realized that his choices weren't so bad. Perhaps. But now I have a greater level of understanding to even think…perhaps. But at a certain time I was certain he had made some better choices.
Yes, very crude examples that we can all relate to, but you get the picture. No doubt, opinions can be a dangerous thing, leading us down many rabbit holes until we have a greater perspective. Some opinions are better than others, to be sure (or are they?), but none really equate to the truth. Why? Because life is a continuous change based on experience and circumstance.
The absence of opinions is why the scientific method has been as successful as it has—it uses a carefully constructed process to eliminate opinions when observing the natural world, the world in which we live, the world of the senses. But even the scientific method has its limitations: we still don't understand how the universe really works, although we have gleaned much about it up to this point. But quantum physics has shown us that the universe behaves in weird ways at the micro level that doesn't align with the macro level, which is the level at which we perceive things working. This article is not a scientific one, so I digress. But I mean to say that the physical senses are very limited in their nature of interpretation. They cause us to develop opinions about ourselves, our neighbors, and the way we think things should be. This extends to belief systems, such as religion and morality. Take all the opinions of a society and we would have complete and udder chaos without laws that supersede our opinions. That's a good thing, because it allows society to function at large, although it's still not perfect. Some still slip through the cracks and get unjustly punished. The Constitution of the United States has helped close the gap over the governments ruled by monarchy, tyrants, oligarchs, etc. But it's still nowhere perfect. And with each new generation opinions change those laws, or expand them to include rights to others which have previously been denied. Sometimes these rights are good (such as the Civil Rights Act), but other times they may cause more trouble (insert many over the past decade – but remember, they are just my opinion and are subject to my flaws).
America itself seems to be undergoing a major change in societal beliefs in the past five years, and we'll see how it all turns out. Regardless, opinions will never produce a perfect society, and neither will laws which associate with those opinions. So we can safely say, opinions will never have us arrive at the truth, because in reality, at least in the world of the senses, truth is always relative to the individual. So consider:
Proverbs also states,
"Fools find no pleasure in understanding but delight in opinions." (18:2).
This takes the Zen saying a step further: The one who lives by his opinions is really a fool. Ha! How all of us have been fools at one time or another, or maybe even on a daily basis. Why? Because if we are honest with ourselves, aren't much of our daily lives lived by our opinions. Think of all judgments we pass each day!
So what is truth? Does the Bible tell us?
Actually, it does. But it's still needs some major decoding. Let's go to the story of Jesus and Pilate to discover more.
As the allegory goes, Pontius Pilate once asked Jesus, "What is the truth?" (John 18:38).
Surprisingly, the scripture doesn't record an answer from Jesus, but rather makes it seem like Pontius asked a rhetorical question. But to be fair, we have to take into account the context of what happened before.
Jesus just got through telling Pontius that He was the truth, and that His Kingdom was not of this world. What was meant here?
It's quite simple. The truth is not of this world. In this world, you won't find it. This world of senses is too complicated to navigate. Always mired by opinions. They always feed us information that we interpret incorrectly because of societal inputs and impetus that cause us to form those opinions in the first place. This is one of the reasons I advocate meditation in so many of my articles. Meditation takes us away from our opinions and causes us to tap into a higher intuition when done properly over time. This intuition may be slow to come at first, and rightly so. Think about it. True meditation takes us beyond the prison of our own mind with all its opinions. In a sense, it's the process of stepping into another world, a world of silence. The mind is quieted. Our thoughts, our opinions, are quieted.
So what is truth, really? It's not something I can plainly tell you. Truth is a higher experience that changes us from the inside out, once it is experienced. Meditation, even the typed studied through the scientific method, causes us to drop beliefs and opinions, because it allows us to see into a higher dimension of reality. Eventually, and when done properly, it causes us to see ourselves for what we really are: a conglomeration of opinions and ego. Meditation, proven to bring us many health benefits, provides us with a psychological overhaul. And this is the reason for its many health benefits: It causes us to decondition ourselves. And this is why all the major Biblical figures advocate it.
Consider the Psalmist who states:
"Be still and know that I am God."
Being still is the process of letting go of who we think we are for a time. Because, let's face it: when we strip away all the ego and opinion, we come to a certain peace. Why? Because all that is left is God, the basic and most true state that we are. Mind you, this state of being may take years of meditation, because we have to strip away so much, but it's there to discover. It's the Christ nature of us all.
Consider that the scripture tells us that Elijah didn't find God in the fire or whirlwind or the earthquake, but in the still quiet voice. To put it in New Testament terms, it is the Inner Christ coming forth through the death of the ego, the process of crucifixion. The process gives us a higher perspective on life, and causes the higher brain function of intuition to come forth.
Why is it that some of the greatest spiritual masters of all the great religions have to retreat away from civilization, away from man's ego and opinion? Didn't Moses go to the mountaintop? Didn't Jesus retreat to the Garden? Didn't Buddha sit quietly under the Bodhi tree? All of them alone with God? Of course! Because God answers to no man, to no opinion. The truth, which is beyond the world of the senses, also answers to no man, and no opinion. God is truth, and to find Him, we have to leave all opinions and judgments behind. And there, in the stillness of the mind, lies an experience of the truth on a higher plane of consciousness. Few there be that find it, because few there be that move beyond the world of the senses to really see. And the truth discovered there has no words, but rather action that is produced through higher intuition. I cannot tell you the truth. But you can experience it for yourself.
When I first began to see this, I suddenly had a great appreciation for the esoteric interpretation of the Scriptures. The literal interpretation suddenly faded in meaning, and the higher spiritual concepts that lie hidden beneath the literal interpretation began to come alive. Certain scriptures seem literally to tell us to search for truth in the world of the senses, but the overall picture points us in a different direction; one beyond the senses. It is my great honor to point you in this direction. And remember, no one person, not even me or this website will ever reveal to you the truth; only you can bring yourself there. This website and its articles can only point in the right direction and hopefully close certain doors…the door of thought and opinions and ego. But beyond that, it is up to you. Happy hunting through meditating! There are more than few articles on this site which reveal more about proper meditation. Use the search bar and if you find them worthy, and if so, good luck!
Blessings!