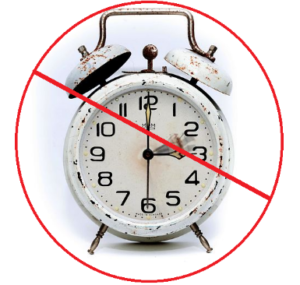 What is the purpose of time?  Psalm 90 attributed to Moses gives us a hint in verse 12.  "Teach us to number our days that we may get a heart of wisdom".  This reminds me of the 2012 movie "A Thousand Words" where a shady character "Jack" played by Eddie Murphy is cursed to die as soon as he mutters 1000 words. He begins to pick his words very thoughtfully and sparingly to no avail until he learns from a guru that to remove the curse he must make peace with all relationships. One broken relationship stood out from all the rest – Jack was angry at his father for leaving his mother when he was born. With only three words left, Jack's life is redeemed when he finds his father and tells him, "I forgive you".
Since the day we were born we have been aware of time.  From toddlers to teens we proudly watched ourselves grow taller every year, with some of us, when we became more aware of our surroundings, noticing another side to this equation in our parents' faces beginning to wrinkle and hairs starting to gray.  The seasons continually remind us of the cycle in the passage of time. Solomon the Wise in Ecclesiastes 3 suggests that there is a time and purpose for everything under heaven, a time to be born, a time to die, and that God has set eternity, like a great mystery beyond the veil, into the heart of man, so that Man is awe struck by the concept of eternity, but unable to fully comprehend it.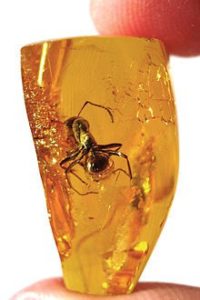 A renowned 20th century American writer, Kurt Vonnegut, Jr., in his 1967 best-selling novel "Slaughterhouse-Five" introduced a metaphor that has never been forgotten "Take it moment by moment, and you will find that we are all… bugs in amber."
This was advice given to the character, Billy Pilgrim, an optometrist from upstate New York, when he is captured by Tralfamadorians from a distant planet, who have the view that we exist simultaneously in all points of time, but unaware of them, being trapped, as if in amber, in any particular moment.
This post is about getting ourselves out of the amber, so we can experience timelessness. Timelessness would have no meaning without time. But time may be a mixed bag, both curing us and killing us.   So what is this entity, time, that is so influential?
Relatively Speaking
At the turn of the 19th century scientific breakthroughs began springing to life. The industrial revolution had allowed better scientific instruments to be constructed.  The renaissance in Europe had established academic institutions of excellence which gathered the brightest and the best into participating communities.  Thanks to Gutenberg a few centuries back, and the European railway postal system, research publications were easily and quickly distributed. And industries which needed technical solutions for new processes were perfectly willing to fund research.  The time was ripe for innovation.
Everyone understood time then.  There was a master train schedule that everyone followed and the same time reference was assumed to apply to everyone regardless of their motion or location.  You got from A to B by using the schedule, otherwise you missed the train. No one had a clue there might be a flaw in this perception of time as absolute.  Then a lowly patent clerk in Switzerland who had a lot of smarts, about an average memory, and a very active, almost obsessive imagination scratched some notes on scrap paper during his boring job whenever he was inspired, and stuck them in a desk drawer.  No one knew that Albert's notes would later give birth to the most monumental scientific discoveries of his age and ours – The Theory of Special Relativity and the Theory of General Relativity.  From the moment Albert Einstein had his first inspiration, time would never be thought of in same way.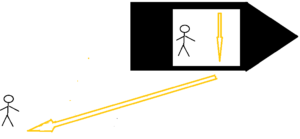 Special Relativity considered the concept of time of one person relative to another when one or both were moving at constant speed relative to the other.  At high speeds unusual effects were theorized to occur based on the idea proposed a little earlier by James Maxwell, that the speed of light is constant.  Einstein's intuition led him to guess correctly that the speed of light is constant in every frame of reference.  As shown in the illustration, if Einstein, in his frame of reference, is on a large, fast spaceship that has a light beam moving downward vertically through a given distance in 1 unit of time; Maxwell, in his separate frame of reference, who is stationary relative to the space ship, watching it passing overhead, would observe the light moving through a much longer diagonal distance.  It would have taken light traveling at a constant speed to travel the longer distance that Maxwell observes 3 ½ units of time.  During this event, Einstein will have aged one unit of time, while Maxwell will have aged 3 ½ units of time.   The faster the ship, the longer the diagonal distance, the greater Maxwell ages compared to Einstein.
If you slow the ship down to that of cars, trains, and airplanes, the effect is so small that it is not detectable.  As is often the case in science and spirituality, the finer principle is hidden by the coarser until a new understanding is revealed.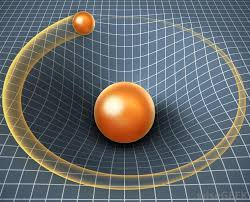 Special Relativity was a simplified case, considering objects moving at constant speed and not affected by gravity.  When Einstein plugged in everything he knew about gravity and acceleration into the Theory of General Relativity, the mathematical solution revealed an earth-shaking conclusion.  Gravity is not like magnetism pulling matter towards it.  Instead, gravity causes distortions in the fabric of space-time so that both light and matter are both affected.  The first graphical representation shows the earth following an orbit around the massive sun.  As a result of these distortions depicted as a well in the space-time continuum, the earth appears to follow a path of balance between a straight line and falling into the well.
The proof of this theory would be observing how light would be bent by the same distortion. The second graphical representation shows how the distortion in the space-time continuum causes light that passes close to the sun to bend. Such an observation could be conducted by observing the stars that appear close to the sun during a total eclipse. Their positions would appear slightly spread out from the sun and from each other because their paths are bent, compared to their normal positions.  Sounds easy to verify.  But it took 10 years of trial and error by teams of astronomers from all over the world to travel to a total eclipse, have all their gear working, and a clear enough sky.  World War I broke out in the middle of that period which totally disrupted travel and scientific expeditions.  It was not until 1919 that a successful observation was made.   As it turns out, the delay worked out for good, because during that time mistakes were discovered in Einstein's calculations which claimed half as much distortion as the corrected calculations. His theory might have been discredited if an eclipse would have been successfully observed before the corrections were made.  In all this, Einstein never lost faith.  His biography almost sounds like the Book of Job.  His trials did not end then, but continued with his critics and later with the Nazis.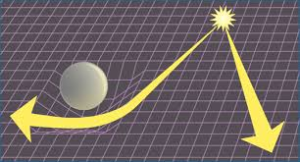 Einstein's new set of equations for his Theory of General Relativity indicated that time could, in one sense, be considered the 4th dimension to be included on equal ground with the 3 spacial dimensions of length, width, and height.  At any moment, your location in the space-time continuum could be specified by four numbers representing the 4 dimensions.  If time was just another of the 4 dimensions, then maybe we could go back in time, just like we can move back and forth in the spacial dimensions.  Einstein was skeptical about that.  A suggestion was later made that this could be accomplished by circling a massive object such as a black hole, but Stephen Hawking, the modern expert on black holes, remarked that he did not think nature allowed it, and that the conditions necessary to make that happen would always be unachievable.  He was willing to reconsider only if tourists from the future were to visit us.  As would occur again and again, nature would take precedence over the equations that have tried to describe it.   Like the monk meditating on a hill searching for truth, or a crusader searching for the Holy Grail, scientists would continue to search for the primary principles of nature, and although they would seem at times to elude them, they would never cease to be amazed.  As Einstein remarked:
"I'm not an atheist, and I don't think I can call myself a pantheist. We are in the position of a little child entering a huge library filled with books in many languages. The child knows someone must have written those books. It does not know how. It does not understand the languages in which they are written. The child dimly suspects a mysterious order in the arrangement of the books but doesn't know what it is. That, it seems to me, is the attitude of even the most intelligent human being toward God. We see the universe marvelously arranged and obeying certain laws but only dimly understand these laws. Our limited minds grasp (at) the mysterious force that moves the constellations."
A Theory of Everything
A limitation with Einstein's theories is that they did not describe the behavior of subatomic particles well enough.  For instance, many problems regarding the behavior of electrons and their interactions in the atom could be better described by modern quantum theory through using a complex mathematical formula known as the Schrodinger equation.  It was based on the probability of the electron being distributed in the atom like a cloud, rather than a single particle with known position and velocity.  This worked well for simple cases. No one was quite sure why, even Schrodinger.  The formula kind of produced itself when certain mathematical techniques were strung together, and then took on a life of its own. But it got harder and harder to solve the formula when there were many particles interacting.  It also painted a picture of reality that was not accurate, claiming an electron could exist and not exist at the same time with equal probability until its condition was detected by an observer.  This resulted in some rather weird descriptions of the real world.  Imagine a world in which you would exist and not exist with equal probability until you were observed.  This is strongly refuted by the words of Descartes, "I think therefore I am".  Plus there was no way to combine relativity with modern quantum theory.  The formulations were incompatible when they were blended together.  On top of this, modern physics with the help of particle accelerators had predicted the existence of a slew of sub-subatomic particles, one of which was the graviton – the one that was supposed to cause mass and gravity. But it still has not been detected.
Then along came string theory.  Instead of thinking of the primary elements of existence as fixed particles or clouds of probability, they were now considered as vibrations of hypothetical strings. The type of vibrations determined their properties.   Now there would be a vibration that caused gravity… on paper.  Many theoretical problems of modern physics that could not be solved by quantum or relativity theories could now be solved with string theory … on paper.  It was the meeting of the minds.  However, the meeting did not always extend to reality.  All of a sudden there were parallel universes predicted.  But the fact remains we are stuck in this one. We have no scientific evidence of other universes.  Many critics claim string theory is nothing more than an elaborate mathematical exercise and waste of time that could be better spent on something else. But it did create a kind of mathematical fantasy in which, for the time being, everything could be explained.
A Theory of Everything has long been the dream of physicists.  Being able to put a small set of neat equations on an index card that describes all the underlying principles of the natural world.  This is the Alpha and Omega of the natural world. We can almost do that, except when it comes to gravity.
In Douglass Adam's 1978 radio spoof "The Hitchhiker's Guide to the Galaxy", a compact solution to the theory of everything is calculated by a supercomputer as the number 42.   When asked what the answer means, the supercomputer instructions are to find the original question from a bigger supercomputer –  an interesting twist in the search for truth.  Since Adam's story includes a romantic element, rumors are that this British satirist chose the number 42 from the song "Tea for Two".  A later work of his "The Long, Dark Tea-Time of the Soul" lends evidence to this.
The Invisible Universe
We do not have evidence of parallel universes, but we do have some evidence of a much more intriguing anomaly that suggests the universe we know and love is only 10% of everything. There is another 90% of it that is invisible to us, that we cannot directly interact with although it dwells among us. It is composed of Dark Matter and Dark Energy.
The word "dark" in this case is a misnomer.  The word 'invisible" is probably more accurate. Dark Matter has mass but no charge   Therefore it does not generate or interact with electromagnetic fields.  The reason I do not fall through the floor when I stand up is because my mass has electromagnetic properties that repel the electromagnetic properties of the floor.  The floor is not "solid" because it has mass.  It is solid because it has mass with charge. The charge produces electrical waves with their magnetic counterpart.  I can see the floor because of electromagnetic waves interacting with the floor entering my eyes and stimulating electromagnetic interaction in my neurons. But particles with mass and no charge can penetrate right through my body, right through the earth, without any significant effect.
Dark matter was discovered by observing how fast galaxies rotate like a pinwheel of stars and discovering that based on how much visible mass we estimate that galaxy to have, the star should be flying off the pinwheel unless there was a very large mass that is invisible holding them in. Also the mysterious dark matter is evenly distributed throughout the pinwheel, not concentrated in the center, so that the outer stars circle at the same speed as the inner ones.   It was confirmed in 1970 by a female astronomer who died last year without having been awarded a Nobel Prize which she deserved – Vera Ruben. Because she was a woman she was largely ignored and had to take a back seat in the circle of male astronomers. But she persisted quietly in her pursuits until she and a partner accumulated enough evidence to blow the roof off of modern physics.
In 1990 astronomers discovered that the universe is expanding at an ever increasing rate, exactly the opposite of what the big bang model of the universe predicts, that energy is dissipated as matter is thrown out from the big bang until gravity causes the expansion of the big bang to slow down and coalesce   In order to explain the accelerating expansion, they hypothesized that the universe is made up of "dark energy" that is a property of empty space, or what we once considered empty space.   Dark energy is otherwise undetectable because it is not electromagnetic energy.  Some have speculated that dark energy is similar to what Eastern religions refer to as Chi.  The more the universe expands, the more empty space is created, the more dark energy is available to make it expand faster.  Not only that, but the universe is about 68% dark energy, 27% dark matter, and 5% of what we know as normal  matter and energy in our beloved visible universe.  Our visible universe is totally outnumbered by an invisible universe that dwells within it and penetrates every space.  We are ants in a vast jungle we cannot see and know very little about.  Either that or our basic assumptions are all wrong, and after 204 Nobel prizes we now need to erase the blackboard and start all over again from scratch.
Just in case you get any idea that we may somehow figure this out a few more Nobel prizes from now, there is one more wrench to throw into the works to make everything impossibly unsettling – "quantum entanglement".   This is the proverbial straw that breaks the camels' back.  In quantum entanglement, two subatomic particles may become mysteriously linked so that if they are moved apart each to a different end of the universe, if a change happens to the first particle, the second particle instantaneously changes the same way.  Whatever is connecting these particles happens at the speed of light multiplied by infinity.  Naturally Einstein did not like anything traveling faster than light which would totally unravel all his theories and so he referred to this phenomenon in a derogatory way as "spooky forces acting at a distance".  But the effect was confirmed, another Nobel Prize was awarded, no one asked Einstein to give back his Nobel Prize money and the theory of everything took a quantum leap into becoming infinitely elusive.
The Weight of the Human Soul
Various experiments have been performed trying to detect a weight loss when a person dies.  The most accurate one was performed in 1988 by East German scientists two years before the fall of the Berlin Wall.  This experiment compensated for every variable imaginable including release of feces, loss of water vapor, and final breath.  Results for 200 cases conclusively indicated that after all the natural sources of weight were subtracted out, there was still a consistent loss of weight of one hundredth of a gram.  One hypothesis is that this is the weight of the human soul that leaves the body when it dies.  It can also be caused by another process we do not yet understand.
Memories of Past Lives
At the University of Virginia Medical Center Department for Perceptual Studies, Professor Jim Tucker continues the work of Professor Ian Stevenson studying children around ages 2-6 who have memories of past lives.   There have been 2500 documented cases worldwide since research began in 1961.  The memories usually fade after age six as the child's brain begins to mature to encounter the present life.  The average time between death and birth is 16 months. Some children remember the time between death and birth.  It is acclaimed as first rate research by expert research psychiatrists.  This is evidence that our consciousness can live on long after our bodies perish. Jim Tucker as well as a number of physicists also believe this implies that out material world may grow out of our consciousness.  The scientist who started quantum physics, Max Planck, is known to have stated in 1931:  "I regard consciousness as fundamental. I regard matter as derivative from consciousness."
Study of Psi
At the same Department of Perceptual Studies, research psychologists, neuroscientists and electrical engineers have joined together to study what is referred to as "Psi".  Psi includes various kinds of anomalous interactions, not presently explainable in conventional scientific terms, between human individuals and their environments.  They study people with special skills such as advanced meditators, those who can voluntarily control their Out-of-Body experiences, trance mediums, and gifted psi subjects who demonstrate such phenomena as accurate remote viewing and the ability to voluntarily effect observable changes in the physical environment via mental processes.  If you possess any or all of these skills you are invited to contact the Department of Perceptual Studies to report your experiences with full confidentiality (refer to https://med.virginia.edu/perceptual-studies/research-area/studies-of-psi/).  The department is also using advanced neuroimaging technology to study exceptional individuals.  Similar programs at Princeton and Duke Universities were closed down ten years ago because they were too mathematical and mechanistic, which resulted in very little confirming evidence.  The University of Virginia programs have a more productive approach and better results.  Seriously, scientists would not keep pushing against the odds to explore these areas if there was not something to it.  Being funded by private endowments that cannot be deferred into building up the US military is also a distinct advantage.
Benefits of Mindfulness and Meditation
Meditation and mindfulness training are now standard therapies for people with health conditions such as heart disease and other stress-related illnesses. It has also been shown to be medically effective for mental illness.  It is now a regular part of the Alcoholics Anonymous toolbox to stabilize lives and connect with one's non-denominational higher power.  Scientists borrowed it from Eastern religions, standardized how to use it and how to measure its effects to verify the remarkable benefits in scientific papers published in reputable Western journals.  Some corporations offer programs to their employees to improve productiveness, job satisfaction, and wellness.  And of course it has been around a whole lot longer in the esoteric spiritual communities, online and offline.  Some progressive religious organizations have begun to embrace it.  But many of the more conventional Western religious organizations, especially the more fundamentalist Christian ones, do not want any part of it.  In fact I was flatly turned down when I wanted to start some activity along these lines at my local Messianic Jewish Synagogue.  If only they knew how much this kind of suppression inhibits spiritual growth.  I think the major fear is that it will turn their congregations into Buddhists.  But Reform Jews and members of Chabad have begun to practice it, and none of these congregants seem to be racing off to Tibetan mountaintops.
Stuck in a Rut
Nature dictates that we cannot go back in time.  But we do this all the time with our minds.  It is one thing to reminisce about good times, and another to ruminate on experiences we have suffered or wish we could change.  Past trauma can also affect us consciously and subconsciously.  And then there is guilt and remorse that can be carried way too far.  Reliving the past can be toxic.  Many times we would be better off if our minds copied nature and just moved forward.  The apostle Paul hints at this in his letter to the church in Philippi, "Not that I have already obtained all this, or have already arrived at my goal, but I press on to take hold of that for which Christ Jesus took hold of me.  Brothers and sisters, I do not consider myself yet to have taken hold of it. But one thing I do: Forgetting what is behind and straining toward what is ahead, I press on toward the goal to win the prize for which God has called me heavenward in Christ" (Philippians 3:12-14, NIV).   A shortcoming of Christianity practiced in modern times is that although followers profess to live up to Paul's standard, many of them are in therapy because they are not able to.  Many live in denial that they are not able to, do not seek some solution to this, and then the hidden consequences leak out on themselves and the people around them.  So much of Christianity is founded on relieving followers of the negative aspects of the past, pardon from sin, for instance, or forgiveness for the wrong doings of others.  These are good principles, mind you, because they keep the majority of us from becoming uncivilized.   But if we have trouble living up to them, and the church in practice seems to fall short of our expectations, should we choose to settle for mediocrity?  What would Jesus do?
We are told that Christ is timeless, having existed before the creation of the world and through eternity. All things were created through him, and apart from him not one thing was created (John 1:3). If a spark of Christ is in us, then should we not have the potential for experiencing this freedom of timelessness?  The question is not so much if, but how.  In extreme cases electrical shock treatments are effective in freeing mental patients from accumulated negative mental patterns, a kind of reset button, but with negative side effects. We are all students of life, in the same boat as mental patients, needing a reset. Bad thoughts from the past can flow like a flood. How can we learn to shut them off and keep them shut off on a regular basis?  How can we learn to discover and control the hidden unconscious influences? Many of us have found the reset button in meditation and other spiritual practices.  It each of them there is a focal point to which we can keep returning.  A piece of timelessness.
Miracles Born out of Weakness… and Weirdness
Einstein did not fit into the normal mold of society.  It is rumored that he had a mild form of autism called Asperger's syndrome. He learned very slowly during childhood, had underdeveloped social skills, was introverted, and could become easily obsessed.  Later in life he did not let his children touch him.  He had difficulty getting a job.  And yet it was this kind of isolation that helped him think creatively instead of the encultured patterns of the scientific establishments.  Vocationally he had become a loser, and it took a long time for his particular kind of genius to be recognized.  When he put his intuition and math together, he discovered that our ordinary understanding of space and time were an illusion.
Marie Curie had to work in a shack with makeshift lab equipment when she was isolating the first radioactive elements polonium and radium. Thomas Edison was deaf in both ears which enabled him to develop an undistracted focus on his work.  Nikola Tesla who invented alternating current never seemed interested in monetary gain, although a possible downside of that was he never seemed to have enough money to do what he needed to do. Tesla claimed to have required only two hours of sleep a night, although he occasionally napped. He loathed jewelry and round objects and wouldn't touch hair. He was obsessed with the number three and polished every dining implement he used to perfection, using 18 napkins. Leonardo Da Vinci was believed to be dyslectic. Stephen Hawking was paralyzed. The list goes on and on. Many of the keys to unlock the secrets of the natural universe were given into the hands of people under handicaps and distress. If we were to select these people to be on the team of the great like we select sports champions, they would have been third string choices at best. This is not too unlike the Western world's most famous religious figure being born out of wedlock in a manger and raised as a carpenter.  The same concept is in the Old Testament, with the family of Abraham's grandson, the beginning of the twelve tribes of Israel, being rescued from drought by the youngest grandson, Joseph, whom they once betrayed.  Regardless of whether these scriptures are real or allegorical, they reveal remarkable characteristics of our universe.  Call it restoration or unmerited favor.  It is like an ice cream cone appearing out of nowhere on the hottest day of summer.  It is not supposed to be there. Who or what put it there?  Everyone has a different explanation for the same ice cream cone.
Marriage of Science and Spirituality
We now have an interesting parallel between science and spirituality.  Modern science now tells us that dark (invisible) matter permeates ordinary matter.  It obeys different rules than ordinary matter and exerts unusual effects on ordinary matter that have been confirmed but are still not quite understood.  Many spiritual schools of belief have been telling us for ages that a finer type of matter referred to as subtle matter permeates what we perceive as the material world.  They tell us our physical bodies are permeated by various levels of subtle bodies, the highest form being pure consciousness.  There is so much more to us and our universe than meets the eye.
Perception of Truth
I once thought that there was one clock for the universe and everything went by it. Now I know that time is relative. I also once believed that there was only one objective understanding of reality.  I guess that was a good place to start until I matured.  Imagine when I was a child and my parents told me when to go to bed, but instead of doing that I told them that I was experiencing a different perception of that reality.  As we mature we may realize things about our differences. As the saying goes mean are from Mars and women are from Venus.  Gender can change the way we perceive and react to our surroundings. Our genes and environment make us the individuals we are and since our reality is what we individually perceive it to be, we may all have a different perception of reality.  Add being permeated by an invisible consciousness to the mix, and I could easily begin to become confused. Am I the consciousness or the one being permeated by it?
The reason I am not confused is that by practicing a technique I learned one day by accident, I can for brief moments sense that I am the consciousness, there is no confusion, no uncertainty, instead an incredibly positive feeling, a pinpoint moment of total but simple clarity that is accompanied by a calm urgency to exert my being toward healing something. It could be saving the world or not stepping on an ant. It is all the same.  And it is as natural as scratching an itch, rather than any attempt to be heroically altruistic.  It feels so good. I don't know what to call it but I seem to settle on saying that I am experiencing timelessness.  This is the closest thing to a perception of truth that I know.   It makes everything else I have sought after outdated.  To me all inconsistencies in theories and beliefs are the result of missing this experience.  It is here that all the corruption shakes out and everything merges.  Everything that I know that is good can be derived from this.  It surpasses a theory of everything. It is my most effective reset button, liberating me from the amber, if but for a brief moment.  It is all I need. Maybe this is the timeless Christ within, or something like that.  When I go back and read scripture, it seems that what I read simply highlights in a less perfect form everything that is already self-evident from my encounter with timelessness.  As I read some profound or hidden truth, I nod to myself, "OK, they almost got that right".  It is exceptionally uplifting and incredibly enabling.  Everyone should have their very own personalized reset button, and in the way that is most suitable for them, take time for timelessness.