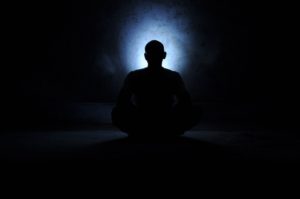 In Genesis chapter fifteen we read about a strange event that occurs between God and Abraham. The mythological imagery stirs the imagination: God appears in great darkness, followed by a smoking furnace and a burning lamp that passes between Abraham's sacrifice. The true meaning of the symbolism will never be preached from a traditional church pulpit because it deals with the divine physiology of man, and the implications of deep meditation, the ego, and spiritual initiation. So let's break down this mystical mystery.
First, a short summary:
Abraham is deeply concerned. He yearns for an heir in his old age. God tells him to look up at the dazzling night sky; he promises that his offspring will rival the number of stars that he sees, and that they will inherit the land from the river in Egypt to the great River Euphrates. Abraham then makes an animal sacrifice. As he patiently waits in silence, driving away the birds that want to eat his sacrifice, he eventually falls into a deep sleep. The Lord gives him a great vision of what happens to his offspring in Egypt, and their subsequent deliverance by Moses. Then God personally appears out of great darkness in the form of the smoking furnace and a burning lamp.
When I was young, this story always fascinated me – the imagery is so out of the ordinary. What does it mean?
Let's start with Genesis 15:7:
"And he said unto him, I am the Lord that brought thee out of Ur of the Chaldees, to give thee this land to inherit it."
The word land in the above scripture has nothing to do with a physical location. Note that. I'll prove it scripturally in a moment.
"And he [Abraham] said, Lord God, whereby shall I know that I shall inherit it?" (Gen. 15: 8).
Odd question. Abraham's already in the land, living there with a small army, his servants, his family. But Abraham doesn't seem to care about this; he wants to be assured that his future progeny is there. That's his proof. What's the significance?
Apostle Paul Explains the Significance
Abraham doesn't get a land deed. Remember, it's not a physical place we're talking about here. So God is about to give Abraham a vision of his future. The Apostle Paul clarifies what this land deal is all about, as well as what's really going on with his future progeny. So let's briefly jump to the New Testament. I'll quote the NIV version:
"These things are to be taken figuratively. The women [Hagar and Sarah] represent two covenants. One covenant is from Mt. Sinai and bears children who are to be slaves: This is Hagar. Now Hagar corresponds to the present city of Jerusalem, because she is in slavery with her children. But the Jerusalem that is above is free, and she is our mother" (Gal. 4:24-26).
Paul clarifies that the physical city isn't important. He tells us the real focus which is on the spiritual lesson, the Jerusalem above. The first mistake Christians make is to not really listen to Paul here. These things are to be taken figuratively, not literally. But tradition has so entrenched the mind that most Christians read over this passage and completely miss that Paul is about to unveil part of the myth. No, God isn't really going to give Abraham one progeny of slaves, and another that's free. It's all about what goes on in the mind, and Paul is telling us to pay attention to what the symbolism means. I have bolded the word above in Galatians 4:26 because the land which God figuratively gives Abraham is about the Jerusalem that is above, in your mind / brain.
Abraham is known as the "father" of many nations, and specifically the Hebrew people, also called Israelites and sometimes Jews. When the Israelite camp was set up in the wilderness, Judah always camped on the "right" side. The tabernacle is also symbolic of the human brain and mind. Paul tells us in the New Testament that the Jew is not one outwardly (a nationality or ethnic race), but is one inwardly, and circumcision is not of the flesh, but of the heart / spirit (Romans 2:29). The word "inwardly" here is code for mind / heart. In other words, Paul is saying we are not to think of Jew as someone who is a particular race of people, but rather someone who has consecrated one's self to spiritual pursuits, such as meditation, where in the inner light comes in, always from the east / right side. The purpose of meditation is to shut down the intellect (symbolized on the west / left side). Judah camped on the east / right side / rising sun. It's also interesting to note that the tribe of Judah has 186,400 people in it, which is the speed of light in miles per second. Coincidence? You decide.
Back to Abraham
The reason I broke away from Genesis 15 is to show you that the importance of God's answer in the vision to Abraham is not of a literal seed inheriting the land, but rather many generations of people who would seek to follow God (the true Jew). This will all come together in a moment.
Now for God's reply Abraham's question:
"And he [God] said unto him, take me a heifer of three years old, a she goat of three years old, and a ram of three years old, and a turtle dove and a young pigeon (Gen. 15:9).
According to Gaskell's Dictionary of Scripture and Myth, all animal sacrifices, to which God is asking of Abraham here, is symbolic "…of the devitalising and offering up of the lower desires and affections for the sake of making place in the soul for the higher qualities of goodness, love, and truth."
God never asked the ancient Israelites to offer up literal animal sacrifices. This was always a man-made practice invented by man, and has no bearing on the spiritual lesson Genesis 15 is trying to impart.
So what Abraham is doing here by sacrificing animals symbolizes a man that is the father of the spiritual Jew, one who is willing to sacrifice his own lower desire nature for a higher spiritual purpose.
Now for the interesting part. The next few verses state:
"And when the sun was going down, a deep sleep fell upon Abram; and lo, an horror of great darkness fell upon him (Gen. 15:12).
The Hebrew word for "deep sleep" here is also translated "a trance." A trance is defined by a state of consciousness in the absence of external stimuli. Symbolically, Abraham was in a deep state of meditation, which is where we hear and experience God. Besides the Hebrew word translated as trance, we also have the scriptures telling us "a great darkness" fell upon him. Where is God experienced?
More Evidence of Meditation
Many scriptures talk about God dwelling in deep darkness, which also symbolizes the absence of all external stimuli. Let's look at some scriptures:
"He makes darkness his secret place…" (Psalm 18:11).
"He made darkness pavilions round about him, dark waters and thick clouds of the sky" (2 Sam. 22:12).
"Then Solomon said, "The Lord hath said he will dwell in thick darkness" (1 Kings 8:12).
"…and Moses drew near unto the thick darkness where God was" (Exodus 20:21).
"…and the mountain burned with fire to the midst of heaven, with darkness, cloud, and thick darkness  (Deut. 4:11-12).
" Rejoice not over me, oh my enemy; when I fall, I shall rise; when I sit in darkness, the Lord shall be a light unto me" (Micah 7:8)
What is it about God dwelling and appearing to humanity in the darkness? The scripture said he is also not a man, but spirit and light! So God is a spiritual light which dwells in deep darkness…Hmm.
When one meditates, he enters the darkness. The point of going within, where Jesus said the Kingdom of God dwells, is to retreat from the outside world, the world of external stimuli – darkness.
When the Bible speaks of God being light, it isn't speaking of light that we normally experience from the sun or a light bulb. In Genesis chapter one the sun and stars weren't created until day four although God said let there be light on day one. And remember, in the new Jerusalem of Revelation there's no need for the sun or moon, because He is the light.
In ancient literature, "darkness" referred to the highest level of God, known as the unmanifest, absolute, and unknowable. And from this absolute comes the light of pure awareness, and cannot be described but only experienced, many times in deep meditation, which happens through the pineal gland (for more on how God met Jacob at Peniel / Pineal gland, see my article HERE).
So now that we see what's going on with Abraham's experience, let's look at the smoking furnace and the burning lamp.
Further Evidence Abraham is in Deep Meditation in the New Jerusalem from
Above
What's this imagery of the smoking furnace and burning lamp all about? Why would God's presence appear in such a way, and move in the midst of Abraham's sacrifice. Remember what the sacrifice truly represents? It is Abraham's willingness to sacrifice the lower desire nature (ego) for the things of God. So here we have this imagery of Abraham in a deep meditative trance, going into the darkness in the absence of external stimuli, going within himself, and here comes the smoking furnace and burning lamp.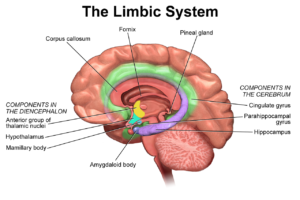 The smoking furnace and burning lamp is symbolic of the light of God that happens in deep meditation. It is the light of God that every Old Testament hero such as Moses experienced when going into the deep darkness of meditation. A furnace burns. The smoking furnace symbolizes God's light burning up the impurities, or lower desires of Abraham's ego. The burning lamp is the light of God. If you want the physiology correlation of the human brain that relates to the smoking furnace and burning lamp you can study the third ventricle of the brain and see how the pineal gland is connected electrically to the fornix (smoking furnace). The pineal gland is known as the third eye in ancient cultures. It regulates light in the brain and converts serotonin into melatonin. By the way, serotonin has been studied extensively and many scholarly articles have been written about the way serotonin affects consciousness. What's really going on physically with hormones and endocrine glands translates to a psychological experience. It's all about kundalini, meditation, and our ego folks. 
So let's see how the Lord responds to Abraham as he is in this deep meditative trance:
"And he said unto Abram; know of a surety that your seed shall be a stranger in a land that is not theirs, and shall serve them; and and they shall afflict them four hundred years. And also that nation shall I judge: and afterward shall they come out with great substance…but in the fourth generation they shall come hither again" (Gen. 15:13-16).
We have more than a few terms to discuss above, and a few of the terms will reinforce each other, further showing it's all about the journey within, not a literal one.
We know that the land God called Abraham's descendants out of was Egypt. According to Gaskell, Egypt symbolizes this:
"From the point of view of the Greeks and Hebrews, Egypt is a symbol of the lower mental plane with its knowledge of the things of the world, and the objects of desire."
The true Jew, as Paul explains to us, sacrifices his or her desire for the things of God, which means spending time with him and going into meditation. More sacrificing the ego talk, right? Another important term that is not a coincidence is that God will call them out of Egypt in the fourth generation. Why?
In an article entitled, The Special attributes of the Third and Fourth generations, found Here, the author states:
"The Creator's image is formed on the fourth level, Malchut. The third generation is Zeir Anpin, a state of smallness, where the ego is erased and then fully corrected in the fourth generation."
The above statement comes from mystical wisdom of the Kabbalah. And as you can see, the fourth generation is no coincidence here, and the Bible is full of mystical terms to be decoded. The Israelites who made it into the Promised land, only Joshua and Caleb, represents this fourth generation, where the ego has been put in proper check and sacrificed for a higher divine purpose. The fourth generation is the one that God promised Abraham would return to this land / Jerusalem from above. Thus they may enter where Abraham already is in deep meditation. Are you seeing how all this is put together here?
God said the Abraham's progeny would be a "stranger" in the land. And it was forty years. We are all symbolic "strangers," and we must all wander 40 years (symbolically of course). We are all spiritual beings acting out as "strangers" because of the ego as we live in this "(and) arena of life. What qualifies us as scriptural strangers is when we embark upon the same journey of deliverance that Abraham's progeny did. We are all of Abraham's seed and he is the father of us all when we choose to become a Jew (spiritual seekers / crucifying the ego). Just as Jesus and the Israelites were called out of Egypt, so must we. Notice how Abraham's seed wandered for forty years in the desert. Forty is a significant number as well.
The early church father and theologian Augustine once said:
"…Certain it is, however, that in the number forty a certain perfection in good works is signified, which good works are most of all practiced by a kind of abstinence from unlawful lusts of the world, that is, but fasting in the general sense."
Augustine is waxing eloquent here in allegory. By the way, forget what seminary schools, pastors, and preaches have taught you about the early church fathers. It wasn't just Origen who used Platonic thinking through the scriptures. Almost ALL of the earliest church fathers interpreted scripture allegorically. I found this out in some deep historical studies, but you have to look at their original writings, not what is written about them. Now that's an eye opener! At some point in the third and fourth century that art of allegorical interpretation was lost, and many church fathers began to switch to more literal interpretations! Why? Pure anti-semitism for one thing! And guess what? Beginning in the late second and early third century, much of the New Testament forged. Think about it.
Also, think about how many times 40 is used in scripture: 40 years in the wilderness, 40 years of service to the Philistines, Jesus was 40 days in the desert, Moses was 40 days on Mt. Sinai, ELijah was 40 days in hiding, and 40 days the deluge fell with 40 more days of Noah kept in the ark, and I could go on. Coincidence? Most definitely not.
Wrapping Up
Okay, so we've skipped around some and covered quite a bit. Let's recall the important points about Abraham's so called experience with God:
Abraham makes a sacrifice symbolic of his decision to sacrifice the lower ego.

Abraham goes into a deep trance, into himself, into deep darkness where God dwells.

God (light) appears and is symbolized as the smoking furnace and burning lamp.

God shows Abraham about his future progeny.

The Apostle Paul tells us it's all meant to be seen figuratively, as one big allegorical story.

Paul also tells us that the "land" God promises him to inherit is really about the Jerusalem above, in the mind and brain.

God shows Abraham a vision where his progeny wonders around for forty years trying to get rid of the ego so they can symbolically enter this "land" or New Jerusalem they've been promised.

You know the rest. We are all admonished to enter into the New Jerusalem which is above. How do we do this? Only through the process of meditation, going within, where one truly meets God. Why do you think Jesus was crucified at Golgotha, the place of the skull? Because inside the skull is the brain / mind.
If you feel inclined, please share this with anyone you think might benefit so many can finally begin understanding the Old Testament and not repeat the mistake that Paul said many would do:
"Yes, even today when they read Moses' writings, their hearts are covered with that veil, and they do not understand" (2 Corinthians 3:15).
That veil represents the fact that they can't see the spiritual meaning because sometimes they are too focused on the literal, surface interpretation.
A Final Thought
I've said this before. And I've had many discussions with readers and contributors to this blog about literalism and the Bible. I have no problem with anyone believing the Bible is meant to be taken literally. You can choose to do with Paul's sayings showing us it is not literal however you want. But the true problems arise when literal interpretations veil the spiritual meaning, and then we miss it. So one person can take the Bible literally, still see the spiritual benefit, and then love his fellow man. Well and good. But then there are others who focus just on the literal, and then build doctrine around it. For example, you must dunk your body in water (be baptized) as part of the salvation plan. What?! I have to get wet to be saved? How does getting the body wet literally wash away a sin. Maybe on a psychological level it might temporarily relieve some guilt, but at some point the subconscious is going to bring up your ego issues again. Dunking my body in water isn't going to renew the mind as Paul said we should do, but guess what? Meditation can. And when one goes deep enough, psychological pains and hurts in the subconscious are actually dealt with, not by our doing, but by the power of God. We saw this in the story of Abraham as an answer to getting to the New Jerusalem. In the future, I will address more on how in my articles.
Until then, blessings!