---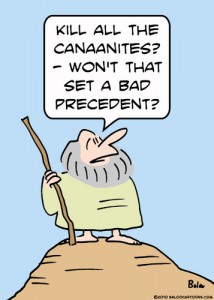 I recently had a conversation with a Christian I have respected for many years. Too make a long story short, we had a healthy disagreement about whether the Bible should be seen as literal history or not. He thought it should. All of it! Even talking snakes, a flood covering the highest mountains, and millions of Israelites wandering in the desert to get to the Promised Land. But he also agreed that the Bible's greatest treasure was the spiritual interpretation usually hidden beneath the literal story. He finally asked me why I couldn't see it both ways like he did.
I told him that I thought believing the Bible was literal leads to ego inflation. He seemed surprised. For him, being a Christian was about dropping the ego. So naturally he asked how I could make that statement.
I then told him that taking the Bible literally makes us think we are special. There is nothing wrong with believing that we're special, because we are. But the fact of the matter is we are all special, and taking the Bible literally makes one feel more special than someone who doesn't take the Bible literally. In other words, it makes us feel like we have been chosen over someone else who does not believe the same way. By default, that's a judgment call. And judgment calls like that always come from the ego.
I then cut the small talk by introducing Deuteronomy 20:16:
"…the cities of these people, which the LORD thy God doth give thee for an inheritance, thou shall save alive nothing that breatheth: But thou shalt utterly destroy them; namely, the Hittites, and the Amorites, the Canaanites, and the Perizzites, the Hivites, and the Jebusites…"
The scripture above explains God's command to kill every man, woman, child, infant, and animal of the Canaanite clans. The Book of Joshua shows this command fulfilled many times.
I could see the uneasy shift in my friend's countenance. I expected this, because this scripture can't be explained away by any theological gymnastics. This scripture is what it is; it lays bare the unmerciful Old Testament God that seems to contradict the father of Jesus. He countered with the statement that God only condoned such a thing because he knows that one bad apple can quickly spoil the entire bushel, and by letting any Canaanite live, the Israelites would have been influenced by them in the future.
I knew this was a silly comeback. Infants grow up believing whatever their taught to believe. Any spared Canaanite infant would have grown up learning the customs and laws of Yahweh; therefore they wouldn't know any pagan Canaanite practices to influence the Israelites with later. He fumbled about for an answer, but to no avail. I then asked him why God wanted the animals owned by the Canaanites killed. How would they have influenced the Israelites? Still no answer, so I reiterated my firm belief that the scripture wasn't meant to be taken literal.
Shifting about defensively, he asked me what I thought those scriptures meant.
I finally told him those scriptures were about crucifying and dissolving the ego, not anything that could potentially inflate an ego by making us feel superior.
He leaned closer. He was clearly interested, and for a brief second, I wondered if his own ego would take a back sit. I then proceeded to tell him that since all the Bible stories are about the human body and mind (our Holy Temple), then it makes perfect sense that God would tell the Israelites to kill every living male, female, and child in the camp. And yes, even the animals! Here's why:
Scripturally speaking, the Hittites, Amorites, Canaanites, Perizzites, Hivites, and the Jebusites always represent our negative thoughts and emotions. These thoughts and emotions respectively comprise the ego, and the ego always keeps us from the Promised Land. In order to severe the life force of the ego, you must severe the negative thoughts and emotions that prop it up. Thus God's command to kill them all!
Getting to the Promised Land is not about going to a literal place. The Promised Land is a state of mind, a state of being. The Israelites had to eradicate all of the Canaanite clans because they represented strongholds of the ego which keep us from our natural state of peace.
Wandering around in the wilderness for forty years wasn't a literal event either. It's about something we must do to deal with the ego. Even Jesus had to face his ego in the dessert for forty days and forty nights. See the article entitled, Jesus, Forty Days in the Desert, and the Ego to learn more about Jesus' trial in the wilderness, as well as why the number forty is repeated many times in the Bible.
So who do the Israelites represent?
The Israelites represent you and me. They were held captive in Egypt. Our true selves are also held captive by Egypt since Egypt is always equated with the ego or the lower mind. Going from Egypt to the Promised Land is about a consciousness shift where our will is changed to the will of the Father's. This is really just another way of saying we become ruled by our higher divine natures rather than our lower animal nature.
How to stop the madness
Wandering around in the desert for forty years is also symbolic of meditation. The way to kill the habit of being led by the lower mind is to meditate in no thought.
Most of us are aware that the Bible blatantly instructs us to meditate in a few places. For example, Psalms 46:10 states:
"Be still and know that I am God." By stilling the mind chatter within us, we can begin to HEAR God.
But what about scriptures that aren't so blatantly obvious? Consider that when we meditate, we enter the dark, secret place of our being. The scripture says God dwells there.
"He (God) made darkness his secret place…" (Psalm 18:11)
"I will give thee the treasures of darkness and hidden riches of secret places…" (Isaiah 45:3).
"…and Moses drew near unto the thick darkness where God was" (Exodus 20:21).
Again, when you enter into meditation, it is the secret place of our hearts. Going within ourselves seems to be a dark place as well. However, when meditation is done right, and if you are truly ready to throw down your ego, this dark place will become light (literally), just as Paul saw Jesus (the Christ within) as he traveled to Damascus and was knocked off his horse by a bright light. See How Wrestling God Awakened Jacob's Pineal gland for more info about this awesome experience! You see, meditating simply brings the Satan (ego) within us to be exposed to the light of pure consciousness.
Ultimately, we meet God in meditation, which is nothing less than going within. Jesus clearly taught that this is where the true kingdom of God resided. (Luke 17:21).
Why did God sometimes spare virgins?
Let's discuss one more scripture:
"Now kill every male among the little ones, and kill every woman that hath known man by lying with him. But all the women children, who have not known a man by lying with him, keep alive for yourselves" (Numbers 31:17-18).
That scripture describes the scene where Israel meets the Midianites. It is interesting that God says to kill everyone except for the virgins. Why? Again, it isn't literal. Virgins are symbolic of pure awareness that is experienced in the higher levels of meditation. It is pure, unadulterated consciousness, where the ego truly begins to take a back seat. We could also say that the virgin represents the awareness of our minds in the absence of thought. It's sort of like intuition. Intuition comes from divine influence. It is beyond our intellect and emotions. And although intuition is not based on logic, it always guides us best.
Back to my friend:
At the end of the conversation my friend admitted that a spiritual understanding seemed to make more sense in the above mentioned cases. But even though he was willing to admit this, he still couldn't let go of the fact that the Bible was never meant to be taken literally.
Why my friend really couldn't let go!
It's obvious why my friend really couldn't let go. His ego was the one in charge! When you believe something is true for many years, you hold onto it with every thought and emotion in you. Try arguing with someone who believes the Bible is literal. Their emotions will quickly get involved. But that's how the ego works.
I cannot blame my friend. All thought patterns and beliefs that are established over many, many years become strongholds, just like the Canaanite clans in the Promised Land. These strongholds must be removed before we can truly live in a peace that surpasses understanding. It takes a lot to be set free from a stronghold because the thought pattern has become so ingrained that it is automatically (unconsciously) driving your life. Therefore my friend's strong resistance was only natural. I have to admit that I was once there too, so I actually understand completely.
How can this knowledge help you?
Never get too rigid in your beliefs that you can never change them. This will stunt your soul's growth 100% of the time. Not only that, but you waste valuable thought energy into something that's not really productive.
It is also important to know that it takes an inquisitive mind to begin questioning our cultural upbringing, belief systems, and indoctrinations, which have been taught to us over many years. Many Christians believe to question God is a sin. Quite the opposite! It is the beginning to getting rid of limiting belief systems! It is also the beginning of weakening a strong ego.
Finally, try and imagine why the simple act of meditation is so important. True meditation doesn't judge or label anything. It is the practice of just becoming aware of all the mind chatter that's in you. When you become of aware of it—consciously—you bring it to the light of your conscious observation to be exposed for what it is: the fraud inside you, the ego! You also become aware of the truth that is within you. God can be said to judge the heart of a person and not the outer appearance because that is where he truly resides: your heart, or mind!
My friend in Afghanistan
Since this post is about not taking God's command to kill literally (God would NEVER do such a thing), I thought this might be a good place to talk about what just happened to another dear friend and family member. Although the details are still vague, I recently learned that my friend was hit by an IED. I don't have much knowledge of military terms, and I don't know if he was in a vehicle or standing by a vehicle. He's alive, but badly burned and his lungs have suffered damage from shrapnel. I only bring this up because this might not have happened if people learned to take the great religious books of the world and interpret them spiritually instead of literally (the way they were meant to be interpreted). Nobody wins a Holy War, because the ego can't win against itself. My thoughts, prayers, and meditations are with you him! I ask that all my blog readers would remember him too.
My next blog post will focus on health and the Bible, but shortly thereafter I am going to explain how Moses and the Israelites crossing the Red Sea is the first stage of meditation when we leave Egypt (our egos). Not all meditation is equal. There are more than a few stages and it is important that we learn them all.
If you enjoyed this post please don't forget to spread the love with the social buttons below. Blessings!