---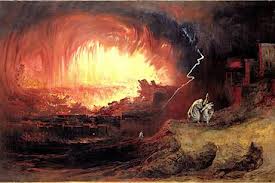 The Biblical destruction of Sodom and Gomorrah has been the subject of much controversy. Theories about its inspiration abound. Everything from earthquakes, meteorites, and volcanoes are argued as plausible explanations. On the other end of the spectrum, fundamentalists insist that the story is a literal account.
Can we ever know the truth about this narrative?
The truth eventually becomes obvious to those seeking to understand the esoteric nature of the Bible. Sodom and Gomorrah isn't about the divine destruction that happened to the "cities of the plain." It's about a divine intervention that should happen inside your head!
Foolishness of viewing this story literally
The literal position doesn't even merit consideration. Are we really to believe that Lot, Abraham's nephew—of whom the Bible calls "righteous"—would actually give his two virgin daughters to all the men of the city so that they could "have their way with them?" Could such a man really merit the designation, "righteous?" I don't think so.
The literalists' position fails on more than one front. Some of the sexual perversion we read about in this story isn't just hard to believe; it's repulsive to the human mind! After Lot is saved from destruction, his own daughters get him drunk and rape him so they can continue their father's name, right? Again, I don't think so.
So what's this x-rated narrative really about?
Seeing Sodom and Gomorrah as something spiritual
We are first going to look at a few New Testament scriptures that are usually left out of sermons because their hard to sell to the literal mindset. In both scriptures, the Apostle Paul gives us just enough information to take the serious student of the soul into some deep revelation about the human mind.
Our first hint is tucked away in Galatians chapter 4. Paul plainly tells us that the story of Abraham, which includes the story of his nephew Lot and Sodom and Gomorrah, is just an allegory.
"Which things are an allegory: for these are the two covenants; the one from Mt. Sinai, which gendereth to bondage, which is Agar" (Gal. 4:24).
An allegory means "fable."
The second clue comes from another scripture in the Book of Revelations. The author will mention Sodom. After reading this scripture, I want you to think about how all of this relates to the human mind; for this is the real reason our Bible author links Christ's crucifixion to the Old Testament place of Sodom.
"And their dead bodies shall lie in the street of the great city, which spiritually is called Sodom and Egypt, where also our Lord (Christ) was crucified" (Revelations 11:8).
I hope that scripture caught your attention. Remember that the Gospels say Christ was crucified at Golgotha, which means the place of the skull. Esoterically, this means that in order for the Christ to be resurrected in you, the mind and specifically your thoughts—contained within the skull—must first be crucified in a metaphorical death. But here the author of Revelations says that Christ was crucified at Egypt and Sodom. What's up with that?
To put it simply, Egypt is the ego, and Sodom is the desires of the lower mind. So guess what? If you so choose, you get to become the Christ if you're crucified at Golgotha and Sodom.
Why do many fundamentalist argue Sodom was destroyed for homosexuality?
Many fundamentalists have missed this one big time!  The sexual perversion in Sodom isn't literal, and it's certainly not about homosexuality.  It deals with mental character. I'll quote another scripture to prove it to you.
"Behold, this was the iniquity of thy sister Sodom, pride, fullness of bread, and abundance of idleness was in her…neither did she strengthen the hand of the needy" (Ezekiel 16:49).
All of the above issues deal with the ego. The reason for the sexual perversion in the story is because of the male / female similitude in all of creation. One of the seven Hermetic laws states that everything in the universe has its male and female counterpart. This includes the mind as well. When thoughts of the lower mind interact with each other, it's a metaphorical homosexual relationship. Two males cannot reproduce. And so it is spiritually that a man or woman who lives in their lower mind cannot produce the Christ within them. It's that simple. The Christ can only be birthed by the intercourse of the lower mind with the spirit. This is also why Christ is born of a virgin. The Virgin is the feminine divine (spirit), which births the Christ within you. In the case of Sodom, all the men represent the lower thoughts of the mind.
And by the way, for those of you that have trouble thinking of God as both male and female, Genesis itself makes it plain as day:
"…in the image of God created he them: male and female…" (Genesis 1:27).
And here's something else to chew on. J.J. Hurtak, PhD, states:
"A new response to the image of the Holy Spirit is taking shape quietly in the scholarly circles through the world, as the result of new findings in the Dead Sea Scriptures, the Coptic Nag Hammadi and intertestamental texts of Jewish mystics found side-by-side the writings of the early Christian church. Scholars are recognizing the Holy Spirit as the "female vehicle" for the outpouring of higher teaching and spiritual rebirth."
It is true. The divine feminine is the vehicle for higher consciousness. I used to get confused and wonder why God promoted WISDOM (Sophia / female gender) so much in the Old Testament. It wasn't until I studied Gnostic text and other religions that I began to understand.
I gave you all of the information above so you can better understand the story of Sodom and Gomorrah, and how the mind and higher consciousness works. Let's begin the story with Lot right before the two angels appear to his house.
"And there came two angels to Sodom at even; and Lot sat at the gate of Sodom: and Lot seeing them rose up to meet them; and he bowed himself with his face towards the ground; And he said, Behold now, my Lords, turn in, I pray you, unto your servants house, and tarry all night, and wash your feet, and ye shall rise up early, and go on your ways. And they said, Nay; but we will abide in the streets all night" (Gen. 19:1-2).
The two angels represent the higher consciousness of God and the potential for Lot's life. It is also interesting to note that "Lot" means "veil" in Hebrew. In order to have a spiritual resurrection (which happens in the physical body while you live), the veil must be removed from the lower mind. Thus Lot must be removed from Sodom.
If you read the scripture above carefully, then you noticed how Lot summons them inside his house. This is significant. We must also summon (in meditation) God's higher consciousness, and thus we take higher consciousness "within" (Lot's house) ourselves. The angels are present, but they are reluctant at first to go in Lot's house. We do not automatically receive and birth the Christ nature within us. We must do what Lot does next:
"And he pressed upon them greatly; and they (the angels) turned unto him, and entered into his house…" (Gen. 19:3)
We must press in (through meditation) to bring the two angels (new potential life) "within" us.
Just be aware that when you begin to meditate, something will always happen, as is the case with Lot.
"But before they lay down, the men of the city, even the men of Sodom, compassed the house round, both old and young, and all the people from every corner: and they called unto Lot, and said unto him, where are the men that came in unto thee this night? Bring them out, so that we may know them" (Gen. 19:5).
This is a natural process when one enters into meditation. Just like the Sodomite men who came from "every corner," when you are trying to bring the divine within yourself, lower mind thoughts will come and go randomly from every corner of your mind. It may even feel like they're pounding on the door and demanding to profane that Holy act which you are engaged in. Press in! Remember, the ego is the deceiver.
And thus at first Lot is reluctant to press in. In fact, he almost sacrifices the great potential in himself, something we all tend to do until we hunger for higher truth. Look was Lot does:
"And Lot went out the door unto them…and said, I pray you brethren, do not so wickedly. Behold now, I have two daughters which have not known man; let me, I pray thee, bring them out to you, and do ye to them that is good in your eyes…" (Gen. 19:6-8).
Before I explain the esoteric significance here, I want to point out another obvious blow to the literalist's viewpoint. Lot tells the men of Sodom that his daughters "have not known man." However, a few lines later, in verse 14, it states:
"And Lot went out, and spake unto his sons in law, which married his daughters…" (Gen. 19:14))
If this were meant to be literal, could you explain to me how his daughters had not known man if they were married? And no, Lot didn't have other daughters. Literalists will try to point out that Lot did indeed have other daughters, but you won't find this anywhere in the text. It's a moot point anyway, since the story isn't literal! The writer didn't concern himself with pointing out that Lot had other daughters, so you shouldn't either.
Lot's two virgin daughters are the potential in Lot that have not yet manifested because they are married (supposedly) to the men of Sodom (lower mind thoughts). If Lot were to stay in the city, that potential within him would never be able to produce spiritual maturity.
Most of knows what happens next. The men of Sodom get angry at Lot's response and try to break the door down. The angels save the day by blinding all the men and pulling Lot safely inside. The angels then tell lot to get his family and get out so they can destroy Sodom (the lower mind). Lot goes to his sons in law, however, they think his is crazy and refuse to come along and be saved. So early in the morning, the angels "hasten" Lot, his wife, and his daughters out of the city.
I now want you to notice where they tell Lot to escape to:
"…escape to the mountain…" (Genesis 19:17).
In scripture, the mountain is always a place of higher consciousness. So I bet you can guess what the plains, where the city of Sodom is, means? Yes, the lower mind. The cities actually represent the culture and 5 senses.
As we could have guessed, Lot is reluctant to go up the mountain. He tells the angels:
"…I cannot escape to the mountain, lest some evil take me, and I die."
Newsflash: When you go up the mountain, a part of you will die! That's why the road to spiritual ascension is usually painful at first. We can probably all identify with Lot to some extent as we get lazy and fail to do those things which we know are best for spiritual ascension.
Because of God's mercy, our hero does eventually make it to the mountain. There he comes to dwell in a cave (going within himself).
Lot's wife and the pillar of salt
Many of you are probably wondering about Lot's wife. As Lot and his family escaped Sodom, the angels strictly forbade them to turn back and watch the destruction. Lot's wife disobeys. As a result, she becomes a pillar of salt.
Lot's wife simply represents an old aspect of Lot's ego-nature that does not want the higher union. This part of us must be made sterile, just like Lot's wife who becomes the pillar of salt.
Lot's two daughters and the incestuous relationship
That Lot's two daughters get him drunk and then basically rape him in order to get pregnant is probably the most repulsive portion of this entire narrative. Rest assured it didn't literally happen. The Biblical writer is trying to teach us something spiritual here. I quote part of the story below:
"Come, let us make our father drink wine, and we will lie with him, that we may preserve seed of our father…Thus were both daughters of Lot with child by their father." (Gen 19:32-36).
We have already stated that the daughters represented the potential within Lot. Since Lot is now in the cave (within himself) on the mountain (place of higher consciousness), his potential is able to be manifested (seed coming to fruition).
And that, in a nutshell, is the story of Sodom and Gomorrah.
How can this knowledge help you?
With each article I write that is relative to meditation, I will begin to explain more of how it helps to cleanse the mind and help birth the Christ within you. Getting still in front of God to see salvation is a central message to the Bible. How exactly does this salvation work?
Meditation works because all is consciousness. By meditating, you are engaging and bringing up that which you truly are. Meditation is simply the means by which you can see this truth for yourself. And what is the truth? Why, you are!
Meditation also stills the mind so that you can also realize what the ego is. Many are still under the impression that the ego is evil. Not true. The ego is necessary to go through in order to receive enlightenment. Thank God Adam and Eve ate the apple. If they didn't, the playground called earth couldn't have happened!
On a real playground kids have a lot of fun, but they also get a lot of bumps and bruises. So it is with us in the physical. Meditation will help you to see and experience this truth.
It is my hope that as you meditate, the illusion will fall away, and you will begin to "know thyself" in a way which brings contentment to your being.
I would love to hear experiences from my readers about their own meditation successes or failures. Possibly we could all benefit from your insights.
Blessings!