---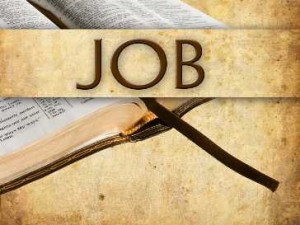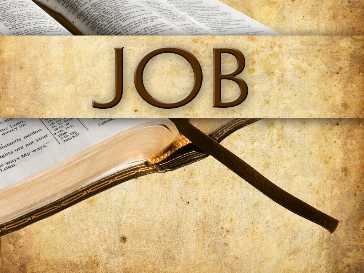 Today's post will provide an esoteric interpretation of Job. This should be a good study for anyone who may be struggling to progress to the next stage of their spiritual evolution because you have one foot still planted in religion. Perhaps this post will help show you the difference between religion and true spiritual development. This post will be the first in a series.
Many scholars believe the Book of Job to be the oldest in the Bible. There are certainly many strange elements about the story that seem too far removed to fit the traditional religious mold. For example, how does Satan fit in? Job's Satan clearly isn't the Satan of Christian religion. According to Christian religious authorities, Satan was banished from heaven. Jesus even said that his saw him fall like lighting (Luke 10:18). But in Job he walks in and out of the heavenly court like it's a stroll in park. And then our omniscient God doesn't seem to know where he's been and what he has been doing.
"And the LORD said unto Satan, whence comest thou…and Satan answered…going to and fro in the earth, and walking up and down in it." (Job 1:7).
This is not the Satan that has been kicked out of heaven. All these details should be red flags telling us to look deeper than the literal interpretation.
I want to begin with Satan since we have to understand his purpose in the story to properly introduce Job.
Satan is not a literal fallen angel in Job. His role in this narrative is more universal. As the adversary, Satan represents the limitations and the illusion we all must incur as we incarnate on the physical plane. These limitations, including pain and suffering, are an inherit part of physical manifestation. This is why Satan doesn't bear any responsibility in the sufferings he causes to Job. He appears at the beginning of the story, fulfills his part of the narrative to help Job ascend, and then quickly fades and is mentioned no more.
Notice the words I placed in bold from the scripture above; Satan was "walking up and down" in the earth. This symbolizes the process of involution for all souls on the physical plane, a necessary process before ascension. In a sense, Satan, as illusion and limitation, is in us all. This also solves the often debated point that Satan and God seem to be the same person in different portions of scripture (when read literally).
What about Job? Job has some interesting qualities as well. The first chapter states this about him:
"There was a man in the land of Uz, whose name was Job; and that man was perfect and upright; and one that feared God…" (Job 1:1).
In the verse above, the author is revealing a man that follows the religious rites and requirements of the day to perfection. In other words, Job is trying to attain righteousness from the works. This desire is birthed from the lower nature, and as we already know, it is never good enough (although this desire is not a bad thing). Ascension is only possible through spiritual evolution where one comes to operate under the direction of the higher self, hence the purpose and reason for this story in the first place. As we'll see, Job is resurrecting into a higher plane of consciousness by the end of the story.
The next portion of the story further reveals that Job's religious actions show his desire to fulfill righteousness in the strength of his lower nature.
"And his sons went and feasted in their houses, every one his day…And it was so, when the days of their feasting were gone about, that Job sent and sanctified them, and rose up early in the morning, and offered burnt offerings according to the number of them all" (Job 1:4-5).
The offspring of Job represent the innate qualities of the lower nature. Job does his best (through religious practices) to purify himself by sanctifying his sons and daughters with burnt offerings. Even though this isn't good enough, the desire is the birthing process that, once purified, can help put us on the path to ascension. Those of us on the spiritual path eventually come to this stage in life, and when we come to this place in our spiritual evolution, we are usually ready to proceed to the next stage—as long as religion (doctrines and dogmatic thinking) doesn't hold us back!
I now want to back up a moment and return to a verse I purposefully skipped earlier.
"…this man [Job] was also the greatest of all the men of the east" (Job 1:3)
This verse introduces us to the overall theme of the Job narrative: his ascension. Whenever "the east" is mentioned in scripture we are talking about the sun, which always rises in the east and is symbolic of the incarnation of the soul that dies in the bowels of the earth (incarnation into the physical plane) and rises again to higher consciousness. In order for this cycle to take place, an adversary, in this case Satan (the ego), must be present to stir up the spiritual evolutionary process. Why do you think Satan and the Tree of Knowledge of Good and Evil were in paradise with Adam and Eve in the first place?
All at once, four servants (who miraculously escaped all the calamities and appeared to Job at about the same time) came and told Job of terrible disasters. The "fire of God" burned up his sheep, the Sabeans slew his servants and stole his oxen, the Chaldeans got away with his camels, and his children were killed from a storm that caused the house to fall on them (Job 1:15-19).
So even though Job has tried his best to sanctify his children (his own lower nature qualities) and perform all his religious duties to perfection, everything ends in disaster. We are reminded of this scripture:
"…our righteousness is as filthy rags…" (Isaiah 64:6).
We must understand that our actions, thoughts, and deeds must be purified by the higher nature before they become manifested as wisdom and truth. It is also important to point out that our own lower nature qualities are not evil. Far from it. But they still don't manifest the life of the spirit.
Many things we do today can be related to these lower nature qualities of Job. In the beginning of our spiritual journeys we all seek to please a higher power by performing religious acts with a desire to gain acceptance. Even accepting the work of Jesus on the cross and believing that he died for our sins is a way to gain the favor of God. While there is nothing wrong with this kind of belief and action, at some point we must learn to take responsibility for our own salvation. If you find it necessary to believe that the Jesus story is literal, so be it. I see nothing wrong with it, as long as you take responsibility and realize that you must awaken your own Christ, the Christ that is "formed in you" as St. Paul says, as well.
As we'll see in future posts of this series, "…the Lord blessed the latter end of Job more than his beginning" (Job 42:12). This represents Job's ascension to higher consciousness resulting from the Christ within developed through the process of his suffering and grief.
This Christ nature is evident from the very beginning of Job's calamities:
"In all this Job sinned not, nor charged God foolishly" (Job 1:22).
So we have properly laid the foundation for Job's ascension. His spiritual evolution will begin to unfold quickly. In our next post we will continue with Job's ascension process, describing what his wife and friends represent to Job, and more importantly, what qualities they represent in us!