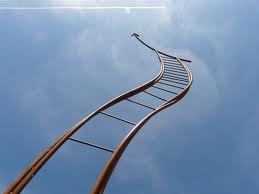 After my last post, Thank God Adam and Eve Ate the Apple, you may be wondering more about 'how' and 'why' the fall from grace happened.  It wasn't until I had studied theosophy before I really began to understand this process with any kind of clarity. The story of Adam and Eve suddenly made a whole lot more sense to me. In fact, the entire Bible did. I'll break it all down for you in this post.
The how
The flow of consciousness can be described in two ways: involution and evolution. Involution is the decent of consciousness into denser grades of matter. In essence, it is the manifestation of consciousness. Evolution is consciousness's ascension to a state that is more energetic (subtler matter).  Biblically, these actions are known as Jacob's ladder.
"And he [Jacob] dreamed, and behold a ladder set up on the earth, and the top of it reached to heaven: and behold the angels of God ascending and descending on it" (Genesis 28:12).
You may remember this scene from reading Genesis. This dream occurred as Jacob was on his way to Haran where he would meet his future wives who would eventually birth Israel. The angels of God ascending and descending on the ladder refer to all life forms. God was showing Jacob how the universe works. The process of involution and evolution is a universal principle that depicts the development of consciousness (more on this in a moment) in cycles.
In scripture, Jacob is the symbol of the natural man. In the process of spiritual evolution, the natural man eventually becomes ready to birth the spiritual man. This is why Jacob births Israel. An Israelite represents one who is ready to take the spiritual journey to self-realization (manifesting the Christ). Even though a human may be ready to take this path, few make it to self-realization in one lifetime.
These concepts differ greatly from the doctrines of the church. The church would have us to believe that everyone is ready for salvation in one lifetime, that all they have to do is accept Christ's sacrifice, put their faith in him, and eventually die and go to heaven. But as Spock from Star Trek would have said, "That is illogical." Some people are born into environments and circumstances where they don't have the chance to receive the teachings of Christ, much less the opportunity to receive the church's version of salvation. It's almost as silly as the church's position on infants who died without baptism—the idea that they would be eternally excluded from communion with God in heaven, even though they never had the choice to decide anything for themselves. Are we really to believe that someone who thinks this way is mentally and emotionally ready to receive higher teachings of spirituality? Now we understand why Jesus had his inner circle (disciples) to explain things to openly, whereas with the masses he taught truths in parables.
Fortunately, today's doctrinal message of salvation is a little more advanced, but still ridiculously inferior to the way it really works. Let me explain…
In order to understand the process of involution and evolution according to esoteric teachings and Jacob's ladder, we have to nail down what existence is. This is complicated and can never be accomplished in one blog post, but we can at least set a foundation.
Existence is comprised of three components: energy (motion), matter, and consciousness. Essentially these are all ONE. Energy is neither created nor destroyed. Matter is neither created nor destroyed. Consciousness is neither created nor destroyed. You cannot have the one without the other. In order for consciousness to "be," a vehicle (body) is needed. As matter (the body) is put into motion (energy) consciousness has the chance to experience, eventually given rise to self awareness.
What is the purpose of consciousness descending, or involving into matter?  The answer is that consciousness is a latent potential. It is all that is possible, and this powerful potential evolves as it experiences. The dense physical plane that our waking consciousness operates in provides lots of potent experiences. This is why in my last article I addressed the fact that the fall from grace was a positive thing, not a negative one. Without the fall from grace, consciousness could not evolve to achieve self-awareness. The ultimate goal of consciousness is evolve into higher and higher self awareness—i.e., higher consciousness.
More on involution and evolution
It is a mistake to think of involution and evolution as two different and separate components of existence. These two are also ONE. As consciousness involves into denser forms of matter, it simultaneously evolves (ascends) through the experiences it gains. As consciousness evolves then, it is able to manifest higher consciousness and self awareness on the planes it comes to dwell on. The beautiful part about this is this: as a person in the physical realm becomes more self-aware, they manifest the higher, more subtle qualities of thought and emotion on the physical plane. Instead of just manifesting the lower nature (instinct and base desires) from their physical brains, they began to use the higher qualities of the mind!
Think of it like this:
A person who only sees one side of an argument and believes their side to be right usually expresses judgment and condemnation, the mental-emotional qualities of lower man. A person who can simultaneously see both sides of the argument has the ability to express empathy, a higher emotion. An experience of walking in the other person's shoes might help the judgmental to realize that the other person's argument was not necessarily bad, but rather the result of their own experiences.
Higher emotions and thoughts (which originate on a higher plane) can more clearly and accurately manifest in the lower planes as experience is gained. Remember, this can take many lifetimes. The goal is to manifest higher aspects of love into the lower planes of existence before our awareness can progress to higher states. When we can do this, we can eventually learn to manifest these higher spiritual qualities on higher planes of existence.
The end-game of all this experience
So what's the end to all this? Where do we stop?
I don't believe we do. I believe consciousness involution and evolution (Jacob's ladder) is an eternal process within creation. The universe itself tells us there is no beginning or end—only cycles of change. Everything is in a constant state of living and dying, manifesting and dissolving, unfolding and folding back up. It is the pulse, or great cycles of breath of the universe. Even in life and death there is no beginning or an end, just a transition into another manifestation or conscious state. This cycle is the means by which consciousness flows. The matter and energy in the universe are simply eternal conduits for different expressions of consciousness, always rearranging and transforming into different states of involution and evolution.
The church's position on salvation seems to teach that when we accept Christ's atonement, we are saved, will go to heaven, and have "arrived." But what does it mean to arrive? Is that an end—destination? If we stopped growing, wouldn't life get a little redundant and boring? In other words, why would we all go through the process of evolving to manifest the higher spiritual qualities of existence if the ultimate goal was to give them all up in the end anyway?
This is not logical either. As a part of God, consciousness involves and evolves in order to manifest all of its potential to re-discover all of its great depth and glory all over again. In a sense, the journey of involution and evolution is a cycle of self discovery and realization. What is that realization? We are all ONE with God.
Why is there a process of involution and evolution?
Many philosophical and religious schools teach that we chose to come to earth in order to experience conscious growth. In other words, we were an advanced spiritual being that chose to restrict ourselves in matter to assist others to evolve as well. I don't have a problem with this if it is true, but I'm not convinced. The entire process of involution—the descent of spirit into gross matter—may be the natural process of creation. In other words, an inherit quality of consciousness is to manifest and turn back in on itself eternally.
Ultimately, whether we chose to come or whether the entire process is automatic may be irrelevant. We are certainly here, experiencing physical existence. Now we need to focus on allowing of self discovery to get done.
How is involution and evolution automatic?
This is difficult to explain, and I admit I am only using my own very limited understanding of the universe to expound this concept, but nevertheless it's fun to speculate. 🙂
As I alluded to earlier, I think the answer to how might lie in the inherent quality of potential (consciousness) itself. What is potential? Potential is not manifested, yet infinite because it contains no limitations for what could be. It is both nothing and everything at once. Sounds like good definition for God, huh? 🙂
So how does this infinite potential go from a state of potential everything to becoming a limited something in manifestation? One word:  instability. Some mathematicians claim that mathematics proves a complete vacuum (nothing) would be unstable. In fact, Frank Wilczek, highly respected physicists from MIT, said, "Nothing is unstable." Another physicist, Victor J. Stenger, stated that there is around a 60% chance that something came from nothing. What these physicists are really saying is that in all likelihood there can be no such thing as nothing; it is just a figment of our self-aware imaginations.
The question, then, isn't, "How could there be a God?
But rather—
How could there NOT be a God?
And what's more—
How could YOU not be a part of that God?
Blessings!