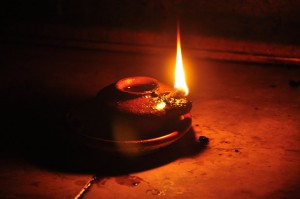 Have you ever pondered Jesus' parable about the five foolish and five wise virgins? If not, I advise you to do so. It packs a powerful punch into the meaning of conscious awareness, and I firmly believe that interpreting it correctly has the power to change your life.
Since the parable is pretty well known, I am not going to quote it in its entirety here. I'll simply paraphrase. You can go back and read it for yourself in Matthew 25:1-13 later.
There are ten virgins in this parable. All ten virgins are going to meet the bridegroom for a wedding. The bridegroom is obviously Jesus, and the wedding is a type of union with him. Jesus considers five of the virgins wise because they took "oil in their vessels with their lamps." He considers the other five foolish because "while the bridegroom tarried, they all slumbered and slept." At midnight, the bridegroom [Jesus] called for all the virgins to come meet him. The wise virgins went, but the foolish virgins couldn't go because their lamps had run dry. When they went to buy more oil for their lamps, the bridegroom shut the door and they were left standing outside the kingdom of heaven. Thus the five foolish virgins missed the marriage the mystical union with Jesus.
What could this possibly mean?  Like so many other scriptures, I struggled with this one many years ago in church. I heard pastors give well-intended interpretations, but they were not very applicable to daily life. For example, one teaching I encountered stated that the five foolish virgins didn't have enough of the Holy Spirit represented by the oil in their lamps. This sounds perfectly fine. But what's the Holy Spirit? And how do you get more of it?
While the Holy Spirit is certainly a key ingredient in this verse, mainstream Christianity fails to understand what that is. In fact, this parable might be better understood if we left the concept of the Holy Spirit out completely. I'll show you what I mean.
One of the keys to this parable is in the first verse:
"Then shall the kingdom of heaven be likened unto ten virgins, which took their lamps, and went forth to meet the bridegroom."
In Luke, Jesus tells us that the kingdom of heaven is within us. Therefore this parable is about something that is already within you, not something you have to get more of. Failing to understand this concept is one of the fundamental errors of religion, and it's why Jesus had to rebuke the Pharisees.
The five foolish virgins represent the five senses, which are focused on the outside world. The five wise virgins represent their counterpart: conscious awareness, which is focused inward.
I don't think there's anyone who has put the meaning of this parable any better than Eckert Tolle in his book, The Power of Now. I quote:
"…Jesus speaks of five careless (unconscious) women who do not have enough oil (consciousness) to keep their lamps burning (stay present) and so miss the bridegroom (the Now) and don't get to the wedding feast (enlightenment). These five stand in contrast to the five wise women who have enough oil (stay conscious)…[These parables] point to the transcendence of the egoic mind and the possibility of living in an entirely new state of consciousness."
Tolle nailed it. This parable has everything to do with something that we all have the power to implement every day: raising our awareness.
Eckart's book isn't primarily concerned with properly interpreting scriptures, so you won't find further elucidation of this parable there. But there are still some important points that need to be made.
What does Jesus, the bridegroom, represent in this interpretation?  The emphasis isn't placed on Jesus the historical man. Rather, it is placed on Jesus as a state of being within us. This state of being is developed through conscious attention, which causes an expansion in consciousness. The bridegroom tarrying isn't about a literal Christ waiting for the right moment to announce his return and the kingdom of heaven. The tarrying of the bridegroom represents our life as it goes by. Many of us are missing this life because we are too concerned with past and future. Maybe our conscious attention is placed on the weekend. Or a vacation. Or being at home relaxing. Or anywhere but where you are! Sound familiar? If we're honest with ourselves, we are probably all guilty of this from time to time. But Jesus' parable is a constant reminder of how important being present is.
So what about the marriage in the parable? The marriage represents the union of your higher nature and lower nature. This process takes place from engaging in constant present awareness, a profound type of meditation. Just like as in the case of the foolish virgins, the door is always shut to this union for those who constantly keep their attention focused on the outside world instead of going within themselves to realize the present moment.
So what's so special about this present moment? Being aware of the present moment allows you to bath in the joy creation! Learn to bask in its beauty, even in the most unlikely of activities and places, and I promise your consciousness will expand.
When the foolish virgins come back to the bridegroom after purchasing their oil, Jesus responded that the bridegroom did not know them. You are not going to realize this state of being with purchased oil. It is not oil that the world can give you. This oil can only come from within you.
That's why the bridegroom didn't know the foolish virgins. Jesus states:
"Afterward came also the other virgins, saying Lord, Lord, open to us. But he answered and said unto them…I know you not."
How well do you know yourself? To truly know one's own self, you have to be familiar with conscious awareness. You have to really experience it, and be aware that you are experiencing it.  When you come to the point where you realize that you are this conscious awareness, then you can say you are known by the bridegroom.
Jesus also stated in this parable:
 "Watch therefore, for ye know neither the day nor the hour wherein the Son of man cometh."
Being aware in the present moment is to do exactly what Jesus commands: watch!
The real beauty of in the proper interpretation of the scripture
The real beauty in understanding this parable is how applicable it is in daily life. Let me illustrate with a personal example:
I am an elementary school teacher. I teach in an economically disadvantaged area. Many of the students at my school are on free or reduced lunch. Many of their parents work two jobs and aren't there when their children get home. Some of these kids are raising themselves. Many of the parents are too young and irresponsible to know how to properly love and nurture these children anyway.
Suffice to say, some, if not most, of these children don't have any appreciation for education. Even more importantly, neither do the parents. Instead of supporting their child's teacher, they unconsciously work against them. In many areas of the country, teaching has gone from highly rewarding job to a highly stressful one.
The students no longer choose to behave in a way that is conducive for their learning. In order for a teacher to be successful, we have to constantly adapt and implement new strategies to keep the classroom a positive learning environment. A good teacher can manage this type of classroom, but it takes a lot of energy and creativity. We fulfill the role of parents, counselors, nurses, psychologists, mental health providers, social workers, entertainers, disciplinarians, and teachers all at once.
Recent budget cuts also eliminated substitute teachers, so we have to combine classes when teachers are out. Often, I do not get my planning time or lunch break because the teachers aren't there to take my class. This uproots children from the daily routine and causes them to get off task.
I am not stating all this to complain. I want to make a point. If I could not stay conscious of the present moment in this highly stressful environment, I would have quit a long time ago. But this job has presented a huge opportunity for conscious growth, and I am grateful for this opportunity.
When I keep my attention on the present moment, there is no time for stress or worry. I am more alert to deal with potential problems as they arise. Engaging in this present awareness doesn't concern itself with past or future either—only what is NOW. This is rest for the body, mind, and soul, even in the midst of work. It is the truly the Kingdom of heaven, and it is one the secrets to life.
I may choose to move on and do something else besides teach elementary school. Eventually, I think it would be nice to get more involved with spirituality. But I'll know when the time is right. For now, I am still learning valuable lessons through teaching. It's a win-win situation. I learn just as much as the kids do!