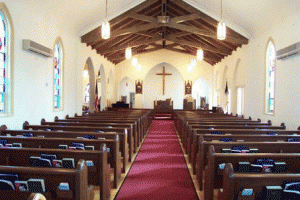 If you are content with your church experience, there's no need to read this post. But if you have ever felt like you would rather be somewhere else during your church service, please read on.
I talk with a lot of people who go to church but aren't getting any fulfillment there anymore. Most of the time it's because they are seeing contradictions or holes within the doctrines of their faith. Others may just be tired of teaching another Sunday school class or babysitting in the nursery. There are many different reasons, but in the end it all points to the same general feeling: they're discontent with their lives, and their current church experience will never bring long-term fulfillment.
The sad thing is that most of these people just can't bring themselves to make the decision to leave. They stay in the same situation week in and week out, trying to convince themselves they are doing God a favor by staying faithful. They know they're unhappy but they're afraid to leave because they think God will be disappointed. If this is your situation, I want you to consider another possibility. What if you're disappointing God by staying?
A Trap of Your Own Ego
I know from personal experience that many Christians have been brainwashed to think God wants them to be in a specific church family to fulfill a specific calling. Many pastors are guilty of doing this to their congregation members, but do you really think God wants to you continue doing something when you feel discontentment?
Consider someone that strongly believes God is in charge of what they're supposed to be doing and where they are supposed to end up. How did they get this idea in the first place? Most likely someone else, whether it be a pastor or a parent, told them this. Possibly they got it directly from the Bible. At the time it may have sounded good because that person may not have known what they wanted. And sometimes it's much easier to do nothing and believe God is in control when you're not really sure what you want, but in the end it's all a big ego trip.
What's the real motivation for someone who thinks they're pleasing God anyway? Their motivation is coming from the wrong place. A person that feels good simply because they are doing what they think God wants them to do is a selfish motivation in the first place. I know this sounds counterintuitive, but think about it; who is getting the benefit by feeling they are pleasing God? They are! It's a trap of the ego and it's no different than someone who doesn't want to go to church because they don't want to do what everyone else is telling them God expects them to.
A Different View of God
If you think you can please God, you're sorely mistaken. The scripture even states our best is as filthy rags to him. The entire premise is wrong in the first place. God doesn't need to be pleased. God isn't an individual with ego-centric desires. He doesn't get fulfillment just because you are or aren't doing something. If God got fulfillment because you stay in a church, would he really be that much different than you and I? Of course not.
Consider that God is living and experiencing through you each and every day. He wants contentment as much as you do. He also wants the adventure and spontaneity. Why do you think the universe is so big in the first place? Why do you think there are so many different scenarios that can play out? You have free will to make the universe an interesting and exciting place! A place where you also experience contentment. There's no set time or place that God demands from you. Some pastors teach this selfish attitude because they claim God should be in charge, but I believe you are being selfish towards God by denying the greatest gift you could have ever received: your ability to find peace and contentment.
The truth is that God is most satisfied when you are content with yourself and your life, because then you can truly be an inspiration to others. God is a family. And when you're naturally joyful and content, others will be inspired to do the same. You have heard the saying that you can't love anybody else if you don't love yourself. Well it's also true that you can't truly inspire anyone else, including yourself, unless you are happy with all of your life, even the how and where of your worship.
What About the Scriptures Pastors Frequently Use to Guilt Congregation Members?
One of the all-time favorite scriptures used to refute what I have stated above is Hebrews 10:25. I'll quote 10:24 as well to help us put it in context.
"And let us consider one another to provoke unto love and unto good works: Not forsaking the assembling of ourselves together, as is the manner of some…"
Many pastors will use the above scripture to prove God wants you to be in a church. But as always, many hotshots are taking this scripture completely out of context. First of all the epistles were written to specific churches to address specific problems. This scripture wasn't meant to be a universal truth. We many never know the situation this person was addressing. I have written other articles stating that the author of this epistle was gnostic; the gnostic community certainly didn't have church services like we have today!
I once had a pastor use this scripture to set the foundation for his argument. Next he used Psalms 92:13:
"Those that be planted in the house of the LORD shall flourish in the courts of our God."
This certainly wasn't the case for me. In fact staying at the church I was once in was putting extreme pressure on my marriage. The above scripture doesn't have anything to do with being in a church or a building. It has to do with living Torah (not a legalistic law), but a way of life free of the ego. You cannot truly enter the true house of God until you learn to crucify the ego.
So once you can accept these truths, you need to make plans on how to make an exit.
Be Respectful
First and foremost you need to do it gracefully. Respect your pastor's position, but just let him know the truth. You just aren't getting fulfilled anymore. He or she might try and tell you that everyone goes through these spells but you just need to stick it out and be faithful. Don't let this trap you. If you're not content, you're not content. There's no argument, and you'll know in your heart whether this is true or not.
After explaining the truth to your pastor, you will probably instantly feel better. But then comes the hard part. What do you do next? Do you jump right into the next church down the street and try it out?
I definitely wouldn't recommend this. Once you leave your current church, it's best to lay low and consider the reason why you were unhappy in the first place. If you just jump into the next church down the street you will be in the same predicament as before; after the newness wears off you'll experience discontentment all over again.
To truly understand what I mean you may need to ask yourself if you started church to find God. If this was your motivation in the first place then you've already lost the game. God is within you. Jesus makes this crystal clear in Luke 21:17:
"…behold, the kingdom of God is within you."
You and God are constantly having a symbiotic relationship whether you are going to church or not. Going within yourself is where the true house of God and temple is anyway. If you want to learn more about why this is so, read here.
Blessings!