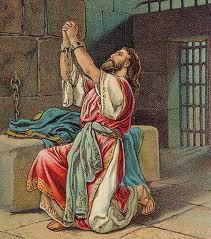 One of the most serious and jolting verses in the Bible is Matthew 12:32. In that verse Jesus speaks about blasphemy against the Holy Ghost, also known as the "unpardonable sin." I have seen this scripture strike terror in the hearts of many Christians. I don't blame them because this scripture used to scare me too. Let's review it together:
"…whosoever speaketh against the Holy Ghost, it shall not be forgiven him, neither in this world, neither in the world to come."
I have bolded the end of that verse because this is where I believe the seriousness comes in. In traditional Christian doctrine, this is the worst possible outcome anyone could experience—if you can't be forgiven in the world to come, then you're damned forever, right?
Another thing that makes this scripture seem so bad is that it's hard to get out of your head. Once you read it you can't stop thinking about it because you want to make sure you never commit it! It's like a curse has been invoked the minute blaspheming the Holy Spirit enters your head. Last but not least, it's so bad because nobody seems to know exactly what blaspheming the Holy Ghost is! I have heard four or five sermons dedicated to this topic and they all said something a little different. One popular notion states it means to attribute Christ's miracles to Satan. Personally I think this is pretty lame since that same verse in Matthew also states:
"And whosoever speaks a word against the son of man, it shall be forgiven him."
Perhaps a more popular belief about blasphemy of the Holy Ghost states that it means to continually reject Jesus' offer of salvation. Traditional Christians like this one because it is in line with their belief that all sinners who reject Christ will eventually burn in the Lake of Fire where the sinner is either tormented forever or simply snuffed out of existence.
Both of these scenarios are also false: the soul cannot die, and the universal law of impermanence nixes the notion of eternal torment. So what does it all mean? How do you blaspheme the Holy Ghost? And what did Jesus mean when he said you can't be forgiven for doing it in the next life?
Once you understand the esoteric nature of the soul the verse becomes crystal clear. It also makes perfect sense. The missing link is the idea of reincarnation.
Reincarnation in the Early Church
The earliest tenants of scripture believed in some form of reincarnation. So did the early church. Besides that fact that you can find this evidence in history, the New and Old Testaments themselves make this belief clear (to learn more, read HERE). The idea of reincarnation was eventually stamped out by the emperor Justinian. The problem is that stamping out this belief made large portions of the Bible devoid of true meaning. The verse about blaspheming the Holy Spirit is one such example.
To blaspheme the Holy Spirit is to reject living by the Christ within you. This is a rejection of salvation, because only living by guidance from the divine spirit within you can properly evolve the soul to the point of salvation. Reincarnation is an automatic process for consciousness when the soul hasn't evolved past the point of gravitating towards carnality, firmly entrenched by the ego. For those who haven't completely transcended the ego, reincarnation is an involuntary and automatic process.
This is why Jesus stated that you cannot be forgiven in this life or the next life. When you forfeit the opportunity to evolve the soul, you do not advance consciously. Therefore when your physical body wears out at death, you will incarnate into another physical body at the same conscious level (or slightly lower) than before. In that next life there is no forgiveness for not advancing consciousness in your former life because whatever your conscious level was at death is where it will likely stand (again, depending on your life) in your next incarnation.
There is no reason to fear an eternal torment. It takes many lifetimes to transcend the ego. For most of us, reincarnation is our next option. However, that doesn't mean you can't make advancements here and now. Every time you break a negative subconscious pattern or overcome a persistent negative emotion you are advancing consciously.
The true irony in all this is that many religious leaders who think they are safe from this "unpardonable sin" are actually involuntary committing it. In fact if you're reading this blog post it's probably safe to say that you (and I) committed this sin in a previous life!
Think about this entire scenario as it relates to Adam and Eve. In a sense, they committed an unpardonable sin. God said the moment they ate the fruit, they would die. They died spiritually because they incarnated into the physical world, symbolized by the necessity to labor in the field among "thorns" and "thistles."
From Adam, the earthly man, to Christ (the divine spirit within you), you gain salvation for the soul. The entire story from Adam to Christ, and everyone in between (Abel, Abraham, Moses, King David, etc.) is an allegory for the development of the soul whereby each character represents an attribute of soul evolution, ending with Christ. Paul told us this about Abraham and his sons in Galatians:
"…Abraham had two sons, the one by a bondmaind, the other by a freewomen…Which things are an allegory…" (Galatians 4:22-24).
If you haven't already, I recommend that you read the ESOTERIC JESUS series to see the progression and evolution of the soul at work through the Christ in the Gospels. This might help you understand his life as a symbol for all mankind instead of the water-downed version you might receive in church.
I'd love to hear your thoughts on blasphemy of the Holy Spirit, so feel free to comment.
Blessings.