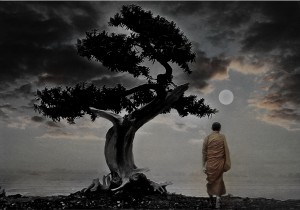 In the Gospel of John, Jesus seems to teach us to hate our life. I quote that teaching below:
"He that loveth his life shall lose it; and he that hateth his life in this world shall keep it unto life eternal" (John 12:25).
It seems a little counterintuitive, doesn't it? Why would you need to hate your life in order to gain eternal life? After all, we are all here, experiencing physical existence. Do we really have to hate it?
I use to wonder if "hate" was a mistranslation, but the actual Greek word used is miseo, meaning "to detest." So it's safe to say there's no mistranslations. Jesus obviously wants us to "detest" something.
You really don't have to go to esoteric literature to get a glimpse of what Jesus was teaching. Strong's Concordance with Greek Lexicon will do just fine. Let's look at some different Greek words that are translated life in the King James. Then Jesus' statement will become clear.
First, let's focus on three words for a moment: pneuma, zoe, and psuche. Strong's tells us that pneuma carries the connotation of the rational soul and mental disposition. Zoe carries the connotation of vitality, whether in humans, plants, or animals. Finally, psuche means the animal sentient principle only.
You would never know it by reading the King James, but Jesus uses two different Greek words for life in his statement. When Jesus tells us to hate our life, psuche is used. Therefore Jesus is instructing us about the animal sentient principle in man. In other words, when he tells us to hate our life, he is referring to the lower nature.
But we must not make the mistake of believing Jesus wants us to hate a part of ourselves. What he is really saying is this:
He who identifies with the lower nature, especially in the trials and tribulations experienced by the ego, forfeits life eternal. In other words, Jesus was teaching us to detest identifying with the lower nature, which in turn imprisons us to believing we are our "life situations."
We must understand that the lower / animal nature isn't just the desires that sometimes lead us into negativity; it is the limitation itself, and it is subject to death.
This all brings us back to the second part of Jesus' statement: "…he that hateth his life in this world shall keep it unto life eternal." The Greek word for life in that second part of Jesus' statement is zoe, or the vitality that drives existence.
It is this vitality that is consciousness. Consciousness is immortal and eternal. R. J. Campbell once stated,
"I build my belief in immortality on the conviction that the fundamental reality of the universe is consciousness, and that no consciousness can ever be extinguished for it belongs to the whole, and must be fulfilled in the whole."
He that identifies with the higher nature experiences God. He who identifies through the lower nature is separated from God.
Jesus' statement on losing and gaining eternal life is an esoteric teaching that the modern Church misinterprets through its doctrine of salvation. But one day I believe this teaching will become more prevalent, especially through readers like you who can share the messageJ
A little bit about Love
In the bible, LOVE is a symbol for that which attracts us to what's within. And remember, God is love, and God is within you. Also remember that the lower nature attracts us to which is without. Know that your "life situation" is really nothing more than the temporary, limited potential of the greater self. Take the joys and the pains as they come, and learn to draw strength from the inner man.
Jesus' next statement directly following the one about losing and gaining eternal life further establishes these great esoteric principles:
If any man serve me, let him follow me; and whereso I am, there shall my servent be…" (John 12:26).
This statement transcends being with Jesus for eternity in an afterlife. It reveals that the Christ is accessible for anyone who awakens to the higher self now.
To identify with love is part of the awakening process. It is living life from within, from the heart. Its living free of the constraints and conditions we are led to believe make us who we are. This is not always easy to do. In fact for most of us it a long journey, but then that's part of the beauty and mystery we call life!