Is it possible for God to really be an independent, outside observer of our universe, as some Theologians have long maintained? In religion, this view is known as transcendence. An opposing view is the idea of emmanence, which states that God is manifested in the material world. Personally I believe the philosophical concept of immanence is more correct, but I still think this religious idea falls short of helping us to understand the totality of God. I propose looking at the totality of God with the addition of another view.
What if we also considered God to be emergent? Perhaps one recent science experiment probing the reality of time also supports that we can relate to God in this way!
A brief discussion on an article I recently read about the emergence of time through quantum entanglement will shed some light on the issue.
The prevailing view on the passage of time before the twentieth century was that it was an absolute reality independent of the conscious observer. Scientists like Sir Isaac Newton believed time passes uniformly no matter what happens to us or our world. If this were the reality of time, then it would lend more credibility to the view that a God-like being independent of our own universe created everything and remains apart from it (transcendence). But many scientists of the 21st century have entertained the idea that time is an emergent phenomena that comes into existence through quantum processes. Until now, no experiments provided the evidence that this may be true. But a recent experiment conducted by Italian scientists using photons and birefringent plates provides new evidence that time is in fact emergent.
What implications might this have about God in relation to us?
Without going into the details of the experiment (which you can read more about through the link above), let's discuss the implications of it. As the article pointed out, if time really is an emergent phenomena, an outside God-like observer of our universe would not experience time at all. To this god-like observer, the universe would appear static. In other words, nothing would happen! It would be as if the universe was empty and devoid of movement and life. Time, as an emergent phenomena, can only be experienced by an individual as an active participant from inside the universe! This is profound. It means that an outside god-like being could not participate or experience anything happening inside the universe! For me, this eradicates any possibility for the philosophical idea of transcendence. God is definitely not the anthropomorphic being completely independent of our universe as many theologians have long claimed.
If time really is an emergent phenomena that happens through quantum entanglement as the experiment suggests, God would have to be an inherent aspect of the universe itself, at least if He were going to relate to us in way. This leads credence to the idea that what we think of as God is really the essential nature behind all energy and matter, including us.
The famous mystic Eckhart Tolle has stated, "Being [God] is…deep within every form as its innermost invisible and indestructible essence. This means that it is accessible to you now as your own deepest self, your true nature."
While I believe this to be wholeheartedly true, I want us to get a deeper revelation of God as Spirit that is expressed from Non-BEING TO BEING by also viewing God as an emergent phenomena through the very essence of life and consciousness. While the philosophy of immanence holds that God is present within his creation, it falls short because it doesn't exactly explain how. This is where all religious philosophies fall short in explaining God. But the concept of God's emergence through quantum processes helps fill in the gaps by explaining how God is immanent in creation.
Consider Moses' revelation of God when God told him, I AM THAT I AM. As previously stated on this website, a better English interpretation would be "I am becoming that which I become." In other words, God is emerging and evolving through you, moment to moment! In the Cabbalistic teachings of Rabbi David Cooper, truly, "God is a verb!"
"For in him we move, live, and have our being."
I believe that scripture above from Acts 17:28 says it all. It is through the immanence of God's Spirit that we live and have our BEING. But I believe it is equally as valid to reverse this scripture to state that in us the Lord lives, moves, and has His Being. It is an interchangeable symbiotic relationship manifesting from within the universe, as God is emerging from Non-BEING to BEING.
The very next scripture in Acts continues, "Forasmuch then that we are the offspring of God, we ought not to think that the Godhead is like unto gold, or silver, or stone, graven by art of man's device (Acts 17:29).
But haven't we made an "image" of God when we think of the Supreme Spirit as an entity that stands outside of time and independent of our universe? I believe we have, because if it were true, how could we ever attain true ONENESS with God?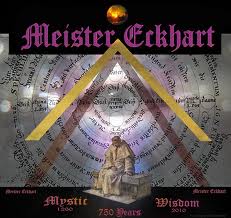 As the great German mystic Meister Eckhart once stated:
"The eye through which I see God is the same eye through which God sees me; my eye and God's eye are one eye, one seeing, one knowing, one love."
The Bible's View of Time
"But beloved, be not ignorant of this one thing, that one day with the Lord is as a thousand years, and a thousand years as one day" (2 Peter 3:8).
Traditionally the above scripture has been used to explain how the creation account could reflect six thousand years instead of the literal six-day creation account. However, I believe the scripture is really reflecting the reality that within God and consciousness, time is both illusive and relative. It is an emergent phenomena depending upon the state of consciousness one is experiencing. Time gives meaning to the manifestation of spirit by allowing the soul to be evolved through experience, and, time, as an emergent phenomena, is a wonderful thing, because it also allows for the emergence of God as an experiential act of the divine essence itself!
Call me an optimist, but I even believe that as we probe further into the quantum world, science will one day reveal the true reality of God. I am not saying that we will truly ever understand this reality; there will always be faith. But perhaps science and religion will one day share more common ground the further we peer into quantum processes. Like me, I hope you can appreciate the thought that time could be an emergent phenomena, and as such, so can God's divine essence.
Blessings!