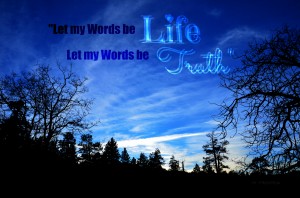 Proverbs truly is a book of wisdom. Many of its verses can seem a little archaic at times, but the reality is that they contain individual gems of truth that often go deeper than even what today's science reveals. Consider the popular verse below:
"Death and life are in the power of the tongue…" (Proverbs 18:21).
At first glance, this seems to be saying that the words that we speak have the ability to kill someone or give them life. But what exactly does this mean? Can the words we speak actually cause illnesses in people, which may even lead to death? Do our words have the ability to stimulate someone's immune system to heal? If so, how?
We've all heard the old adage, "Sticks and stones may break my bones, but words will never hurt me." Doctors who only study the physical body might agree with the above statement, but those who have crossed over into the world of energy medicine know better. We all have invisible energy bodies that affect our physical bodies because these energy systems, which extend beyond the physical body, are responsible for our vitality and health.
I was recently given a book by a blog reader called Anatomy of Spirit by Caroline Myss, Ph.D. Although Myss doesn't address the scripture I have quoted from Proverbs, her work gives us the answer to how words might scientifically kill someone or give them life. I quote a portion of her work below:
"Your physical body is surrounded by an energy field that extends as far out as your outstretched arms and the full length of your body. It is both an information center and a highly sensitive perceptual system. We are constantly "in communication" with everything around us through this system, which is a king of conscious electricity that transmits and receives messages to and from other people's bodies."
I find it interesting that Myss calls these energy systems "conscious electricity" that communicates with the environment. Myss goes on to state that "It surrounds us and carries with us the emotional energy created by our internal and external experiences… This emotional force influences the physical tissue within our bodies."
So how do the actual words and experiences of physical life affect these conscious electricity centers?
Myss continues, "Positive and negative energy experiences register a memory in the cell tissue as well as in the energy field. As neurobiologist Dr. Candace Pert has proven, neuropeptides—the chemicals triggered by emotions—are thoughts converted to matter. Our emotions reside physically in our bodies and interact with our cells and tissues. In fact, Dr. Pert can no longer separate the mind from the body, she says, because the same kinds of cells that manufacture and receive emotional chemistry in the brains are present throughout the body."
Thus, it isn't so hard to see how the power of life and death really are in the tongue. What we think and say to others (and even ourselves!) can have a profound effect upon people's health. And if what Myss says is true, the things that are said to others years before can register a conscious energy imprints in people that permeates the energetic body for decades. We are all familiar with the parent, teacher, or even religious leader who has said something that may deposit fear and anger deep within our psyche that has disastrous impacts later on. The moment we relive that same sort of experience, the more damage it does to our physical and other bodies. Of course the same goes for the positive things that our parents, teachers, and religious leaders have told us, which literally give life!
The information provided by Myss adds new depth to the scripture by Solomon which states,
"…for I am fearfully and wonderfully made…" (Psalms 139:14).
The energy systems which Myss speaks of are actually the etheric, emotional, and mental bodies which allows consciousness to act within the physical body. Without them, the physical shell would be unable to think and feel. Our words don't seem to affect these energy systems on the outside, but they do carry tremendous power because they eventually have physical manifestations.
Thus, the real power of the tongue is that it has the ability to bring potential good or bad into being, even in the form of physical manifestations within the body of man. In a sense, we all have the ability to be walking and talking energy healers by the very things we choose to say to others. That is a tremendous amount of power!
James stated:
"But the tongue can no man tame; it is an unruly evil, full of deadly poison. Therewith we bless God, even the Father; and therewith we curse men, which are made after the similitude of God" (James 3:8-9).
Notice how James states that we are made after the similitude of God. What is God? God is a symbol for BEING, which is ultimately the only true reality beyond the transitory and illusory expression of the external universe and soul. But it is through our physical, emotional, and mental energy systems and bodies that we play the game of life (the illusion) and eventually grow to discover the ultimate reality of oneness with BEING. When we learn to control the tongue, we have made it one step closer to realizing this ultimate reality.
Therefore we should always watch and guard what we say.
For me, marriage has been the best teacher of the true power of the tongue. The things I have said to my wife, especially when I was young and pretty rigid in my belief systems, have taught me how much damage the tongue can have to a person's growth and development. I have said things to my wife that I didn't even realize were hurtful, only to find out the damage that had been done later. Thankfully these things can be healed and turned into learning experiences.
In my next blog post we will look at another teaching of Dr. Myss. We will discuss why she believes the seven sacraments of the church relates to the seven chakras (conscious energy portals) between our physical and energetic bodies.
Blessings!