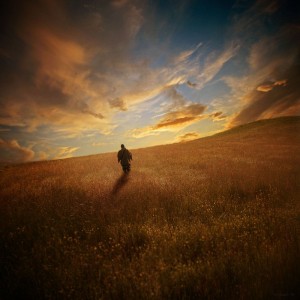 As promised, I am going to address Caroline Myss's discussion on the seven chakras and the seven sacraments of the church. But first I want to provide some Biblical material on spirit, or what Myss also refers to as Divine energy and consciousness. Doing so will add much more depth to Myss's work from a Biblical perspective, perhaps even bridging some gaps between esoteric and exoteric understanding. I have decided to address the material in a two-part series. In part one we'll discuss the Biblical term "spirit," how it relates to God and man, and the necessity of learning to see Biblical teachings through their greater esoteric interpretation. We'll also quote some more from Myss's work, Anatomy of Spirit.
God is Spirit
In John 4:24 Jesus teaches us what God is:
"God is a spirit: and they that worship him must worship [him] in spirit and in truth."
I have placed "him" in brackets because in the original Greek the term isn't there. Translators added it because they felt it preserves the original idea of the author better, but I believe this was a mistake. The sentence should simply read "…must worship in spirit and in truth."
This is a subtle difference, but an important one. Why is it that once we engage worship through spirit that we don't need a "him?" It is because in the beginning of our journey we go from the notion of God as a separate being to the realization that God is the ultimate reality and unity above duality and separateness. Our core spirit is this Oneness and unity, and from it springs our separateness and experience of duality. Once we engage worship through spirit, we begin to discover that we are no longer worshipping a separate "him," but rather the I AM that is the core of reality.
This is not blasphemy as the fundamentalist believes; rather it is the exact opposite. True blasphemy is any endeavor which leads to equating the ego and lower self as God, which many men on this earth have tried to do. But in the ultimate reality there is no separation, there is only love. And God is also love. From this ultimate reality springs the truth that all life is divine because of its source.
Now someone could look at the beginning of John 4:24 and state that "him" was used before "must worship." To this I say, "So what?!" The Greek pronoun used there, autos, is also translated the "same" 121 times in the New Testament, so couldn't we also read the verse as follows:
"God is a spirit: and they that worship the same must worship in spirit and in truth."
I don't mean to focus on semantics here, but I believe discussing the above scripture as such will give you a deeper understanding of our discussion below.
What is spirit? Let's use a definition from Gaskell's work, The Dictionary of Scripture and Myth:
Spirit: A symbol of the positive, energetic, forceful, qualitative, and formative aspect of the Divine outpouring, in distinction from the passive, receptive, quantitative, form-taking aspect—matter. Spirit is the life-side which imparts qualities and motion. Matter is the form-side which receives qualities and motion. Spirit manifests in matter as the life molding the successive forms, more or less evanescent. Spirit uses matter as a sheath which lies outside and below it. Hence the intense vibrations of Spirit gradually dissipate it and bring the forms to naught…"
That's just a scholarly way of saying that spirit uses matter as an outer garment to experience and evolve itself through, and when it is finished, cast it aside.
As you can see from the above definition, what Jesus says truly begins to make sense. You can't worship or come near God, who is spirit, unless you do it through spirit. In other words, we must worship through the spirit in man, which is the higher spiritual mind. This spiritual mind, or higher consciousness, brings us to the knowledge of our true selves. The higher we move in consciousness, the closer one comes to the unity of God. As we gain higher consciousness, the illusory and transitory lower self and ego begins to weaken, but the spiritual ego increases.
So how do we move up the consciousness ladder? We're going to get to more of this as we discuss Myss's writings on how the seven sacraments symbolically relate to seven sacred truths and the seven chakras in part two of this series, but in order to understand the depth of her work as it relates to Biblical truth, I want to add a few quotes from her chapter entitled "Made in the Image of God" from Anatomy of the Spirit. You will see how it ties into the introduction I have already given on spirit.
She states:
"Today many spiritual seekers are trying to infuse their daily lives with a heightened consciousness of the sacred, striving to act as if each of their attitudes expressed their spiritual essence. Such conscious living is an invocation, a request for personal spiritual authority. It represents a dismantling of the old religions' classic parent-child relationship to God and a move into spiritual adulthood. Spiritual maturation includes not only developing the ability to interpret the deeper messages of the sacred texts, but learning to read the spiritual language of the body."
I love that statement, especially the words I have bolded. What does this mean for the Bible?
The author of the New Testament book of Hebrews teaches us essentially the same thing. Consider the quote below:
"Therefore leaving the principles of the doctrines of Christ, let us go on to perfection; not laying again the foundation of repentance to dead works, and of faith toward God, Of the doctrine of baptisms, and of laying on of hands, and the resurrection of the dead, and of eternal judgment" (Hebrews 6:1-2).
In other words, the Biblical author says we need to have a higher, spiritual understanding of what the Christ encompasses, because the above mentioned doctrines are an outer expression of a much greater spiritual truth. This is the higher spiritual interpretation of which Myss speaks when she invites us to mature by entertaining "the deeper messages of the sacred texts."
Paul does go on to say that if God permits, we will continue in those doctrines. Of course this is necessary, but that's because we will always have men that have a deep rooted need to see God in the traditional parent-child relationship. There is nothing wrong with this because we all mature at our own pace, but it is time for religious leaders to realize and begin teaching the greater interpretations of sacred Biblical text (and other religious texts) for those who are ready to advance. Many more are now fulfilling that calling, the calling to embrace the spiritual life of the Word—its deeper, esoteric meaning over its exoteric one. For too long the greater earthly church is guilty of being stuck in the exoteric interpretation instead of embracing the esoteric one of higher consciousness.
In 1 Cor. 3: 1-3, we get a mental image of the Apostle Paul standing up and berating the early followers of Christ's teachings:
"And I, brethren, could not speak unto you as unto spiritual (higher esoteric meaning), but as unto carnal (lower nature), even as babes in Christ. I have fed you with milk, and not with meat; for hitherto you were not able to bear it, neither now are ye able. For ye are yet carnal: for whereas there is among you envying, and strife, and divisions (think about all the different doctrines), are ye not carnal, and walk as men?" (1 Cor. 3; 1-3).
How long are we to walk as men? Is Paul asking us to walk as something more?
Made in God's Image
Myss's work is important because it gives us new meaning to being "made in the image of God," and perhaps greater meaning to what Paul desires us to know and understand.
Myss also states:
"Because Divine energy (spirit) is inherent in our biological system, every thought that crosses our minds, every belief we nurture, every memory to which we cling translates into a positive or negative command to our bodies and spirits…We are biological creations of Divine design. Once this truth becomes a part of your conscious mind, you can never again live an ordinary life."
So as Jesus states, we must learn to worship God as a spirit, through spirit. In order to worship God in truth, we must learn to operate through a higher consciousness, one which is developed through conscious choice and action.
Myss also states:
"As we become more conscious and recognize the impact of our thoughts and attitudes—our internal life—upon our physical bodies and external lives, we no longer need to conceive of an external parent-God that creates for us and on whom we are fully dependent. As spiritual adults we accept responsibility for co-creating our lives and our health."
That is why Jesus also states that the kingdom of God is within us. We have to stop looking for heaven and God "out there," and realize that God is within the depths and core of the human spirit.
Yes, God is much bigger than us, the lower man, but what really makes up the "us" is much bigger than what we have ever known. In its greater context, it is God.
In the next post we'll address how all this translates through the deeper symbolic meaning of the seven sacraments and how it ties in with our seven chakras and deeper Biblical interpretation. The original teachings of the seven sacraments of the church have their foundation in a higher spiritual meaning related to elevating consciousness.
Blessings!