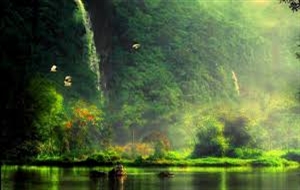 God told Moses (ethical man/woman): "take up thy Rod": (raise spiritual vibration, activate the chakra system).
As a meditator for over thirty-five years, I believe meditation succeeds in this Divine instruction.
Scripture says "know (experience) ye the truth (transcendence) and this truth shall set ye free (unbounded/liberation consciousness"). "Truth" or, Principle is that which never changes.
Intuitively ("Joseph") we're each driven to "know" what our life purpose is – coming upon "Truth" is our raison d'etre. Beneath life's stormy lakes, momentary happiness and fleeting pleasures, there is a yearning for "something" beyond ordinary human consciousness, beyond physicality, time, space and "suffering".
But, is not coming upon scripture-clarification "truth" sufficient? No!
The reality is, notwithstanding the fantastic non literal revelations by Josh and others on this amazing blog, there is indeed another step to be taken on our road to "knowing this truth" as in: "Man does not live by bread alone…": intellectual knowledge itself does not alter the state of the soul.
Let us examine these last three scriptures closer against the backdrop of daily meditation or, consciousness development.
It has been said that man/woman uses about 1/5th of our available mind/brain capacity: scripture puts it: "that we may come into our full stature". It is to this "full stature", of accessing our total available mind/brain capacity, and its Nature, which scripture has symbolically been guiding for centuries. If we remain in the realm of intellectual/ritual knowledge only, yes we become wiser men/women but, deny ourselves "full stature".
The question arises: how do we individually come into "full stature".
Although decoding of scripture's wisdom, beauty and confusion is vital, a time comes when we need to put the books down and commence its practical application. For me, the single "earthquake" scripture was: "be still and know that I am God" (meaning to go within). Intellectually we all know this but, do we enter/practice the spirit of it daily?
When I first came across this line, I could never fully grasp where exactly in the body this "within" was. Well, of course, it is "within" consciousness: coming upon our own indwelling Christ. But, "within" still remains in the realm of direction until we enter this "within" — knowing ABOUT is not the same as experiential knowing.
Non-experiencing of "within" consciousness is the single scourge on the planet today. It is the cause of 95% of all dis-ease, to include depression, alcohol and pharmaceutical drug dependency, etc. (I have known all three stations). Practicing meditation daily is truly to "know THIS truth": our own "within" bliss-nature Presence.
Meditation for some can be any one of the following three: contemplation ("con", to join with a "template": reflect/review). Concentration ("con" joining our center "centrate" with something: mental focus/study). And, mantra meditation, my own practice, which this post is about: (effortless transcendence/direct bliss experiencing).
The human nervous system is God's greatest creation: made in the image/likeness (bliss consciousness) of God. Our brain/chakras/nervous system are the most advanced in the universe – wow, let's honor that!
Interestingly, the Pope's Crosier or Staff, symbolizes this greatest creation. The Crosier represents the seven chakras (spinal column) and, the crook, the brain. Scripture is guiding to awaken this endocrine structure, for, truly it is the High Way to soul Glory or, conscious immortality.
Meditation is a means of birthing the seven chakras, thus is "within" consciousness made conscious Christ Nature: unconditional love (function of heart chakra) or "full stature", full mind/brain/heart potential rather than the previously 1/5th.
When scripture speaks of "fractured consciousness" — Adam/Eve — it is really a description of the two brain hemispheres. "Fractured consciousness" is a metaphor for this split left/right brain dynamic.
As spiritual beings, we're not the brain, rather, Spirit enters the brain: resurrection of kundalini Nature through the chakra system. From the mental/physical perspective, as sap is to the tree, kundalini life force is to the human anatomy. It heals and prepares the physiology for transcendence/spiritual awakening: "John" to "Rapture".
But, how do we raise kundalini/"rapture"? Answer: "enter through the narrow gate".
Now, Josh may well have another set of words to define "narrow gate" more esoterically, but, (with respect, Josh) what I have taken this to mean and practice, is: enter through the Pineal gland, or scripture's "John" the baptist: leading to "the One who follows" — Bliss, Transcendence.
The Pineal gland is a mid-brain corridor linking left/right hemispheres. Known as the third eye (of the mind), it is also the third ear (of the heart) which "hears" our mantra in meditation, which, in turn, activates the master Pituitary gland. Thus, metaphorically, all of scripture's symbolism is decoded "within" simultaneously. Similar to Electricity making the whole ocean "live", consciousness awakens to "All-knowing" potential at its point of conscious use. The Pineal gland is also symbolized as a Pine on the attire of the Swiss guards: the Pope's dedicated minders.
The imperative of man/woman is to move beyond "within" signposting. In other words, once we know in which direction the Promised Land is, then, cease being a spiritual tourist in our own backyard, for, there is a "within" universe of bliss timelessness waiting "emergence". Once understood that the journey-purpose is Transcendence, and it is "within", then, let us transcend to Eden/Unity consciously – Luminescence Awareness, Transfiguration. Jesus said: "my kingdom is not of this world".
Meditation removes the "veil" of ignorance (separation). Thus is the conscious experiencing capacity of the mind/brain/heart enlarged – expanded awareness: the "Alchemy" which purifies innate subconscious "junk" — the inherited "swaddling clothes" or, generational nervous system conditioning. Jesus said: "and the prince of this world calleth and findeth nothing in me". In other words, his subconscious/generational conditioning was integrated, rendered harmless for future action. Our sins (conditioning) forgiven (integrated). The higher and lower self-functioning holistically. Thus is fractured consciousness (left/right brain) unified.
Due to the silence encountered when we close our eyes in meditation, we tend to notice incoming thoughts more than ever. The secret is in knowing we're not trying to become thought-less. This cannot be achieved by mental effort for such thought production is a natural function of mind. Rather, we transcend thought, transcend the mantra — a thought/word sound — used only to still the conscious mind. When the lake is calm the moon reflects perfectly. We learn to simply witness upcoming thoughts without engagement.
For the mind to have a particular experience, a corresponding set-up must be in place on the nervous system. For the mind to experience bliss, the nervous system/senses must be cultured in bliss.
By watering the root we nourish the whole tree. Meditation is watering the root — mind/body/spirit.
In meditation, what happens is:
The respiratory system reduces to a minimum and the mind/nervous system attains natural equilibrium. Being neither active nor passive, the entire nervous system comes to a state of restful alertness. In other words, the whole brain is adapting to its new functioning role of simultaneous existence in relativity and eternality – the second birth – acclimatization to cosmic (all-inclusive) consciousness or "full stature" capacity. A state of being which cannot be experienced through any nature other than Itself, as in: "where I go, you (conditioning) cannot come, but I (meditation) go before thee and prepare the way (transcendence)".
In meditation, we do not conquer the senses as such, rather they surrender, beginning when we close the master sense, the eyes.
As the five senses of perception begin gradually withdrawing from the objective, physical world, stress begins to dissolve and the conscious mind merges into "within". This is how the physiology/nervous system/senses gradually acclimatize to withstand the bliss/"rapture" of transcendence. It is this voluntary withdrawing of the senses which heals the "swaddling clothes", the subconscious addictive/repetitive thought patterns. Also "the fatted calf" — lower ego – is raised to Spiritual personality.
In practical terms, soul evolution is speeded up consequent of lowering the brain oscillations. Our "within" vibration becoming Divinely attuned. It works like this:
The brain, in meditation, goes from beta 14-22 cycles per second, through alpha 7-14 cps to theta brain speed of 4-7 cps. Theta is deeper than normal sleep hence we feel invigorated/renewed after "transcendence" meditation. While alpha also brings relaxation and healing (our morning waking state and, the play state of children) it is theta which vibrates the deep cosmic trance state needed for left/right brain harmonization: theta represents Pure healing. It is possible also to enter delta brain speed of 1-3 cps in meditation.
Initially meditation is noticing when we have drifted from our mantra, (vibration word/sound) coming back, and restarting every time. Every restart is from the drifted level – nothing is lost and benefits cumulative. Restarting interrupts the ego's cycle of habitual wandering: memory referencing in search of sense gratification. Like a bee buzzing from flower to flower in search of honey, so too, the ego/mind wanders in search of happiness, of any nature. The lower ego refuses to entertain silence/stillness, for such represents its demise. Soon restarting merges to become transcendence.
What the mind is seeking outwardly already exists "within": bliss, and, bliss lies BETWEEN the thoughts – the Gap between one thought and the next. But, the undisciplined mind, in its search for worldly happiness, does not recognize this Gap — "and the world did not know Him". This is why, because of ego's never-challenged dominance, some find themselves giving up meditation saying: "I cannot still the mind".
It is this alternating experience (twice daily practice) of unconditional silence (flip-side of unconditional love) then normal activity after meditation which cultures the physiology: infuses permanent unconditional love/bliss into the conscious mind/nervous system: heightened sensory perception. Thus, the mind wanders no more through the junkyard of subconscious conditioning for its pittance of worldly pleasure.
As scripture is the symbolism mechanism of "intellectual" soul awakening, meditation is the opening "heart" technique which brings about "make straight in the desert a High Way for thy Lord" — our own in-dwelling Christ: impregnation of the virgin soul: baptism leading to "the One who follows" — kundalini awakening and, "the peace that passeth all understanding"– Transcendence!
I have published a book (2013) titled: Transforming Your Life – How to Be All That You Can Be. It deals with much of this subject. Should you wish to read/learn more, here are the links: Transforming Your Life