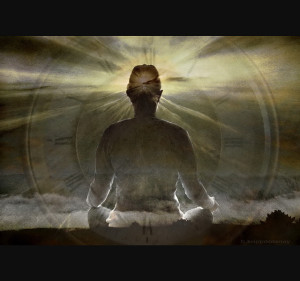 Consider the following:
1) How often is my entire physiology, small of back, inside thighs and eyes treated to stress-free non engagement, my mind to utter silence and respiratory system to minimal functioning?
2) How often do I enjoy a brain holiday: disengaged from psychological time and repetitive thought pattern work-outs?
3) How often does my mind enjoy a spell of inner sunshine out of the "fear-zone"?
4) What proportion of my happiness is derived naturally, other than from TV and mind stimulants?
5) How often do I engage in creative Self-expression other than debilitating ego-based activity?
6) What does Transcendence mean for me?
Baptismal Contract
Post "religion" practice reveals that we were living a religious / baptismal contract not of our own choosing or signing. And, strangely, but for the subtly imposed fear clause, this water over the head "contract" could have been opted out of at any time. Misguided, we lived the fear, delusion, and accepted domination: we relinquished Christ-within determination and became "literal" prisoners of the institutional "arrangements". Even though we sensed they were holding back on the essence of the Jesus-intended Way to soul liberation, we conformed to Institutional liberalism and its democracy premised on fear and emotive stories. The lesson of course is, rely solely on direct contact experience with our already present within Silence-Happiness: a cosmically-designed constitution (brain, nervous system/spiritual mechanisms) drawn up by the Almighty and managed by evolution for the sole purpose of "saving" each soul through each soul's own "within"-consciousness. As spirit beings we're each encoded to finding this saving Truth through inward endeavor. We're each given the tools (endocrine system / chakras) to Actualize Truth: become Self /Christ-Realized now.
Sense-Based Happiness
Many seem not to realize that by constantly (unwittingly) seeking sense-based happiness we're unconsciously stating that happiness is to be found WITHOUT thereby subjectively denying our "within consciousness" and its innate presence of bliss. An automatic loop is proclaiming: when I find that special person, house, employment or fame etc., happiness will COME, then I'll be happy. Such mind-sets are delusional. Outcomes as these will of course make us (ego) feel happy but, due to evolution and change, such happiness can only ever be fleeting and require constant "topping-up". Dependency on outer-world happiness leads to addictive personality – the mind /senses becoming attached to almost everything it /they encounter(s).
The mind instinctively seeks happiness through the senses, that's its nature; and the senses are duty-bound to serve. But the non-spiritually awakened mind will accept happiness of any kind from whatever source. Notwithstanding the abundance of happiness received through the senses, mind will never be satisfied; for the mind is cosmically programmed to fulfilling life's purpose, which is purification of mind / senses — more on this later. The mind is intended to be fulfilled by its own inherent nature, meaning, engaging transcendental silence or, bliss-consciousness; for, this "world"-thirst cannot be quenched through any other means. So long as the contaminated five senses remain the sole provider of contentment, mind remains out of its own cosmic nature, thus functioning in the realm of addiction (sub consciousness). In finding bliss it finds natural fulfillment, contentment, and no more scours the "world" menu for sense-fixes. Here distinction needs to be understood between "worldly" happiness and bliss happiness. More on this later.
"Lost" to Wisdom and Life Direction
Consider the following. Have we ever been lost in a strange location in a foreign Country? And through a sense of panic, automatically take every wrong turn thus leading to more anxiety — we lose our natural bearings. Out of fear we tune OUT instead of IN. We do this instinctively when we lose inner calm and come under the controlling grip of ice-chilling fear. Similarly, through discontentment, self-doubt, lack of Self-awareness, opposing or contradictory mind-sets, stress, fear, worry and "fix" hunting, (addictions), mind become spiritually disorientated, 'lost'. Panic severs our route to divine wisdom and we're automatically drawn outwards, become ego or fear-led (as in : Peter drew his sword and cut off one of the arresting guards' right ear in Gethsemane, John 18 :1-10, meaning fear / dominant ego, cut of the path to our own Higher Self wisdom).
Similarly, during pre-awakened Awareness, out of weariness and confusion, we seem naturally to make strange and irrational decisions all of which can lead mind in settling for a crutched existence, a fake unnatural or contrived happiness to ease life's burdens and respite from chore responsibilities. Wisdom is blocked and we classically miss the calm portal to where this Glorious Silence-Happiness dwells transcendentally.
I'm sure most of us are familiar with the following, but, for the benefit of those not, I'll repeat it. When the Good Lord was looking for a safe spot to place this Jewel of Happiness, (Prince of Peace) he placed it where we could never lose it no matter how 'lost' we became. He placed it within consciousness; for such requires transcendental journeying, requires activating the metamorphic button to inner cosmic nature. This within-consciousness represents our eternal Spiritual Essence as separate from conscious finite mind, (think unseen Vapor in the ocean, Potential in waiting). This "within spot" isn't a physical place, rather a state: our unseen transcendental Christ Nature. When we cease frantically searching WITHOUT for happiness, and direct mind (meditation) to within we engage "Point Potential" (smallest of the smallest) were the Good Lord placed the wondrous happiness Jewel. Thus we discover the calm-imbued doorway leading "lost" mind from its island-refuge to the expansive ocean of universality, transcendental bliss; the soul's sonar becoming re-attuned to its "forgotten" cosmic nature.
On reaching "Point Potential", the mind's subconscious programming (addictive lower-self rewarding) begins defragging, prioritizing through wisdom, awareness, and, in proportion to purification, human consciousness comes within the range of the never-changing state of Cosmic Consciousness.
Conscious "Contact"
God is Love /Spirit and man/woman is made (of Spirit) in the image (imagination) and likeness of God. True, BUT, it is "conscious contact" which validates Love, which gives meaning to all this spiritual language we speak and read about. Although unconditional by nature, (as in, the reservoir unconditionally supplies water to any pipe RAISED to it) Love, in this regard, is conditional that we make "transcendental silence" contact. Thus, the emphasis needs to be on raising consciousness, engaging Spirit Consciousness through technique-based practices such as yoga, meditation and mindfulness rather than relentlessly "searching" for intellectual validations. Transcendental Presence lived through our nervous system validates ALL scriptures simultaneously even if we've never read any scriptures. In fact it's only after a degree of soul purification, (mind expansion) that any of these scriptures begin to make any sense (I've been there).
My interpretation of Matthew 6: 33 "Seek ye first the Kingdom and all its righteousness and all else shall be added unto you" is: meditation and living the post meditative state activates the soul's secret chamber or next level of life code; releasing cosmic vibration whereby Higher understanding (wisdom to know the difference between worldly and divine affairs) is initiated unto our virgin "seed" consciousness, thus human consciousness begins the transformational process into DIVINE Consciousness.
Maya Chrysalis
In our present configuration we're both form /matter (body) and formless (spirit /energy) simultaneously. If I may use a leaf analogy. When we look at a leaf we see its outer form, but, what makes up the leaf is sap: we don't see the sap as it is covered by green Maya (ma, ya, "that which is not"). Thus we could say the outer visible leaf is /reflects Maya or illusion. The outer leaf, Maya, is covering the inner Essence of the invisible Real leaf. Likewise, OUR unseen inner Silence-Happiness is covered mainly through generational conditioning, addictions and unending "world" noise. In other words, due to out of sync coherence the mind fails to perceive in its true nature, fails to "know" cosmically, divinely.
But, like the butterfly miracle, we're each intended to shed the caterpillar status, grow through this chrysalis (cocoon) of "world" or subconscious Maya by means of our inner spiritual equipment mentioned earlier. As such, by means of metamorphic silence we become re-Membered in conscious eternity thereby fledge our Silence-Happiness wings. But unlike the caterpillar, which has to spin a chrysalis to "birth" its higher Butterfly nature, humankind already has this cocoon in the form of a "Silence" seed or tomb in the base chakra (covered by Maya layers). The mind, on knowing stillness and transcendental silence triggers this dormant chrysalis to birthing (our) Self. Birthing this Self-seed nature, dynamic, is our life's purpose, with its development into Cosmic Consciousness the ultimate goal of human evolution.
As we know, water adjusts to whatever shape the pipe takes. Likewise, mind accepts whatever we settle upon or have been indoctrinated into. But in settling for Maya this inherently carries evolution's silent disagreement. Evolution will be at work to rectify such i.e. suffering in proportion to "lost" awareness. And while we may be enjoying "sense gratification / world happiness" evolution will be aware of the soul's need of "course correction" at a later date, either in this life or another. Evolution will eventually bring the soul (which yearns for bliss /cosmic-nature fulfillment) back to the purification process of eventually knowing Pure Consciousness. "Purification" here means expansion of mind not expansion of consciousness which, is already the All, Total. Consciousness doesn't expand, it is already universal.
Like the leaf, what we see is not what we are. The essence of the leaf is pure sap, similarly the Essence-Potential of woman / man is pure Transcendental Spirit.
To live Maya knowingly is to consciously choose the wide gate over the narrow gate; consciously choose suffering thereby thwart, deny chrysalis birth-change, thus remaining indefinitely a dysfunctional caterpillar.
I accept we're not all starting from the same point of spiritual awareness, that we're each continuing our purification (mind expansion through inner silence) journey with conditioning from former lives. But why not make THIS earth journey the one we finally succeed in breaking free of ever-enticing Maya, of lower-self dominance, and actually come upon Transcendental Nature — thereby vibrate "Actualized" unconditional love in to the world.
Silence
As we can see, meditational Silence is more than just the absence of mental or environmental noise. In spiritual terms Transcendental Silence is a dynamic not an intangible or static emptiness. In the spiritual matrix, the dynamics of noise and Silence are necessary mutual conduits: transcending mental noise (thoughts) allows the all-pervading Silence be known: release spiritual /cosmic dynamism in the soul thereby know Spirit as Consciousness as separate from our presently anchored and limited individuality. In this regard, similar to electricity which cannot be stored, Transcendental Silence becomes all-encompassing interactive bliss-consciousness, which, to become appreciated at soul level, must be lived and used positively and creatively.
Meditational Silence is a form of "lightening" with its after-activity /affect "thunder". First there's lightening then thunder: no lightening, no thunder. Thunder without lightening equals ego. Awareness of the difference is vital.
It's important also to distinguish between human emotional love FOR God and the state of unconditional Love-consciousness realized in meditation : bliss is not emotional love rather a compassionate resonance with the All (of creation: mankind / animal / environment) Nature.
Wrap-up on Transcendence "Contact"
The purpose of life is transcendence out of the body-seed chrysalis /tomb. This entails the mind entering into more subtle states of mind, into altered states of consciousness, unbounded Being, (think Transfiguration on the Mountain — highest point of inner awareness, Matthew 17:1-13). Transcendence is the Prism through which the never-changing Divine (Silence-Happiness) reflects AS Cosmic Consciousness, the goal of each person's life. Regular transcendence leads to senses / nervous system purification (mind expansion) which is prerequisite to heightened spiritual sensory perception (think biblical invitation to Wedding Banquet — Divine Happiness — and the guest who was refused entry for not wearing a white garment – non purified status) Mathew 22 : 9.
If our life is presently riddled with addictions, compulsory sense gratification and deep-seeded contradictory mind-sets, then it's these which are preventing experiential "Banquet" Happiness. To this end, meditation is both a practice and Way of living, of attaining such purification automatically. Living post meditative bliss innocently becomes realized Cosmic-Consciousness, the all-encompassing state of natural contentment — consciousness without a "because" or prop.
All addiction in time is conquered, first by intention then infusion into the mind of a more Rewarding experience. Properly carried out, regular twice-daily meditation brings tangible success in this area. The bliss-infusion process is fundamental in resolving addictive thought /behavioral patterns and the repetitive subconscious "loop" – Spirit overcoming mater. Thus we can see "worldly" happiness / addiction as opportunity to soul liberation, temporary clouds, which, on passing (integration), reveal the Sun, the real You.
In fulfilling this, our life's purpose, let us place even greater emphasis on "contact"-practice, on Silence-Happiness and Transcendence.
Bliss on, Immortal Light Soul!
My Book: Transforming Your Life — How to Be All That You Can Be, deals more comprehensively with this subject, while also providing a meditation instruction technique.
http://www.amazon.com/TRANSFORMING-YOUR-LIFE-How-That/dp/1477251545