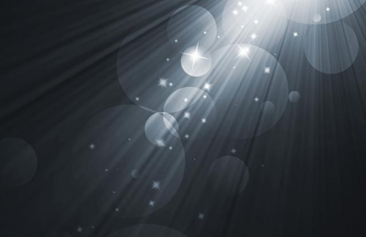 The term "Dark Night of the Soul" is the title of a poem by Saint John of the Cross, a 16th century friar of the monastic order of Carmelites in Spain. He was a leading Spanish poet and religious reformer in his time. The Dark Night of the Soul is a message about travail and hope in the journey of the soul towards union with God. It represents one of many threads of esoteric belief winding through the tapestry of the more conservative and exoteric Catholic Church as the Middle Ages drew to a close.
This famous quote from another work by Saint John of the Cross expresses my sentiments exactly in defining the interrelationship between exoteric and esoteric understanding as experienced in his day and, so far, in my own:
"Seek in reading, and thou shalt find in meditation, knock in prayer and it shall be opened in contemplation."
This well-known saying of the Carmelite friar who was later honored as a saint by the Catholic Church articulates an interdependent balance between the exoteric and esoteric, rather than one contradicting or exceeding the other. This is like the Frank Sinatra song "Love and Marriage" (go together like a horse and carriage), a somewhat cliché metaphor, but it just seems to fit. Marriage is a covenant relationship. Much of our exoteric understanding of God is based on a covenant relationship which progresses from master/servant to forerunner/friend and it is from within the covenant relationship that we are enabled to grow into even deeper revelation and union.
The Dark Night of the Lover Searching for the Beloved
According to Harvard graduate and former editor of "Gnosis" magazine, Richard Smoley, in discussing "The Dark Night of the Soul" in his popular book from 2002, "Inner Christianity"1:
The poem speaks of "a dark night" in which the soul finds "The One I knew so well, my delight, / In a place with no one in sight." He exclaims "One night that joined Lover with Beloved, / Beloved in the lover transformed!" Like the biblical Song of Solomon, this poem uses the metaphor of lover and beloved to speak of the soul's union with God.
In his own commentary to the poem, John of the Cross indicates that the "dark night" refers not only to "purgation" – that is, a detachment from worldly interests – but also to a "dark night of the intellect." This may be analogous to the "hesyshia"2 of the Orthodox tradition. It is a kind of a darkness in that the mind does not appear to perceive anything; it is a blankness, a state of consciousness without an object. Although some traditions regard this as a final goal of meditation, the Christian tradition says it is only a preliminary, for at this stage the spirit becomes ready for direct contact with God – the union of the lover with the beloved. This is sometimes referred to as "infused prayer."
At this point in the tradition of the Jesus Prayer 3, the heart will literally feel warm. One practitioner reported that eventually "a small sweet flame was lit in my heart. This sensation was like swallowing some delicious food. This little flame remained in my heart, and I felt as if someone was gripping my heart. From that point on I prayed continuously, kept my attention there, where the sensation was, my only care being to preserve it." Here the seeker begins to sense directly the presence of God. Ordinary language and thought fail, or serve as only vague reflections of experience. Mystical writings, like those of John of the Cross, the Song of Songs, or the Sufi poet Rumi, frequently use the metaphors of lovers, who, though separate, are united, to express this elusive realm where the distinction between God and the self, between "I" and "not-I", are blurred or obliterated.
It is interesting to note that Saint John of the Cross was part of a reform movement within his monastic order to bring back the full rigor of living a life of separation, devotion, deep communion with God, unfeigned humility, and service to God. His order, the Carmelites, had become lax in observing protocols which developed these qualities. His order substituted their own watered-down version which they claimed was less burdensome. They demanded that the other Carmelites observe them also, with the same lukewarm lack of passion. They forbid observing the older protocols.
John of the Cross worked with two other reformers of his order to build a network of successful convents, monasteries, and churches following the former more rigorous protocols. They became known as the "Decalcined Carmelites" because they went barefoot or in sandals, the Latin word "decalcined" meaning "unshod".   The other group became known as the "Calcined Carmelites. After a seven year period of intensive growth, John of the Cross was kidnapped by the Calcined Carmelites, brought to their main monastery, tried for heresy by a counsel of Calcined Carmelite friars, found guilty and imprisoned in a cell hardly big enough for him to fit in, with barely any light and being given the sparest of rations. He managed to persuade his cell guard to provide him with paper for writing. He escaped eight months later by burrowing out a window and then continued his reform activities freely when papal authorities formerly separated the two branches into separate orders, so one could not claim jurisdiction over the other. He was later promoted to sainthood after his death. It is believed that he wrote "Dark Night of the Soul" around the same period when he was imprisoned.
In Saint John of the Cross, we find a friar of a hermetic order who stressed a passionate search to unite with God, as if for a lost love. The reason he stressed rigor in observances and demeanor was because these were vehicles that could bring one closer to experiencing union with God when they were exercised with complete regularity and with a whole heart. They kept one intensely focused on the search through ritual and exoteric activities until the passion to find union with God broke through and spilled over during the quiet of contemplation, evoking intense physical manifestations in which one experienced a dissolution in the division between what is self and what is divine. In this experience, the old self became transformed by this mystical union. At no point did this quest for union usurp exoteric foundations and beliefs. It was, in fact, a product of it.
The Dark Night of Realizing the Emptiness of an Accustomed Worldview
There is a slightly different experience that has also been described as The Dark Night of the Soul and is particularly relevant to the modern world. It is when the person seeking God begins to see a larger frame of things, and becomes less interested in worldly preoccupations, but has not yet found something meaningful to replace them. One may feel a sense of emptiness or depression as one withdraws from the older interests and pleasures. The 40-year trek of the Jews through the wilderness of the Sinai desert is a symbol for this experience. They were free of slavery under Pharaoh, which is a symbol for being free of the ego's preoccupation with the outside world, but they had not yet found the Promised Land. Then it becomes an exercise of faith to persevere and keep searching in a period of muddle and confusion until the dark night is over and one has found peace and the presence of God.
I think this can happen again and again during our journey. We discover that various solutions that have been offered us, or that we come upon on our own, that seemed to encourage us for a time, were not all they were cracked up to be. And if they don't work, then what's left? There is nothing left! That is where it can get very dark. But it is also when we are finally ready to give up whatever we have been fooling ourselves about, and then the stars we had not noticed before start to twinkle serenely in our darkness, leading us onward to a better perspective beyond our previous understanding.
The Dark Night of Sensational Fireworks
Some people who practice various disciplined methods of prayer or meditation may start to experience sensational effects – flashing lights, signs and wonders, mysterious sounds, brilliant insights, or divine apparitions. Although these are extremely exciting, our friend Richard Smoley warns us that they should not be mistaken for spiritual advancement:
There is even a Zen story about a pupil who jumps up from his meditation mat and runs to his master exclaiming, "I just had a vision of a golden Buddha." Unfazed, the master replies, "just keep mediating and it will go away."
Such manifestation should and do go away. However dazzling they may seem, they are almost always the result of opening up the lid of the mind, like a Pandora box, and is allowing its contents to spill out. There is a point – and it comes reasonably soon – when these manifestations seem to cease; the practice becomes much more eventful and, from an ordinary point of view, much less interesting. Even though the goal of the practice is mental stillness, the practitioner frequently takes the dawning of such stillness to be a sign that nothing is happening.1
Conclusion
What we do in the stillness of meditation and other forms of seeking communion with God can greatly affect our spiritual growth and quality of life. We may find ourselves in a dark night of the soul in not understanding our experience and a need to break through to some kind of clarity. In an anonymous work from a 14th century Christian mystic from England entitled "The Cloud of Unknowing", the author suggests how to break through:
"For He can well be loved, but he cannot be thought. By love he can be grasped and held, but by thought, neither grasped nor held. And therefore, though it may be good at times to think specifically of the kindness and excellence of God, and though this may be a light and a part of contemplation, all the same, in the work of contemplation itself, it must be cast down and covered with a cloud of forgetting. And you must step above it stoutly but deftly, with a devout and delightful stirring of love, and struggle to pierce that darkness above you; and beat on that thick cloud of unknowing with a sharp dart of longing love, and do not give up, whatever happens."
Thus when faced with this Cloud that our mind cannot seem to penetrate, we are encouraged to use the faculty of love to pierce through it. It is not just about practicing mindfulness and believing we are egoless. We will need love to make the final cut. The apostle Paul, in his letter to the church at Corinth4, does a better job than any other in explaining the multi-faceted and transcendent nature of love. There are so many other biblical passages that give us insight into this faculty. We may thus be encouraged to learn how to understand and apply this superior faculty from its expressions and portrayals in our exoteric foundations.
There are still some schools of esoteric thought that believe that once we have lifted off from the launch pad of exoteric foundations, we are no longer in need of them, and so it is acceptable and appropriate to distort, exploit, ridicule and destroy them. Nothing can be further from the truth. Jesus said the Torah (and the Prophets), a symbol for our exoteric principles and teachings, would not pass away until all is accomplished. He said he was the fulfillment of the Torah.5 The Christ within us, the indwelling Holy Spirit, guides us into likewise fulfilling the spirit of the Torah. But without a Torah to fulfill, there could be no fulfillment of it. It was not created to be destroyed by us, but to be preserved as a reference and a guide towards its fulfillment. The more we mature spiritually, the better we are able to interpret scriptures, so we can pass beyond some of the limiting institutionalized interpretations of it. But I believe we should never feel that we are above and beyond it, or that the only value of it is in the esoteric nuggets we can pluck out of it. Its sacred purpose is so much more than that.
References
"Inner Christianity: A Guide to the Esoteric Tradition" by Richard Smoley (pages 166-167).
"Hesychia" is a Greek word meaning "quiet" and is a meditative practice used in the Eastern Orthodox Church and more recently of interest to the Catholic Church.
Jesus Prayer. This is the recitation of a repetitive prayer originating in the Eastern Orthodox tradition that is useful in focusing out mental distraction. It is used in order to experience union with God. "Lord Jesus Christ, Son of God, have mercy on me, a sinner." It is recited over and over again, not as a formula or mantra, but as a contemplation that when done whole-heartedly, releases the soul from its worldly preoccupations.
1 Corinthians 13.
Matthew 5:17 "Don't misunderstand why I have come. I did not come to abolish the law of Moses or the writings of the prophets. No, I came to accomplish their purpose." (NLB)