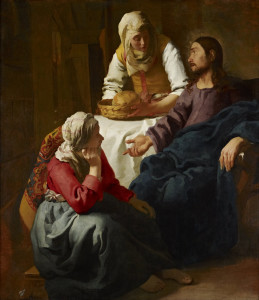 I remember the first time I read the brief allegory of Jesus in the house of Martha and Mary. I was a little confused. Why would Jesus indirectly rebuke Martha when she asked for help? As the story goes, Martha invites Jesus inside her home. During the course of the evening, Martha is running around trying to get prepared for the evening meal. She gets frustrated because Mary isn't helping. Instead, Mary is sitting at the feet of Jesus and listening to his words. So Martha, at her wits end, runs to Jesus and complains.
Luke 10:40-42 states:
"But Martha was cumbered about much serving, and came to him, and said, Lord, doth thou not care that my sister hath left me to serve alone? Bid her therefore that she help me. And Jesus answered and said unto her, Martha, Martha, thou are careful and troubled about many things: But one thing is needful: and Mary has chosen that good part, which shall not be taken away from her" (Luke 10:40-42).
If this story were literal, Martha would have every right to ask Mary for help. And Jesus certainly wouldn't have replied that Martha was unnecessarily "troubled" about many things; someone had to make preparations for the meal or no one would have eaten!
Traditionally, this story has been interpreted to mean that Martha was too concerned with worldly duties, whereas Mary took the time for spiritual pursuits. Mary was listening at the feet of the savior, and would not be bothered by worldly cares that are not as significant or as important as receiving the word of life. There is definitely truth in that interpretation. We all have to take the time to get before God in prayer and meditation. We should all yearn for spiritual meat and inspiration from God.
But there is much more to this allegory, and if we stop at this traditional interpretation, we are missing a spiritual truth that the master of the higher emotions has learned to demonstrate in his or her day to day life.
Martha and Mary symbolize a contrast between the lower and higher emotions. Between duty and love. Martha serves out of duty, but Mary receives "that good part" because she is getting her inspiration in life directly from the source of truth itself—Jesus, who is symbolic of the higher self, which we are evolving to manifest.
Jesus symbolically represents the door to life. A life of peace, tranquility, and contentment. Our attitudes must be put into check, and we must learn to view life from the proper perspective if we are to also live this deeply fulfilling life. It wasn't the fact that Martha was too concerned with preparing a meal when she should have been at the feet of Jesus alongside Mary. It was the fact that she had the wrong attitude. She was complaining. She demanded help from Jesus and she wanted Mary to alleviate her burden. Jesus rebukes her because the story is showing us that when we are like Mary, we will always receive "that good part," which is a unique inspiration for living, and the development of the higher emotions which are the forerunner to birthing the Christ within us.
Day to day duties require much from us. The average middle class person has to go to work, pay the bills, fulfill family functions, make repairs on the house, and mow the lawn. We have to cook, clean, and fold clothes, do the dishes, straighten out the garage, and walk the dog. Some of us have kids to take to the doctor or afterschool activities. The list goes on.
Amidst these daily duties, we must also find the time to pray and meditate. Read whatever scriptures give us spiritual insight and inspiration. And we must not forget that we also need time to socialize or simply sit on the couch in front of a good novel or favorite television show. Finding time is sometimes hard. Like Martha, we can easily become frustrated and demand help from God. I certainly know that my wife and I have been a Martha.
From a literal standpoint, it would seem that Mary was just allowed to sit and enjoy Jesus' teaching without worrying about anything else, and Jesus blessed her for it. But we must understand the way that allegories work. This story isn't really about balancing duty and spiritual pursuit properly so much as it is about how to operate through it, all of it, with the higher emotions.
I remember reading about a Jewish woman who shared how she had learned to turn every duty in life into a spiritual endeavor. Even an act as simple as sweeping the floor was sacred to her. She had learned to find peace and contentment in the moment, fully aware of whatever it was that she was doing. She learned not to live in the past or the future, but for each divine moment of the conscious experience. This woman drew her inspiration, like Mary, from the source of truth itself. The present moment is all there is, and this Jewish woman, like Mary, always symbolically sits at the feet of Jesus.
The master of him or herself learns to do this. They do not live for the weekend. They do not live in the great memories of the past, and hate what they are doing now. Whatever it is that you have chosen, we must learn to see the moment as a conscious experience that is sacred.
I have struggled with this. Work has become busier and complicated this year, with more expectations placed on my shoulders. I have caught myself feeling beyond stressed, and there is never an easy way out of the situation of constant interruptions and enormous burdens, while trying to perform to a high degree of productive teaching. Gone are the days when a teacher taught and the child had enough discipline to sit and listen and then do the required work. In many classrooms, the demands and expectations on teachers are unrealistic if certain test scores are to be met. And there is no easy solution to the problem. I can only do so much without the proper support. So what can I do about it?
When I catch myself and remember to just stop and breathe, and become consciously aware of the present moment, I also realize that I am the biggest source of my own frustration. It is not really the situation that contains the biggest problem, but rather my attitude towards the situation. The reality is that in those most frustrating moments, the problems that I think I am having suddenly begin to fade away when I become consciously aware and interactive with the moment, instead of being somewhere else. There is a certain feeling that inspiration is being drawn from a higher source, and thoughts and feelings begin to go from negative to positive. When I can live in the present moment, consciously attentive to what's happening at that very moment, life suddenly takes on new meaning and I am no longer, like Martha, demanding that an immediate fix be applied to the situation.
In closing, ask yourself which person are you going to be as you go throughout your future days: Martha or Mary? Remember, the higher emotions are manifested through drawing our inspiration from the indwelling divine spirit we all have access to. Martha acted from duty, but Mary from Love. Mary will receive "the good part, which "shall not be taken away" because she is receiving her inspiration for life directly from the Jesus (the higher self). Living consciously aware of the present moment enables access to this divine inspiration.
Blessings.