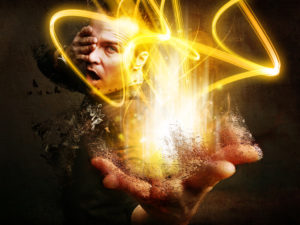 I have visited the topic of reincarnation on this blog a few times before. I thought it would be a good time to revisit the topic because it's so important to realize it's relevance if you truly wish to ever understand the bigger picture of most ancient scriptures, especially the Bible. Hopefully it will stimulate some good discussion in the comment section.
This post will be a little different. Instead of talking about all the scriptures that support reincarnation, we are going to focus on two from Job and Ecclesiastics. Furthermore, I'll be comparing and contrasting Matt Slick's argument from the Christian Apologetics Research Ministry. He is the president and founder of the organization. In his post, he argues why Job 1:21 and Eccl 5:15 cannot support reincarnation. I am going to counter his argument to show you why his reasoning is incorrect. It is not my intention to be negative against Matt Slick. I don't know him and he might be a brilliant man, but I believe he lacks the proper esoteric and allegorical understanding of scripture to correctly address the subject, especially when we consider the bigger picture. With that being said, let's begin by taking a look Job:
"And he said, Naked I came from my mother's womb, and naked shall I return there. The Lord gave and the Lord has taken away. Blessed be the name of the Lord." (Job 1:21).
Let's focus on Mr. Matt Slick's beginning argument first. He states:
"Job says that when he died he would return to his mother's womb, but this cannot be reincarnation for two reasons.  First of all, the Bible teaches us that "it is appointed for men to die once and after this comes judgment," (Heb. 9:27).  This soundly refutes reincarnation.  Therefore, Job. 1:21 cannot be referring to reincarnation.  Second, if we take Job. 1:21 literally, then does it mean that Job will be reincarnated into his own mother's womb?  If so, we have a problem."
Mr. Slick begins by stating that Heb. 9:27 "soundly refutes reincarnation." This is silly, and clearly shows that Mr. Slick doesn't correctly understand the concept of reincarnation. In the idea of reincarnation, each incarnate being still dies once. When the person incarnates again, they are not the same person. They are an accumulation of all their past life experiences and incarnate with a new personality and ego. Think about Elijah and John the Baptist. Jesus told his disciples in Matthew 11:14, "And if you are willing to accept it, he [John the Baptist] is the Elijah who was to come." Critics argue that John the Baptist only came in the spirit of Elijah. But again, this is consistent with reincarnation. The spiritual ego is permanent and develops through each life, but the lower ego and personality is dissipated at death and is born anew in the next incarnate life. Clearly John the Baptist and Elijah were not meant to be the same person, but it can be said that they were the same spiritual ego. Of course it goes deeper than this because of the allegorical nature of these Biblical characters, but that's another topic for another time. The point is, Mr. Slick incorrectly assumes that Heb. 9:27 automatically refutes reincarnation. It does not.
Now to his second point. Matt states that if we take this scripture literally, it means Job would be reincarnating back into his own mother's womb. As you'll see in another one of his quotes, he goes on to tell us that it is not literal. Let's take a look at Ecclesiastics 11:5:
"As he came naked from his mother's womb, so will he return as he came. He will take nothing from the fruit of his labor that he can carry in his hand."
Let's see what Matt Slick states about this scripture:
"Likewise with Ecclesiastes 5:15.  The context is dealing with evil under the sun and not having a way to support children due to bad investments.  This is when the writer says, "As he had come naked from his mother's womb, so will he return as he came.  He will take nothing from the fruit of his labor that he can carry in his hand."  The writer is not speaking about reincarnation, but about coming into the world with nothing and returning to the earth with nothing."
After that point, Matt will tell us that the "earth" is symbolic of the womb, and he uses what God tells Adam as his support. He further states:
"If we begin with Adam, we see that he was literally taken from the earth.  God said to Adam after Adam's fall, "By the sweat of your face you shall eat bread, till you return to the ground, because from it you were taken; for you are dust, and to dust you shall return," (Gen. 3:19).  From the very beginning of creation, by the words of God Himself, the idea that the earth is the place where Adam came from is taught.  This could naturally be considered a type of womb.  It follows then, that when we look at Job, we can see that the "mother's womb" that is spoken of is in reference to the earth."
This finishes Matt Slick's argument. He wants us to believe that Job 1:21 is metaphorical. He believes that the womb Job shall return to is the womb of the earth instead of incarnating again.
Matt is partially correct here, but what he probably doesn't realize is that all scripture is metaphorical in nature. The womb is symbolic of the "earth" or "matter." However, Matt Slick misses all the other metaphorical references to scripture which point to the fact that the womb, earth, and world are symbolic for matter, or life on the physical plane, i.e., the "flesh."
Those who do not work out all of their karma in life must return to the flesh, or material world to have another round.
Since Matt Slick considers the word "womb" symbolic, let's also look at the word "mother" used in the same passage. Mother is symbolic of the feminine or receptive aspect of matter for spirit to incarnate. One passage of the Clementine Homilies (attributed by some to Pope Clementine) states:
"For, since the present world is female, as a mother bringing forth the souls of her children, but the world to come is male, as a father receiving his children (from their mother), therefore in the world there come a succession of prophets, as being sons of the world to come, and having knowledge of men."
Whoever truly wrote the Clementine Homilies understood that the mother's womb is symbolic of the incarnating spirit (male) descending into the earth or matter (female mother) to bring about the eventual second Adam.
The truth is that Job 1:21 cannot be said to definitively support or deny reincarnation, but rather suggests it. It is simply a symbolic reference for man returning to the earth (matter, physical life, the womb) after death. But the earth is the womb for the incarnate spirit to further develop the immortal or spiritual ego until all karma is worked out and a person does not have to return to physical life.
Mark Mason, in his work, In Search of a Loving God, further supports this idea when he states in chapter 16:
"The way in which people cease incarnating on earth once they have finally outgrown earthly things is well described in this passage from Hebrews:
All these people were still living by faith when they died. They did not receive the things promised; they only saw them and welcomed them from a distance. And they admitted that they were aliens and strangers on earth. People who say such things show that they are looking for a country of their own. IF THEY HAD BEEN THINKING OF THE COUNTRY THEY HAD LEFT, THEY WOULD HAVE HAD OPPORTUNITY TO RETURN. Instead they were longing for a better country — a heavenly one. Therefore God is not ashamed to be called their God, for he has prepared a city for them. (Heb. 11:13–16)
The sentence I have emphasized with capitals clearly indicates that people who die still hankering after the things of earth, will be given the opportunity to return to it. This is precisely what reincarnation is all about. This passage also says that people who consider themselves "aliens and strangers on earth" will have a city prepared for them by God."
Why Reincarnation Makes Sense
One of the things we must consider when speaking of reincarnation is that it is the only reasonable possibility for the development of the soul. In traditional mainstream Christian thought, a person has one lifetime to get it right and become saved. At least, that is how the Bible is interpreted by some. But let's use a little common sense and logical thought, which is what God gives us, right?
If we only have one life to live to determine eternal destiny, to what end would that really serve? If this point of view is true, then why wouldn't the next life, whether in heaven (wherever that may be?), or somewhere else, afford further opportunity for mistakes, growth, and development? Here in this life there are many people who choose to serve Christ and then, through some experience in life, change their minds and decide that the traditional message they heard is no longer true. Why wouldn't this same opportunity exist in heaven? Didn't supposedly Satan himself, who was second only to God, do this? What was his reasoning for changing? The Bible mentions pride as one. But isn't it possible for a Christian who is supposedly born again and saved to exhibit pride? It happens all the time. What would stop that in heaven? Some think the glory of God's presence will be so great that we would automatically want to be completely in awe and obedient. But then this would mean that God automatically MAKES us into something we haven't developed for ourselves. What would be the real reason for God putting us on earth in the first place? Just for us to realize we are sinners? What a strange thing to do to us.
The truth is no one is eternally secure from returning to the earth until all Karma is worked out and the lower ego is sacrificed and united in the heavenly marriage of the higher, or spiritual ego. This is the true renewing of the mind that Paul speaks of. God doesn't make us do this. We learn it through the trials of earthly existence as the Bible clearly teaches, and I don't think it is possible to learn ALL of the things necessary in one lifetime. If so, every born again Christian would be a saint. And that's silly.
Does the Bible really teach reincarnation?
A good question. I wouldn't say that it explicitly teaches it. Rather, it is strongly implied. During the time of early Christianity, reincarnation was held as doctrine. It didn't need to be taught because it was accepted as a truth that was evident, much for the same reasons I have discussed above. Trying to explain it would be like trying to explain why we need to eat or breathe in order to continue to live. That's why in the scriptures it can seem a little ambiguous. But when we look at the bigger picture, and understand the symbolic nature of the scripture, it's not so ambiguous after all.
Conclusion
Mr. Slick is trying to take Job 1:21 and state definitively that it cannot support reincarnation. But as you have seen, he is coming from a limited mindset of doctrine formulated by mainstream Christianity. I don't blame him because I once held his views. But does Mr. Slick understand that reincarnation was declared heresy in the 6th century by the emperor Justinian in 553 A.D. by direct influence? He stacked the vote of Eastern Bishops against the West in an ecumenical council. The Western church fathers believed in the pre-existence of the soul while the Eastern ones, controlled by Justinian, did not.
We must be careful before determining that a concept such as reincarnation cannot be included in the Bible. It is clearly suggested through many Old and New Testament books, and would take volumes to address them all properly. But for now, perhaps Job 1:21 and the other points we have made today make a little more sense to you. I cannot prove to you in isolation that it supports reincarnation, but when we consider it with ALL of scripture I believe we can say that goes right along with the concept quite nicely.
In case you are interested, you can find Matt Slick's original article at:
https://carm.org/bible-difficulties/job-song-solomon/do-job-121-and-ecc-515-teach-reincarnation
Blessings!