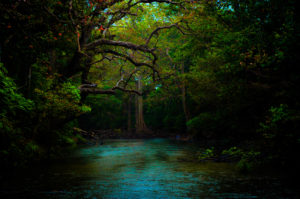 If the Old Testament contained a chapter that told you the story of the wilderness journey wasn't literal, would you believe it? Would you even notice?
I would argue that it all depends; if you were a staunch literalists, you would probably breeze by the verses without a second thought. That's normal.
Even if you were undecided about the Bible's literal-historical value, you still might pass them up as inconsequential without a careful reading of the language and context. Let's review one of the most important texts in the Old Testament to understand how easy it is to miss what the Biblical authors thought so obvious.
Psalm 78 Speaks: The Law is a Parable
Psalms 78 has been attributed to a man named Asaph. Asaph is believed by many scholars to have been a musician in the court of King David from the tribe of Levi. He begins this lengthy Psalm by telling us to listen carefully to what he has to say, which he considers vitally important. Namely, the history of Israel from the Exodus in Egypt to King David's time. He begins:
"Give ear, O my people, to my law: incline your ear to the words of my mouth."
By law, he means instruction, or teaching. He is about to summarize Israel's sin and disobedience in time's past. But in the next verse, he reminds them Israel's past is a parable:
"I will open my mouth in a parable…"
Hmm. What does he mean here? Is he saying that he will use a parable to extrapolate a moral lesson from the literal history of Israel, or is he saying that the Torah itself is the parable from which we can extrapolate the lesson? This should be the central question for everyone who wishes to understand their Bible. And it's so vital. 
If his aim was to unravel a parable from real history, he never accomplishes his goal. He simply gives us a synopsis of what's already written down in the Torah. Isn't that odd? Go and read the entirety of Psalm 78 and see what I mean. Asaph wants to teach us a great lesson, but he doesn't. He just reminds of us of Israel's disobedience…over…and over…and over again. So is he going to give us a parable with hidden meaning, or is he just reminding of us of what happened so that the next generation can remember? 
Scholars and commentaries seem to gloss over this question we must be confronted with.
But Asaph isn't finished. I believe the fact that he is conveying the idea that the Torah ITSELF IS the parable, with its concealed wisdom, is confirmed in the next verse:
"…I will utter dark sayings of old."
Ah…by summarizing Israel's past he means it is all a "dark saying of old."
What are "dark sayings of old?"
Dark sayings were called "dark" because they concealed hidden meaning. If there is an obvious hidden meaning being concealed, wouldn't you like to know it? And can you glean the true spiritual wisdom from a simple literal reading?
I really don't think so.
Dark sayings of old were never to be taken literally, because the deeper spiritual lessons contained within these sayings were purposely obscured. This is by definition what a parable does as well. A parable is a fictional story meant to teach us a moral lesson. Like Easop's Fables. But dark sayings of old go a bit further because they concealed the spiritual lesson which only the wise (those able to spiritually interpret its meaning) were meant to understand. A dark saying uses important symbols that stand for something else. The very idea conveyed by dark sayings of old is that of a huge, spiritual riddle.
The idea that a riddle is being put forth in the history of the Torah in Psalm 78 is also confirmed by the author of Matthew who stated that Jesus spoke in parables so that the he fulfilled Psalm 78! Did you get that? Matthew says Jesus spoke in parables because of Psalm 78! 
So it's okay to understand that Jesus spoke in riddles which we know not to take literally, but the inspiration from this came from an Old Testament verse that spoke with literal history!? Hmm…
There is no confusion about the parables of Jesus; we know he means fictional stories, because he tells the disciples that while he can speak plainly to them, he must speak in riddles to the multitude, because in hearing they hear not, and in seeing they see not. Jesus went so far as to say he was uttering "secrets kept hidden since the foundation of the world." If Jesus is fulfilling this prophecy, and he is using fictional stories, how much more so was the original intent of the writer of Psalm 78 recounting Israel's history as a giant parable told through the Torah?
Why did both writers of Psalm 78 and Matthew do this? To purposely conceal wisdom that the multitudes had no business understanding because they weren't ready. Why weren't they ready? Simply because the spiritual lessons contained in the allegory and symbolism require one to search deeper than any religion. They must search deep within the self. The writer of Psalm 78 is doing exactly this, and the author of Matthew is simply following his lead where Jesus is concerned.
The fact that the author of Psalm 78 never elucidates on these dark sayings of old truly mean when speaking about Israel's past indicates that the stories from the Torah are THEMSELVES the dark sayings of old. Put another way, since the author of Psalm 78 never explains the moral lesson, we should assume the lesson is buried beneath the literal account. In other words, they conceal a wisdom that only the wise (the spiritually mature) can interpret.
In the traditional interpretation of Psalm 78, the same simple theme is regurgitated over and over. The author would not preface this with it being a parable and dark saying of old unless he meant you had to look deeper to get to a truth. Ancient scriptures were never written in plain, literal language.
When read literally and historically, we can see that God delivered Israel from bondage, but they become disobedient and hard-headed in the wilderness over and over again. The cycle ever repeats itself. Sometimes God shows his wrath, and other times his mercy. We here these stories and receive simplistic sermons about right and wrong, and how if we disobey God we will end up judged by him. But if we just have faith and obey, we will be saved. Seriously? The Israelites never seem to learn anything, even in the face of tremendous miracles, but neither do we by hearing the same old stories and themes being preached over and over. God is good, God is great. Disobey and you will be judged. I think God is much more complicated and glorious than that! He understands the depth and variety that the conscious experience of life brings to us. All its octaves. All its tremendously powerful emotions that have to be processed based on an ego that by its very nature is deceitful. And through it all, God teaches us the biggest lessons through the failures. That is the concealed message of Psalm 78. And it isn't just for the future generation as commentaries on Psalm 78 tell us, it is every generation, even the one that was supposed to have fallen. 
Proverbs 25:2: Does God Purposely Hide the Truth?
It is usually the mindset of the literalists that the Bible means what it says. He or she believes that God gave us the Old Testament in order to teach us directly about his ways through his people Israel through literal history.  But is this really the case? Does the Bible usually mean what it says? The author of proverbs tells us differently.
What is part of God's glory? It is that he remains hidden and obscure to those who do not seek deep within themselves.
"It is the Glory of God to conceal a matter; to search out a matter is the glory of kings" (Proverbs 25:2).
Think about what the author is telling us. He believes that part of God's glory is in the act of hiding the truth. Don't you find it odd that Jesus said he could speak plainly to his disciples, telling them the mystery of the kingdom without parables, and yet they remained just as confused as the multitude! Even Peter, the supposed leader of the group had to be rebuked as Satan. If Jesus truly spoke to them plainly during an earthly ministry, they still didn't get it! And it seems most of them never did. Not only was Peter corrected by Jesus after Jesus spoke plainly to them, but even by Paul during his later ministry! Peter never got it because symbolically he represents the natural man, which cannot have the eyes or ears to see and hear the truth. 
So we can see…
God dwells in the dark secret places because that is where the true light is. Not a literal light, but the light of consciousness at its most mysterious place. And this is why the Book of Revelation tells us that the New Jerusalem won't need the sun or moon, or any physical light. God himself is that light. And he's within you.
The history of the Exodus to the Promised Land is the journey of exploring the inner self, inner consciousness. The lessons to be extrapolated from it have to be based on this foundation. The foundation of parable and dark sayings of old, which require the interpretation of allegory and symbolism to reveal its hidden insight.
Blessings!