---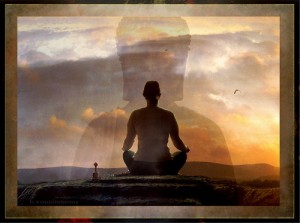 I was very excited about an article on that appeared on Smithsonian.com this month, entitled, "Researches: World's Happiest Man is a Tibetan Monk (and PhD Geneticist)."
The article is relevant to this blog because it addresses one of the most important and holiest acts I promote here: meditation.
Before we get into the meat of the article, I want to pose an important question to you: Could meditation truly be a path to God and heaven? Please keep this question simmering in the back of your mind as you read the information below. You may just have an ah-ha moment!
The article…
Neuroscientists at the University of Wisconsin have found something extraordinary in the brain of a geneticist named Matthieu Ricard. His brain has produced gamma waves on a level "never before reported in neuroscience." For researchers, this is big news; the results promoted neuroscientists to conclude that Matthieu was a very happy man. So happy, in fact, that some believe he is almost immune to negativity!
What's the secret to Matthieu's conscious success? You guessed it. Meditation! I should also mention that Matthieu doesn't just have a PhD in genetics; he's also a Tibetan monk.
The article did have some shortcomings. Although it brings new exposure to the fact that meditation is an extremely valuable exercise for happiness and overall emotional health, it fails to discuss just how important gamma brain waves are for elevated states of consciousness and how all this relates to spiritual bliss.
Naturally I decided to elaborate for you.
The gamma brain wave state of consciousness is synonymous with extreme mental acuity. In addition, gamma brainwaves produce feelings of bliss. They almost work as a sort of an anti-depressant, boosting empathy and compassion. There are many physical benefits to this heightened state of consciousness as well.
To break it down for you a little more, let's look at some brainwave frequencies that we all exhibit during a typical 24-hour period:
Delta:                    0.5Hz – 4Hz                         Deep Sleep
Theta:                   4Hz – 8Hz                             Drowsiness
Alpha:                   8Hz-14Hz                             Relaxed but alert
Beta:                     14Hz – 30Hz                        Highly alert and focused
So what about Gamma? Some neuroscientists consider gamma frequency to begin at 24Hz and do not really distinguish it from Beta. But this is all changing. Most would agree that at the high end of beta brain waves, precognition, clarity, and perception is acute. But now many neuroscientists are jumping on the bandwagon and looking more into Gamma frequency because studies on long-term mediators has shown profound results: during explosions of high-level information processing, your brain is operating in the Gamma state which is more along the lines of 40Hz.
The article from Smithsonian.com didn't mention what Matthieu Ricard's brain frequency in hertz was, but I am willing to bet it was above 40. By the way, you can read that article HERE.
So what's really so special about gamma brain waves?
I quote Wikipedia:
"Experiments on Tibetan Buddhist monks have shown a correlation between transcendental mental states and gamma waves…Neuroscientist Sean O'Nuallain suggests that this very existence of synchronized gamma indicates that something akin to a singularity—or, to be more prosaic, a conscious experience–is occurring. This work adduces experimental and simulated data to show that what meditation masters have in common is the ability to put the brain into a state in which it is maximally sensitive."
Thus a brain operating in the gamma wave frequency is super attentive to whatever it's focused on in that moment of time. Have you ever considered that most humans miss half of their lives because they lack this kind of mental acuity! Thus it is safe to assume that contentment, happiness, and bliss are increased when the state of the mind is elevated! It would also be fair to state that these kinds of brain states help to metaphorically crucify the lower animal nature in man.
You will find some information across the web that claims kundalini energy begins moving through the body when the brain is operating in the gamma range, especially above the 60Hz mark. I cannot confirm this information, nor do I care to. I am not worried about exact numbers. I am more concerned with the profound effect that meditation—especially on long time practitioners—has on our body and state of consciousness. Is it any wonder that the Bible has to say so much about it?
I am now going to propose to you that the Biblical concept of heaven is really more about a highly conscious state on this earth rather than a place the saved go to when they die. In my next article, I plan on proving this to you with some of Jesus' teachings on how to enter the kingdom of heaven.
Final thoughts
So if the brain really is a transceiver of consciousness, it makes sense that this holy temple must be optimized to experience higher states of consciousness and awareness. It also makes sense to say that the optimized brain can allow the higher man to shine forth, therefore bringing and expressing higher consciousness through the human body.
Isn't it also possible, then, that God, as pure consciousness, is experiencing himself through us, and the more of him (heightened consciousness) that we bring down into this body, the more fully he manifests in this physical realm? I guess we could take this a step further and say that heightened consciousness brings more of our true selves to manifest in this physical reality, too. All this within the confines of the mind, of course. Buddha was surely correct when he stated, "All is mind." He could have agreed with St. John and said just as easily, "All is Logos."
And finally it seems that individuals like Matthieu Ricard have already cancelled the need of eternal life in heaven when they have already brought heaven down to earth!
Think about it…
My next article will discuss how Jesus himself instructs us to enter heaven. And it's much more akin to Matthieu's experience rather than the traditional concepts we get from religion.
Now it's your turn. I would love to hear your thoughts and opinions on this, as well as any additional knowledge you could shed on the subject.
Blessings!