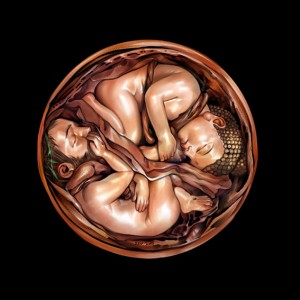 I was inspired to tackle the topic of Jesus and Buddha compared, mainly because I think most websites address this issue from the wrong angle. Instead of staying on the subject of comparing Jesus and Buddha, many religious websites subtly veer off topic and end up comparing Christianity and Buddha. This is the reason they can justify stark differences between the two. But we shouldn't bring Christianity into the mix when making comparisons, because, quite simply put: too many Christians seem biased towards Buddha because of Christianity, not Jesus.
When we look beyond the doctrines, dogma, and religious ideas that can be argued 101 different ways (in Christianity and Buddhism), both Jesus' and Buddha's sayings reveal a universal theme of love, compassion, and personal spiritual growth that transcends religion altogether and certainly shows that they both come from one source. Many people miss this point because they are too caught up in the idea that they have to be different in order to embrace the true message of Christ.
When looking through many sources that have already compared Jesus and Buddha, I frequently came across this same scenario: The titles of articles claimed the differences between Buddha and Jesus, but then went on to show a comparison chart that was labeled Christianity on one side and Buddhism on the other. If we are going to compare the differences between Jesus and Buddha, we must stick with their sayings.
Below you will find quotes from both masters that teach these universal themes. These quotes come from Jesus and Buddha: The Parallel Sayings, edited by the Jesus scholar, Marcus Borg
Jesus: "Do to others as you would have them do to you." Luke 6:31
Buddha: "Consider others as yourself." Dhammapada 10:1
Jesus: "If anyone strikes you on the cheek, offer the other also." Luke 6:29
Buddha: "If anyone should give you a blow with his hand, with a stick, or with a knife, you should abandon any desires and utter no evil words." Majjhima Nikaya 21:6
Jesus: "Truly I tell you, just as you did not do it to one of the least of these, you did not do it to me." Matthew 25:45
Buddha: "If you do not tend to one another, then who is there to tend you? Whoever would tend me, he should tend the sick." Vinaya, Mahavagga 8:26.3
Jesus: "Put your sword back into its place; for all those who take the sword will perish by the sword." Matthew 26:52
Buddha: "Abandoning the taking of life, the ascetic Gautama dwells refraining from taking life, without stick or sword." Digha Nikaya 1:1.8
Jesus: "Those who want to save their life will lose it, and those who lose their life for my sake will save it." Mark 8:35
Buddha: "With the relinquishing of all thought and egotism, the enlightened one is liberated through not clinging." Majjhima Nikaya 72:15
Jesus: "Go therefore and make disciples of all nations, baptizing them in the name of the Father and of the Son and of the Holy Spirit, and teaching them to obey everything that I have commanded you." Matthew 28:19-20
Buddha: "Teach the dharma which is lovely at the beginning, lovely in the middle, lovely at the end. Explain with the spirit and the letter in the fashion of Brahma. In this way you will be completely fulfilled and wholly pure." Vinaya Mahavagga 1:11.1
After digesting the quotes, need I say more? But just to be fair, I have decided to briefly discuss what many religious leaders claim make Jesus and Buddha polar opposites. In sticking with the spirit of this article, we'll use a few direct quotes from both masters again.
Who the Buddha Said He Was
Some religious leaders like to emphasize that Buddha taught he was a mere human. The reason for this emphasis is because they say Jesus was God; therefore their teachings are diametrically opposed. But both of these ideas originate in religion, not from Jesus or Buddha. The true meaning of both Buddha's and Jesus' teachings towards divinity and humanity transcends both concepts. To illustrate this point, let's discuss a few more sayings from Buddha first.
I am going to quote from the Anguttara Nikâya (II, 37), a Buddhist scripture. At one point a Brahmin named Dona asks the Buddha if he is a deva, an angel, a demon, or a human being.  Buddha says he is none of those things, but rather:
"Brahmin, whatever defilements there be owing to the presence of which a person may be identified as a god or a heavenly angel or a demon or a human being, all these defilements in me are abandoned, cut off at the root, made like a palm-tree stump, done away with, and are no more subject to future arising.
"Just as, Brahmin, a blue or red or white lotus born in water, grows in water and stands up above the water untouched by it, so too I, who was born in the world and grew up in the world, have transcended the world, and I live untouched by the world. Remember me as one who is enlightened."
I want to point out that Buddha's answer has nothing to do with being a human or a god. His main point is that attachments to anything bring defilement. He was pointing out that he had transcended the world, and that any labels such as the ones Dona brings up are simply attachments he is no longer concerned with.
Jesus Teaches the Same Thing
I used the above quotes from the Anguttara Nikaya because Jesus has a very similar saying.
"They are not of this world, even as I am not of this world" (John 17:16).
In the above quote Jesus is praying to the Father about himself and his disciples. Just like the Buddha, Jesus teaches his disciples to transcend the world. The only way we can be in this world but not of this world is to transcend the desire mind of the lower ego, because it is the ego that brings attachment to the things of the world. This includes relationships with things, people, and yes, even labels such as humans, gods, demons, and angels.
I also want to point out the fact that Jesus, like the Buddha 500 years before, taught detachment. I dedicated an entire blog post to this subject: Detachment: Yes Jesus Taught it Too.
Who Did Jesus Really Say He Was?
Christians teach that Jesus was God. But did Jesus make this claim, or does Christianity make this claim? Jesus never actually says he is God. He does claim the title, the Son of God. So what? Psalms 82:6 claims that we are all sons of the most high. Aren't we all sons of God?
I once heard a religious leader say,
"For not ever directly claiming to be God, Jesus made some arrogant statements. For example, in response to Thomas, Jesus said, 'I am the way, and the truth, and the life; no one comes to the Father, but through me.' From this statement alone, one has to wonder why nobody can come to God directly. I think Jesus was definitely saying he was God!"
But doesn't that pastor's statement put a religious spin on Jesus' saying? Couldn't Jesus as the way, the truth, and the life be speaking to the Logos, or divine spark of divinity that is within all of us? Could it true that the ego can only be transcended through the Logos, and that Jesus' statement simply means the ego cannot come to the Father for the ego (being separated) is the opposite of God (unity)?
Jesus says to God in the Gospel of John:
"…that they may be one, even as we are one" (John 17:22).
Hmm…
In conclusion I want to say that yes, there is a stark difference between Buddha and Christianity. The two are irreconcilable. However, I cannot say that there is a stark difference between Buddha and Jesus. When we look at their raw sayings, they seem to come from a universal idea that conveys transcendent spiritual truths rather than religious differences.