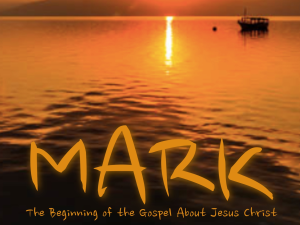 In the first two posts of this series we laid some important groundwork about Paul and Gnosticism. Today I'm going to lay a little more groundwork about the synoptic Gospels and the Gospel of Thomas. This is all necessary before we get into the meat of how Orthodox Christianity and the Early Church formed.
Let's do a brief recap.
We've already focused on Paul and his Christ. I presented both scriptural and historical evidence to support the conclusion that Paul's Christ was the mystical Christ born within us. In addition, almost all scholars, both Christian and secular, agree that Paul's Epistles were written before any of the Gospels. By Paul's own admission, his gospel was received through direct revelation. He wasn't influenced by any man (including the apostles and Jesus himself). Paul never mentions the Virgin Birth or Christ's lineage, which seems a bit odd considering his prolific writing. These points set the stage for more oddities as it concerns the first synoptic Gospel to be written.
The Gospel of Mark
I want to focus on two key details concerning the Gospel of Mark: Its date of writing and the author's theology.
It was once accepted that the Gospel of Matthew was written first, based on Orthodox tradition and the words of early church fathers. Almost all scholars unanimously agree that is now false. Mark was written first. In fact, strong evidence suggests Mark was compiled from an earlier source known as "Q." The length of this post will not allow getting into that evidence, but it is more than compelling. But even if the Gospel of Mark were not taken from an earlier source, we still have what I see to be a glaring problem.
Mark was compiled about 65 AD. That's about thirty years after the supposed death and resurrection of Jesus. This is significant because Paul's epistles were composed between 50 and 55 AD, and came before any Gospel account. My glaring problem is this: Not only do Paul's epistles (the first text written about Christ) not contain any Virgin Birth account or valid genealogies, but neither does the first Gospel account!
This is not a fact we can whisk away with theological retort. Believe me, I've seen all the arguments from both scholars and laymen on both sides of the fence. But I believe that anyone who dismisses this point as unimportant is only fooling themselves. Think about it: if the miraculous Virgin Birth really happened, it should be included in ALL narrative accounts of Jesus's life, not just Luke and Matthew. In addition, it should be in the FIRST Jesus narrative account. It isn't. But wait. The evidence continues to build. I believe the theological context of Mark's Gospel also supports the fact that it was meant to be allegorical, and never addressing a historical person.
Mark's gospel presents Jesus the miracle-worker and exorcist. The actions of Jesus in Mark, such as when he uses spittle to heal a blind man, are much akin to a magician. This imagery and method agrees with other mythological saviors across a broad range of religions at the time. In other words, it was a common story.
Jesus also conceals his identity. Even the disciples have a hard time understanding who he really was based on the parables that he uses. Again, this seems to paint the picture of a mythical person. Could Jesus be the inner light that is concealed behind the ego that makes up us all?
I will admit that Mark's Gospel mentions the resurrection in chapter 16. It is widely believed that verses 16:9-20 are spurious, which basically means they were not part of the original and added later. Verse 9 mentions Jesus (although the word Jesus is omitted from the earliest texts) and seemingly tries to establish a historical view. But, Mark 16:1-8 attests to Jesus' resurrection through an angel figure. In allegorical spiritual literature, angels were symbols of spiritual influences that minister to the soul. According to Gaskell, "They are messengers of the inner light to arouse the higher faculties." In other words, angels are aspects of the higher-self received through mental impressions upon the waking conscious.
Isn't it odd that the earliest Christian manuscripts, first Paul's letters and then the first Gospel, never mentions the Virgin Birth or try to establish Jesus' lineage? Perhaps at this time in history it wasn't yet important to think of Jesus in this way. Perhaps that came later with tradition.
Now we can get into the real meat of this post which should give everyone lot's to considerJ
The Gospel of Thomas
The Gospel of Thomas is a Gnostic work discovered in a little town of Egypt called Nag Hammadi in 1945. It has taken scholars years of interpretation to put all the pieces of the puzzle together, and there is still much interpretational work to be done. However, one thing is clear: it is one of the earliest Gnostic works ever complied and clearly depicts Jesus Christ as a mythical character that equates as the inner light we all contain. Jesus is seen as a wisdom teacher never meant to be literal, lacking any type of narrative.
Consider a quote from Elain Pagels work, the Gnostic Gospels:
"Quispel and his collaboraters, who first published the Gospel of Thomas, suggested the date of c. A.D. 140 for the original. Some reasoned that since these gospels were heretical, they must have been written later than the gospels of the New Testament, which are dated c. 60-110. But recently Professor Helmut Koester of Harvard University has suggested that the collection of sayings in the Gospel of Thomas, although compiled c. 140, may include some traditions ever older than the gospels of the New Testament, 'possibly as early as the second half of the first century" (50-100)—as early as, or earlier, than Mark, Matthew, Luke, and John" (Pagels, 16-17).
In other words, like the "Q source" that was used to compile the Gospel of Mark, the Gospel of Thomas was compiled from earlier sources.
But Pagel's is generous here of the date. According to Wikipedia:
Valantasis [Richard] and other scholars argue that it is difficult to date Thomas because, as a collection of Logia without a narrative framework, individual sayings could have been added to it over time. Valantasis dates Thomas to 100-110 A.D, with some of the material certainly coming from the first stratum which is dated to 30-60 AD."
It is the bolded part of that last statement which is important and presents a problem for the orthodox view. Valantasis and others have argued that some of the source sayings from Thomas are earlier than anything from Mark and Paul. Even if Pagel's more generous later dating is correct, that still puts the Gospel of Thomas as early as 50 AD, about the time of Paul's epistles. Hmm?
Again, isn't it odd that the earliest sources for Jesus, both Gnostic works and those considered non-Gnostic by the Orthodox, never mention genealogies or the Virgin Birth account?
Most striking is the fact that if Valatasis and a few other recent scholars are correct, the Gospel of Thomas was compiled from the oldest source.
The Gospel of Mark and Thomas compared
The evidence keeps building when we compare Mark and Thomas: The sayings contributed to Jesus are over 50% identical.
It is possible that either the author of the Gospel of Thomas drew from Mark or that the author of Mark drew from the Gospel of Thomas. There is still much debate on who drew from what. But in the end it doesn't really matter, because neither include a Virgin Birth story or genealogy of Christ! Why would the manuscripts which have the earliest sources to date for the compilation be lacking these?
My conclusion here cannot not as yet be proved on evidence alone, but it certainly can be argued intuitively; something is amiss. So let's summarize:
Paul's epistles, written before any Gospels, don't mention a genealogy or Virgin Birth.
Mark's Gospel, which is the first, doesn't either.
Mark's Gospel was most likely compiled from an earlier "Q" source that scholars argue would be similar to logia, or wisdom sayings of Christ, not a historical narrative.
The Gospel of Thomas most likely was compiled from sources earlier than any Gospel. These sayings had nothing to do with a literal figure, but rather a wisdom teacher in the form of myth.
Differences between the genealogy of Matthew and Luke
Now we come to the Gospels of Matthew and Luke which scholars believe to have been written between the 80's and 90's AD. That's another generation AFTER Mark and Thomas. But herein lies another problem. The genealogies between the two don't agree. In Matthew, Jesus's genealogy is from Joseph's bloodline whereas in Luke it's from Mary. In Matthew, Jesus's bloodline is considered from Abraham to Joseph, while in Luke's chronology it is considered from Adam to Mary. Nathan, not King Solomon, is the important link in Luke's chronology. What's the deal?
According to Wikipedia:
In Matthew's genealogy, "The total of 42 generations is achieved only by omitting several names, so the choice of three sets of fourteen seems deliberate. Various explanations have been suggested: fourteen is twice seven, symbolizing perfection and covenant, and is also the gematria (numerical value) of the name of David."
We should note that three wicked kings are omitted in the line above: Ahaziah, Jehoash, and Amaziah. These are deliberate omissions and point to an allegorical interpretation, not a literal one.
Luke's genealogical record for Jesus is the only Gospel, (starting with Jesus and working back through Adam), that agrees completely with the Old Testament. Wikipedia further states:
"Modern scholarship tends to see the genealogies of Jesus as theological constructs rather than factual histories: family pedigrees would not usually have been available for non-priestly families, and the contradictions between the two lists are seen as clear evidence that these were not based on genealogical records."
Of course these two accounts were not based on true genealogical records. We can see that Matthew's record, with the omission of three kings, was only recorded in the way presented to satisfy and allegorical and mystical viewpoint, which compares Jesus to David, possibly as Paul did in Romans 1:3.
As I have emphasized many times on this site, none of this information diminished the greatness and authority of the Bible. In fact, in my own opinion it strengthens its authenticity. How? Because the Bible was never meant to be interpreted literally. To do so greatly diminishes its true intent. The original intent was to cause us to look within to find the truth, because that is where the Kingdom truly lies. As Jesus plainly tells us in Luke 21:17:
"Neither shall they say, Lo here! Or, lo there! For behold, the kingdom of God is within you."
Many orthodox believes have stated that phrase means God and Jesus live in your heart. That sounds a lot like a Gnostic idea to me.
I have no problem with a literal Jesus if he were a real man. If I ever find out I was wrong, I would certainly pay all due respects. But my endless search throughout the years points toward and inward truth, not an outer one.
As always, comments are appreciated, even if you completely disagree. Robert had a great comment on the last post and certainly makes some compelling comments, but I still don't think they outweigh the Gnostic alternative.
Conclusion
So Paul's epistles were written first. They do not include a historical narrative of Jesus. Mark's Gospel came before the others, and, it, too, does not include a genealogy or Virgin Birth narrative. In addition, Paul's epistles, while used by the Orthodox Church for instructional pieces on theology and church structure, have too many Gnostic ideas to be considered purely orthodox. Not to mention that some of Paul's epistles which deal with church structure, such as 1st and 2nd Timothy, were clearly forgeries in Paul's name. Matthew's genealogical record seems to indicate an allegorical interpretation and greatly differs from Luke. And it is possible that the Gospel of Thomas was compiled from the earliest material about Jesus of all. Something is amiss with the Orthodox view.
I would also like to say that I do not believe the Orthodox Church participated in some grand conspiracy in the first century to cover up the Gnostic view. I will explain more in the next post.
In the next series we will get into Marcion, Valentinus, and Irenaeus. The battle between the Gnostic and Orthodox Jesus truly begins to rage at the beginning of the 2nd century.
Part 1 / Part 2 / Part 3 / Part 4 / Part 5