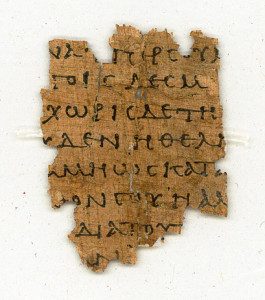 This post will continue our series on the development of Christian Orthodoxy and the Orthodox Church. In part three I said I would get to Valentinus and Irenaeus, but that will have to wait for part five. There is too much important information I couldn't leave out, which we will discuss here first. We'll be covering the late first century to the mid second century with just a few—albeit very important—events in our attempt to understand the broader movement and developments of Christianity.
It is important that you realize history is always written by the victor. Sometimes it is necessary to erase from our minds what we think we know about a subject so that we can be more objective. All of us have some preconceived notion of what Christianity was like and how it developed based on our experiences with the Bible, the church, our parents and family, scholarship and our own life experiences. Even those of us who were not raised Christian have preconceived notions. Forget those for the next few minutes, and consider what some of the evidence says. What is written in this series will in no way definitely prove anything, but it can give us insight that may alter what we think we already know. The study of the New Testament is a complicated, convoluted mess. In the first few centuries after Christ is supposed to have lived, everyone was arguing and bickering over the message of the scriptures. It continues to this day, even among those who share the common faith. It was much more so in the past, and different sects claiming to have the truth of the Biblical message was even more divided when Orthodoxy was fighting to take hold. That is because it took more than a few centuries for any kind of permanent New Testament canon to be formed. Even some of the greatest early church fathers who carried the message of the faith became heretics in later centuries because of diverging beliefs about Christ. It wasn't until hundreds of years after the first century that any kind of uniform doctrine was solidified and the New Testament canon was formed, and this, I can promise you, no matter what the original intentions of its founders, was sometimes more about politics in the very end than about truth. At least that much I am certain.
This series is not an attempt to prove any one thing about early Christianity, but just to show you more of the complicated picture we have. Yes, I will share my personal beliefs about what happened, but I also admit that the entire situation is too complicated for any one person to understand without the original documents, which we may never see. That being said, let's examine just a few of the early puzzle pieces.
The Didache
The Didache, also known as The Teaching of the Twelve Apostles, is an early Christian treatise with the intent of instructing the gentiles on how to live a Christian life according to the teaching of the apostles. Its contents focus on Christian ethics and rituals such as baptism, fasting, and the Eucharist.
Many scholars now place the Didache at about 100 A.D. (although some much later). The significance? The Didache shows that the earliest Christian communities were strictly rooted in Judaism. It was a form of Jewish Christianity that, as the scholar Aaron Milevac has stated, "…reveals more about how Jewish-Christians saw themselves and how they adapted their Judaism for Gentiles…" For example, the Didache teaches that it is best to follow the dietary laws for the Torah, but that it wasn't absolutely necessary.
Why do I mention this?
The Didache is silent about so many important doctrines that Orthodoxy holds dear today. Even though the Didache is an instruction manual on Christian living, it says nothing about atonement and redemption. Could it be that most of the earliest Jewish-Christian communities had no such teaching? It's a good possibility. The Didache lacks any doctrine about Jesus period. I find it hard to believe that such an early instruction manual on Christian living lacks any doctrine about Christ. It does mention the person of Jesus as the "servant of the Father," and "Lord," and the baptism formula included in the Didache mentions the trinity, but this last point is agreed by most scholars to have been added later by the Church Fathers, probably during the late second century.
What can we really conclude about the Didache? It focuses on living a pure moral life rather than having to believe in anything, which is more akin to Jewish theology, certainly nothing like Pauline Christology. What's more is that Clement of Alexandria and Origen considered the Didache as scripture. Do you find it odd that an early instruction manual on Christian living doesn't say anything about doctrine or belief? While it doesn't prove anything, it is odd.
The scholar L. Hartman even went so far as to say that the community which produced the Didache were "…believers who think of themselves first as Jews, and perhaps who did not yet believe in Jesus." I clarify that last statement by adding that they didn't believe in the same Jesus that Orthodox Christianity gave to us. Jesus was certainly known about in this period, but was it the same Jesus of Orthodox Christianity?
We should seriously consider the above points because none of the typical themes found in Paul's epistles, such as, forgiveness of sins or bestowal into one body through baptism, etc. are present. It's like the writers give a formula for living without giving the real reason for doing it—i.e., the redemptive work of Christ. True, the Didache's omission of these common Christian themes doesn't prove they didn't worship Jesus the way Orthodoxy said we must, but the omission does bring much speculation and leads one to believe that the Earliest Christians taught and practiced nothing akin to Orthodoxy. Rather, the Didache points to a community that followed strict moral observance of living a clean moral life for oneself and brother, just as the Jews would have stressed. By the way, still no Virgin Birth mentioned here. Did the early Christian community know of it? What we have already said in the first posts to this series and the rest of this one leads me to believe that they probably did not.
Pope Clement 1
At about the same time the Didache was written, we have an important authentic Christian epistle that surfaced. According to tradition, Clement of Rome was the third bishop of the city. We know he wrote a letter to the Church at Corinth that dates 90-100 AD, and is considered authentic by all scholars. Besides Paul's epistles, it's one of the earliest Christian writings. It is the content of the letter that is important for our discussion. The letter addresses what Clement calls "a rebellion" at the church of Corinth. However, Clement is not writing about heretics or false doctrine; the rebellion he speaks of has to do with authority. According to his letter, reputable leaders in the church were usurped by younger leaders. Clement becomes very upset by this. From his letter we can see that Clement believed God set up his divine authority on earth through the leaders of the church, namely through bishops, priests, and deacons. The scholar Elaine Pagels tells us that he believed obeying the bishop and deacons was so important that anyone who didn't "bow the neck" to them "receives the death penalty." This is the first example we have of a bishop who advocated God's authority on earth through church hierarchy. Ignatius, about thirty years later, went so far as to argue that the laity should obey the bishop as if he were God himself! The beginnings of what we consider Orthodox Christianity and the church seems to have some of its beginnings rooted in politics.
The scholar Richard Carrier gives us a few more very important details about Clement that will be relevant to our discussion. First, Clements' letter was considered scripture by many churches. This comes as no surprise, since it is the church with its hierarchy that would benefit. Secondly, at the time of the letter's composition, between 90 and 100 A.D., Clement never refers to any Gospel, even though he quotes extensively from Paul's Epistles. Now why would he quote Paul, but say nothing of the Gospels? This has led many scholars to conclude that he didn't have any access to the Gospels, and most likely, was unaware of them. Although he mentions some sayings of Jesus, none of those sayings are quotes from the Gospels. This has led many scholars to believe that he only knew of an oral tradition. Strange, isn't it? It is also important to point out that in the same letter he calls Paul's epistles "wise council," but only refers to the Old Testament as scripture, which he also quotes. This supports what we said earlier in the Didache: namely, that even as late as 100 A.D., most Christian communities were Jewish-Christians that held as the ultimately authority the Old Testament. As of yet, the Gospels and the theology associated within them hadn't proliferated the known world yet. It is very possible that only oral traditions were yet popular, even as late as 90-100 A.D., and the Jesus we have in the Gospels today had not yet been born into the conscious mind of devoted followers. When one studies the scholarship available today, it would seem that the oral traditions of Jesus were used to bear witness to the Old Testament. Not even Paul's epistles at this time were considered scripture. I am NOT saying that at this time there weren't any written Gospels, but only that they weren't elevated to the status of scripture yet and mostly the ideas of Christ were still being spread by the oral tradition.
You can read more of Richard Carrier's very interesting article on the formation of the New Testament Canon below:
http://infidels.org/library/modern/richard_carrier/NTcanon.html
The Shepherd of Hermes
The Shepherd of Hermes was another early Christian work written sometime between 100 and 150 A.D. It was considered inspired scripture by many early church fathers, even the famous Irenaeus. It was included in the oldest surviving complete New Testament, called the Sinaiticus Codex (300 A.D.).  It was widely circulated and extremely popular to Christians in the second and third centuries. What's strange about this very popular work is that it was completely symbolic. It speaks of the church and the call to repentance. It contains five visions given to Hermes, a former slave. Twelve commandments and ten parables follow. What's so strange is that some scholars consider the good shepherd as a symbol alluding to Jesus, while others say it alludes to a traditional pagan kriophoros, also know as a "ram-bearer." We will not get into the details of this, but it's worth noting.
But here's the real kicker: If the symbols in parable five of Hermes do relate to Jesus, it suggests an adoptionistic Christology which stated that Jesus was initially only a mortal man who was then filled with a pre-existent spirit and later adopted as God's son. The fact is that the Christology of the Shepherd of Hermes relates to none of the Christology of the New Testament we have today! And yet it was widely read and accepted as inspired scripture! Don't you find it odd that such a popular Christian work that was considered inspired speaks of Jesus as only a mortal man who was filled later with God's Spirit. I emphasize again, this book was widely circulated throughout the Christian communities, and cannot be said to be only read locally like perhaps the Didache was. And again, nothing miraculous about his birth. As you should see (if you have read my first three posts in this series), a pattern is developing here, which leads me to conclude that the Virgin Birth was never in the original oral teachings about Jesus. It was most likely added sometime in the second century, and solidified in the third and fourth.
Marcion of Sinope
No history of the church or the formation of the early cannon would be complete without Marcion of Sinope. This man is the catalyst for the New Testament canon that we have today. He was a wealthy shipbuilder that acquired a lot of wealth. He was raised by Christian parents and became somewhat influential in the early church. But Marcion eventually developed very alternate beliefs about the God of the Old Testament. For him, the God of the Old Testament taught an "eye for an eye," while Jesus taught to "turn the other cheek" and to pray for those who persecute you. Therefore, Marcion concluded, the God of the Old Testament could not be the God and Father of Jesus. He also believed that Jesus was never mortal, but had always been a preexistent spiritual being. His teachings were quickly condemned by the church. Remember, most Christian communities still had strong Jewish roots and the Old Testament was seen as THE authority. About 144 A.D. Marcion decided to reform Christianity, much like the Great Martin Luther did. He compiled the first New Testament ever, and it looked nothing like today's cannon. It consisted of ten of Paul's epistles and only the Gospel of Luke. His cannon, the Evangelicon (Gospel according to Luke) and the Apostolikon (Paul's ten Epistles), were as follows:
The Gospel according to Luke
Galatians
1 Corinthians
2 Corinthians
Romans
1 Thessalonians
2 Thessalonians
Ephesians (Marcion called it Laodiceans).
Colossians
Philemon
Philippians
The above list is the first New Testament cannon ever, and as late as 144 A.D. As you can guess Marcion was condemned and hated centuries later by the Orthodox Church, but his influence still abounded for hundreds of years. The purpose of this post isn't to discuss Marion's life, so you can do your own research if interested. I want to focus on his canon. The first thing I want to mention is that 1st and 2nd Timothy, as well as Titus were not included. I have already stated that modern scholarship agrees these were complete forgeries added much later by the Orthodox position. Marcion's canon may lend support to this theory. Secondly, why did Marcion only include the Gospel of Luke? Why would he exclude Matthew, Mark, and John? Early Christian scholarship put total faith in the early church fathers that condemned him as a heretic. They taught that Marcion expunged them because they didn't agree with his beliefs. But is this really true? Most scholars are certain Marcion knew of them, but recent scholarship is advancing the idea that Marcion had a source document for Luke known as UR-Lukas. The scope of this article does not allow us to provide evidence for this earlier source, but I believe it's possible based on what is included in Marcion's version of Luke. Marcion's version of Luke did not include most of the first four chapters, and certain verses are missing from later chapters. Remember, Marcion did not believe Jesus was ever a mortal flesh and blood man, so many scholars have pointed out that it makes sense for Marcion to expunge Jesus' Virgin Birth. But if Marcion had access to an earlier version of Luke, perhaps this earlier version didn't contain the first four chapters and they were added later to refute him. Scholarship for this position first came out in Germany around 1850, but then went silent until the last decade or so. It's being revived now because the evidence from new scholarship, interpretations, translations, etc. are showing evidence for this possibility. Now let's consider a few points:
Paul's epistles, the earliest known Christian writers, contain nothing of a Virgin Birth.
The Gospel of Thomas, which many modern scholars believe had verses and sayings of Jesus dated to at least as early as Paul, is completely symbolic and also contains no Virgin Birth.
The Gospel of Mark, which almost all scholars (both Christian and atheist) believe to be the earliest, also has no mention of a Virgin Birth.
The earliest Christian writings such as the Didache contain no Christology of the Jesus we have today.
Clements' early letter to the church at Corinth quotes extensively from Paul but not any Gospel. Any mention of Jesus' sayings lend support that he had access to an oral tradition, but no written accounts.
The first canon complied by Marcion including the Gospel according to Luke (which Marcion never names an author, implying it wasn't attributed to Luke yet), also lacks a Virgin Birth.
That leaves a large historical gap following Jesus' supposed life and death (about 33 A.D. – 144 A.D.) where we have no direct evidence for even the belief in a Virgin Birth of Jesus.
I've said it before, and I'll say it again. I'm no scholar, but something seems amiss. If you believe the early church fathers, you can say my point six and seven are irrelevant. And that's fine, but perhaps modern scholarship on Marcion will continue to develop a good point. Maybe he really did have an earlier source to Luke that never included most of the first four chapters and other verses that are missing from Today's Gospel of Luke (Marcion's version also excludes the resurrection).
From our perspective today, Marcion's Gospel of Luke looks suspicious, but this is only because we are used to thinking of the Gospels in their present form. We know that elements of all the Gospels were in existence during Marcion's time, but it doesn't mean they looked like the Gospels we have today. They could have been heavily edited from Marcion's time into the next century. There is tons of evidence for this.
Perhaps we may now understand why the famous Gnostics like Balisades and Valentinus considered it foolishness to believe Jesus was a literal being and that the Gospels should be read literally during the early and middle second century.
It is also important to mention here that Marcion was the catalyst for the formation of the New Testament canon by the Orthodox Church. It is now widely considered that the Muratorian Fragment (dated between 170 and 375 A.D.), is the oldest New Testament canon that resembles anything of what we have today. The date range above is huge, and even 170 A.D., the earliest possible dating, is very late when compared to the time that Jesus, Paul, and the apostles are supposed to have lived!
This provides plenty of time for the Gospels to be added to and altered. It is also ironic that one of the most condemned heretics of early Christianity—Marcion— is actually the man responsible for the first New Testament canon in the first place, and subsequently, the New Testament cannon that we have today. Had it not been for Marcion, the New Testament canon may have turned out quite differently.
In conclusion, I believe there is much evidence to show that the Gospels weren't fixed in stone until late in the second century. Yes, they existed in written form before the end of the first century, but it is highly unlikely they existed anything akin to their present form. In the next post I promise to get to the battle that raged between Valentinus and Irenaeus. This will continue to shed more light on the development of the Orthodox Church and Christianity.
Blessings.
In case you are interested, here is another interesting article with all the problems about the Virgin Birth. I know nothing about the author or his credentials, but I came across it while looking at some material for Luke and thought it provided some good food for thought.
http://www.jesuswordsonly.com/index.php?option=com_content&view=article&id=225:virgin-birth-issues&catid=16:hebrew-matthew
Part 1 / Part 2 / Part 3 / Part 4 / Part 5